Found August 10, 2012 on Larry Brown Sports:
Pete Carroll has a reputation for being a prankster. Terrell Owens has a reputation for being a diva. Now that T.O has signed a one-year deal with the Seahawks, it only makes sense that the two would combine their most notable characteristics to pull a fast one on the rest of the team. Anyone who knows the Seahawks could have anticipated that T.O. was going to get punked in some way during his first official team meeting on Wednesday. At first, it appeared that he did. Carroll called him up to the front of the room to share a personal story and then cut him off as soon as he started. The entire team screamed "sit down!" at him and it looked like T.O had fallen victim to some standard new-guy hazing. That's when he and Carroll joined forces. As you can see in the later part of the video above, Owens went back to the front of the room after being "punked" by the team and made a huge deal out of not being able to wear No. 81 because Golden Tate wears it. The team laughed through most...
Original Story:
http://larrybrownsports.com/football/...
THE BACKYARD
BEST OF MAXIM
RELATED ARTICLES
SEATTLE SETUP
Prankster Pete Carroll has struck YET again. Seattle Seahawks head coach Pete Carroll played the role of prankster for the second time in as many years, that we know of anyways a few days prior to the teams first pre-season game vs. the Titans this week. Newly signed Terrell Owens was also in on the prank. Seahawks long snapper Clint Gresham tweeted Our whole team just got...
Terrell Owens seemed to be all washed up. He was playing in an indoor football league and making appearances on the Dr. Phil Show, meanwhile his NFL career appeared to be all but over. That is until Wednesday. After signing a one-year, $1 million deal with the Seattle Seahawks on Tuesday, TO returned to the practice field in Renton, Washington for the first time in more than a year...
Raiders QB Carson Palmer has been something like a fairy godfather to Terrell Owens over the past three years. It seems that when Owens is at his lowest most unemployable forks in the road, Palmer swoops in to save the day. To read this feature please click the link below.
Terrell Owens — one of the most controversial figures in professional sports —practiced with the Seattle Seahawks for the first time as he tries to make the team. He said he's a changed man. "I just want to move forward — leave all of the things that happened 5, 10 years ago behind me," Owens said. "From my point of view, I know I've matured and changed in a...
Terrell Owens will make his debut for the Seattle Seahawks on Saturday night when they travel to Denver for a preseason game against the Broncos. Seahawks coach Pete Carroll said Thursday that Owens feels good and will see some time in the Seahawks' second preseason game. Owens signed with Seattle on Aug. 6 and had just a couple of days of practice before the preseason opener...
It's funny how the NFL works sometimes. Players who you haven't heard from in years always seem to be popping back up around this time of year, especially in 2012. With the news that Sidney Rice might not be ready for the start of the regular season because of shoulder surgery, the Seahawks went deep into the receiver barrel when they signed, then cut, Antonio Bryant. Bryant...
So it seems that Terrell Owens' impressive workout wasn't the only thing that convinced the Seattle Seahawks to sign Owens to a one-year deal. Owens also got a glowing reference from former teammate Carson Palmer. The duo spent the offseason working out together and when Seahawks head coach Pete Carroll asked Palmer for his opinion of Owens, Palmer gave high praise. "He loved...
In an unusual way, the Seattle Seahawks are a high profile team this year being counted on to make a solid impression. They have an all-time college coach in Pete Caroll trying to lead them with one of the few star running backs left in the league, Marshawn Lynch. The Seattle Seahawks made a run a couple of seasons back in the playoffs of 2011, but fizzled out in the 2011-2012...
Ladies and Gentlemen, please welcome back to the NFL two former Pro Bowl Wide Receivers, Terrell Owens and Randy Moss. Both have been irrelevant in the NFL for the past couple years and both are looking to make a comeback in their mid to late thirties. Moss, 35 was last seen in the NFL during [...]
Former NFL tight end Christian Fauria .After listening to former NFL tight end Christian Fauria bad-mouth Hall of Fame-caliber wide receiver Terrell Owens by repeatedly saying how he would never give Owens another chance in the NFL, I've got to say, I haven't met many people with a 'holier than thou' attitude as Fauria.Sure, the 13-year veteran earned two Super Bowl titles...
Per Liz Matthews this AM on Twitter we've learned that after sustaining a practice injury yesterday that starting Right Guard for the Seattle Seahawks will undergo elbow surgery. HE WILL be ok in time for Week 1. #Seahawks G John Moffitt will have elbow surgery to clean up some foreign bodies in his elbow.Should be OK for season opener. — Liz Mathews 710 ESPN (@Liz_Mathews...
The early performance of Terrell Owens in Seattle, and the solid reports on older wideouts like Randy Moss in San Francisco and Miami's potty-mouthed Chad Ochocinco/Johnson (anyone see the opening episode of "Hard Knocks," in which Dolphins first-year coach Joe Philbin cautioned Johnson for dropping the F-bomb so much during a news conference?), might hasten the return...
Seahawks News

Delivered to your inbox

You'll also receive Yardbarker's daily Top 10, featuring the best sports stories from around the web. Customize your newsletter to get articles on your favorite sports and teams. And the best part? It's free!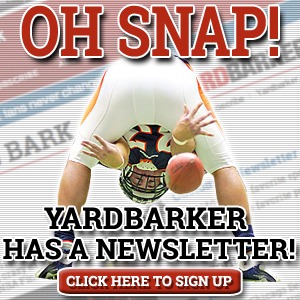 Latest Rumors
Best of Yardbarker

Today's Best Stuff

For Bloggers

Join the Yardbarker Network for more promotion, traffic, and money.

Company Info

Help

What is Yardbarker?

Yardbarker is the largest network of sports blogs and pro athlete blogs on the web. This site is the hub of the Yardbarker Network, where our editors and algorithms curate the best sports content from our network and beyond.