Found November 30, 2012 on Fox Sports:
In a new NFL era of pass-heavy offenses and running back-by-committee, there are those who believe Emmitt Smith's career rushing record will never be broken. Adrian Peterson isn't among them. The Minnesota Vikings star rusher is undaunted by what it would take for him to reach Smith's mark of 18,355 yards. Even though he would have to maintain his career average of 95.1 yards a game for roughly another 6 1/2 seasons to get there -- and avoid another horrific knee injury like the one he suffered last December -- the 27-year-old Peterson strongly believes this is an attainable goal. Such competitiveness is one of the things that has helped Peterson become one of the NFL's most prolific players since being drafted in 2007. Peterson, though, hasn't let such success go to his head. He has established the All Day Foundation to help at-risk youth and is an active participant in other charitable causes and community outreach. Peterson also is human -- although his amazingly quick recovery from two torn knee ligaments may have you believing otherwise. He makes mistakes, like oversleeping and missing the team bus before last Sunday's 28-10 loss at Chicago. And his diet is admittedly spotty because of a craving for sweets and cereal that includes Blue Bell Cookies 'n Cream ice cream, Honeycomb and Fruity Pebbles. As the Vikings prepared for the FOX America's Game of the Week against host Green Bay (1 p.m. ET Sunday), Peterson talked about these subjects and more in a FOXSports.com question-and-answer session. Q: What makes a great running back and who do you like to watch play? Peterson: First and foremost, it's the combination of speed and strength along with willpower and sheer determination. You also have to have great vision. I grew up liking Terrell Davis. I loved the way he ran the ball and what he did as a receiver, too. Of course, Barry Sanders was a one-of-a-kind type player with his style. Nowadays, I like Arian Foster. He's more of a smooth, glide-type of running back. Frank Gore is a north-and-south guy with real quick feet. He's a tough runner and he's low (to the ground). And let me throw Matt Forte and Marshawn Lynch out there. Marshawn is a willpower/determination type of guy with quick feet. When that's all together, you make a good running back. Q: You've been in the NFL since 2007. Is there a young Adrian Peterson out there that has caught your eye? Peterson: I haven't seen one. Maybe here in about 15 or 16 years (laughs). But not yet. Q: What makes you believe you can catch Emmitt Smith even though you'd have to average 95.1 yards a game for almost seven seasons to get there? Peterson: I think I've got a pretty good shot. If you double or triple that average up in a few games, you can cut that time down. It's just confidence. The league is changing to more spread (offenses) and passing. But I feel when you have a guy who's a talented runner and stands out, he's going to get the ball wherever he's at. With that, I feel like I'll have opportunities. Q: Why did you start your All Day Foundation? Peterson: Just to help others and spread my love and my blessings that I have. It's something I always wanted to do growing up in a small town (Palestine, Texas) not really having much and going through the things I went through to be successful. Looking back on those things and knowing that God blessed me, I've got to give back to the community. Q: The foundation's focus is at-risk youth. Were you an at-risk kid growing up? Peterson: Somewhat but not really. I wasn't eating with a silver spoon myself but the kids around me, kids I went to school with, kids I saw who were way less fortunate than I was ... Seeing poverty, that's pretty much why I did this. Q: How much has your Christian faith played a role in your life? Peterson: It's 100 percent of my life. It always played a role. What is even more spectacular to me is that I'm still growing in faith. There are a lot of things that I personally have to line up with God. But that doesn't take away my knowledge of Him and knowing that He has brought me through tough times. That's a true blessing -- to see how He has blessed me in the state I'm in now. It keeps me hungry to grow stronger toward Him. Q: How much did your faith carry you through the rehabilitation you did following last year's knee injury? Peterson: That's all it was. Knowing through my life the different struggles I've gone through and obstacles I've cleared -- man, it would blow your mind hearing the types of things that are going through my head. When I applied that same faith to rehab and kept telling myself, 'I'm going to come back stronger and better than I was before,' I knew that it was going to happen. But I also knew it wasn't going to be handed to me. I was going to have to work and do my part, too. That's why I always tell people faith without work is dead, it's void. You can have all the faith in the world but if you just sit there, you're just going to be left sitting there. You've got to put in the work. I've applied that principle several times and seen the outcome. Q: What is the most difficult part about stardom? Peterson: Not really having a private life. I don't think it's that bad for me personally when I look at a guy like Michael Jackson. He didn't have a life. So when I compare, it's not that bad. But still, you want that privacy as a human being, especially being the type of person I am -- low key, chilled. I don't really deal with too many people. You kind of lose that privacy when you're a star. Q: How do you stay grounded in that environment? Peterson: Just keeping my loved ones and relatives close, remaining hungry and keeping my eyes on my goals and what I want to accomplish. But what it really comes back to is knowing that I'm blessed. I just think back on my life and everything that has taken place and it's easy for me to stay humble. I know the only reason I'm here is because of God. Jesus wasn't boasting He was here working miracles. Q: Finally, how do you want to be remembered when your NFL career is all said and done? Peterson: As the best to have ever played the game.
Original Story:
http://msn.foxsports.com/nfl/story/Ad...
THE BACKYARD
BEST OF MAXIM
RELATED ARTICLES
GREEN BAY, Wis. -- Adrian Peterson has fielded thousands of questions from the media in his six NFL seasons, but on Wednesday, the Vikings star running back was asked one he's never heard before: "How would you try to tackle Adrian Peterson?" When the question came up in his conference call with Wisconsin media four days before a NFC North divisional showdown with...
EDEN PRAIRIE, Minn. Minnesota Vikings running back Adrian Peterson is fifth overall in Pro Bowl balloting in the most recent numbers released by the league Wednesday. Peterson, who leads the league in rushing with 1,236 yards, has 484,227 votes, trailing Denver Broncos quarterback Peyton Manning (586,523 votes), New England Patriots quarterback Tom Brady (534,020), Houston Texans...
EDEN PRAIRIE, Minn. (AP) -- Minnesota Vikings running back Adrian Peterson says he missed the team bus to Soldier Field on Sunday because he overslept. Peterson was about 20 minutes late to the stadium for the game against the Chicago Bears, then side-stepped questions after the game about the reason for it. Coach Leslie Frazier said it was "a big deal" that one of his...
GREEN BAY, Wis. -- For the Minnesota Vikings (6-5) to make the playoffs this season, they'll need to win at least one of their two upcoming games with the division-rival Packers (7-4). The first of those two NFC North showdowns is Sunday at Lambeau Field, with both teams' regular-season schedules concluding four weeks later in Minnesota. "I want to go ahead and control...
C.J. Wilson and Clay Matthews are unlikely to play with Adrian Peterson and the Vikings coming to town.
No disrespect to the Minnesota Vikings who are one of the better stories in the NFL and NFC North particularly. Still they are without their best receiver in Percy Harvin and are riding a very young and inexperienced quarterback in Christian Ponder. The one thing the Vikings (6-5) do have is Adrian Peterson who has miraculously come back from a nasty knee injury to put up MVP-like...
Getting fined for a tackle last Sunday is not fine with Brian Urlacher. The Chicago Bears linebacker will appeal an NFL fine resulting from a stop on Minnesota Vikings running back Adrian Peterson. Urlacher brought down Peterson near the sideline in the fourth quarter with a horse-collar tackle that drew a 15-yard penalty in the Bears' 28-10 win. "Oh yes, for sure, appealing...
The Minnesota Vikings will play against the Green Bay Packers on Sunday at 1 p.m. EST on FOX. Green Bay (7-4) is coming off a disappointing loss to the New York Giants last week while Minnesota (6-5) hurt their playoff chances with a loss to Chicago Bears. Green Bay has to feel good about their chances to make the playoffs, their seven wins place them alone as the NFC's first wild...
The Vikings haven't experienced much success on the road, but they believe they have been taken away from their strength when forced to pass. The numbers for Adrian Peterson in losses and wins support that theory. Plus, Matt Kalil talks about leading Pro Bowl voting among fans and the Vikings have to prepare for the Packers' version of Percy Harvin.
Minnesota Vikings quarterback Christian Ponder wants to meet and speak with former Vikings quarterback Brett Favre in the offseason. Ponder told Alex Marvez of FOXSports.com that he has never spoken to Favre, who retired several months before the Vikings drafted Ponder in 2011 with their first-round pick. Click Link to Read More!
NFL News

Delivered to your inbox

You'll also receive Yardbarker's daily Top 10, featuring the best sports stories from around the web. Customize your newsletter to get articles on your favorite sports and teams. And the best part? It's free!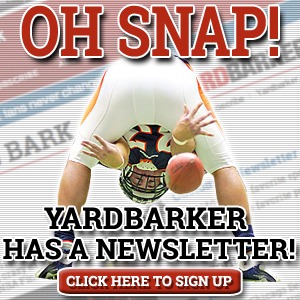 Latest Rumors
The Backyard

Today's Best Stuff

For Bloggers

Join the Yardbarker Network for more promotion, traffic, and money.

Company Info

Help

What is Yardbarker?

Yardbarker is the largest network of sports blogs and pro athlete blogs on the web. This site is the hub of the Yardbarker Network, where our editors and algorithms curate the best sports content from our network and beyond.