Found November 06, 2011 on Fox Sports Arizona:
PLAYERS:
Ken Whisenhunt
,
Patrick Peterson
,
John Skelton
,
Kevin Kolb
,
Beanie Wells
,
Larry Fitzgerald
,
Calais Campbell
,
Donnie Jones
,
Chester Taylor
,
Devin Hester
,
Deion Sanders
,
Reggie Bush
TEAMS:
Arizona Cardinals
,
St. Louis Rams
,
Chicago Bears
,
Miami Dolphins
,
Denver Broncos
,
Detroit Lions
GLENDALE, Ariz. -- Ken Whisenhunt's wife, Alice, has a new mouth to feed. Fortunately for her, Patrick Peterson seems content with delivery. Peterson's game-winning, 99-yard punt return for a touchdown in overtime Sunday gave the Cardinals an ugly, improbable, but much-needed, 19-13 win over the equally hapless St. Louis Rams at University of Phoenix Stadium. It was Peterson's third punt return for a TD this season, making him the only player in NFL history to record that feat in his first eight games. It was also Peterson's second game-winner this season, meaning he's responsible for both Arizona (2-6) wins. "He's my new son," Whisenhunt said, laughing. "We just adopted him." So did an entire city starved for a shred of football success following a 5-11 record last season and a 1-6 start to this season. Arizona was flat-out ugly Sunday. Backup John Skelton struggled to muster any offense in his first start in place of injured Kevin Kolb (toe). He even gave St. Louis points when he took safeties on consecutive possessions in the third quarter to help the Rams build a 13-6 lead. Worse yet, running back Beanie Wells was muzzled to the tune of 20 rushing yards, meaning the Cards had nothing going. When they finally did manage a spark on Skelton's 13-yard touchdown pass to Larry Fitzgerald late in the fourth quarter to tie the game, Peterson almost gave it back on a pass interference call that set the Rams up for a game-winning field goal try from 42 yards. "I thought I was a bad call but I'm not going to criticize the ref once again this week," Peterson said. He just did, but thanks to Calais Campbell, any potential fines will sting less. The Cards defensive end capped a monster game of his own with his third career blocked field goal, sending the game into overtime. Campbell finished with five tackles, 1.5 sacks, two tackles for a loss and three quarterback hits to go along with the block. "That's what you need sometimes to win games," Peterson said. Peterson admitted he is surprised when teams still kick to him, given his impressive early resume, but as he watched Donnie Jones' punt sail toward him at his own 1-yard line, he had one thought in mind. "I decided to catch the ball and just run for my life," he said. Cards running back Chester Taylor had the opportunity to play alongside perhaps the best return-man in NFL history, Chicago's Devin Hester. "They're both special," Taylor said. "They both obviously have tremendous speed but the difference is Patrick breaks more tackles while Hess makes more people miss." Peterson broke two tackles on Sunday's money run, but that doesn't fully capture his game-altering ability. "What he does as well as anyone I have ever seen is know where the guys are around him," Whisenhunt said. "If you watch Patrick, he'll look at the ball, judge where it's coming, and then he'll find where the guys are and judge what type of room he has to be able to catch the ball and then get his eyes back on the ball and catch it. "Try throwing a ball up in the air and look away and try to catch it. It's not easy. To do that with those guys screaming down the field is very difficult." On the game-winning return, Peterson made it look easy. "I always look at the gunners first and see how close those guys are," he said. "I know the guys in the middle have to wait until the ball is punted and those are the slowest guys on the field so once I saw I had a chance" Peterson was widely regarded as the best player available in the 2011 Draft when the Cards selected him at No. 5 overall. While others looked for an immediate impact, Peterson has been realistic with expectations since training camp. It's been an uneven performance at cornerback, which is arguably the most difficult defensive position to play in the NFL. But the return game serves as a nice eraser for any defensive mistakes he makes. "I know I'm just a rookie. I'm going to have my ups and downs," he said. "But I want to have more ups than downs." On Sunday, he finished on an up. And as he passed Rams long snapper Jake McQuade and sped into open field, Peterson began to dance. "I knew he didn't have a chance," Peterson said. "So I went kind of Deion Sanders on him." PETERSON MAKES NFL HISTORY WITH PUNT RETURN With his 99-yard overtime punt return TD against the Rams, Patrick Peterson became the first player in NFL history with three punt return TDs in his first eight career games. He became the fourth player to three in the first eight games of any season, joining Rich Upchurch (4, 1976), LeRoy Irvin (3, 1981) and Reggie Bush (3, 2008). It was just the second game-winning punt return in overtime in NFL history. The only other player to return a punt for a TD in OT was Kansas City's Tamarick Vanover, who returned a punt 86 yards for a TD vs. San Diego on Oct. 9, 1995. It also tied for the longest overtime play in NFL history, matching the 99-yard pass from Philadelphia's Ron Jaworski to Mike Quick on Nov. 10, 1985 vs. Atlanta. It is the second-longest punt return in NFL history, trailing only the L.A. Rams' Robert Bailey's 103-yard TD return vs. New Orleans on Oct. 23, 1994. Three players share the record for most punt returns for TDS in a season at four: Devin Hester, Chicago Bears, 2007; Rick Upchurch, Denver Broncos, 1976; Jack Christiansen, Detroit Lions, 1951.
Original Story:
http://www.foxsportsarizona.com/11/06...
THE BACKYARD
BEST OF MAXIM
RELATED ARTICLES
Another look at the big punt return for a touchdown in overtime for Arizona Cardinals rookie Patrick Peterson and it is still amazing to watch.  He may still be in a learning process at corner, however he is getting better there.  He had an interception to go along with his big return yesterday.  As far as his returns, he now has three for touchdowns in his first eight games. ...
OVERTIME THRILLER
The Arizona Cardinals and St. Louis Rams were locked in an overtime battle to climb out of the NFC West basement earlier Sunday. Then Cardinals rookie DB Patrick Peterson did the unthinkable. Watch: That's a gutsy play by Peterson to field a punt on the 1-yard line and a huge testament of Peterson's talent that he [...]
In September, we brought you Arizona Cardinals' Spanish announcer Gabriel Trujillo's call of Cardinals' WR Larry Fitzgerald's 73 yard touchdown reception vs. the Redskins. It was bueno. Now, thanks again to the Sports Mashup, here's Trujillo calling Patrick Peterson's walk off 99 yard punt return for a touchdown from this past Sunday. It's also good...
Cardinals rookie Patrick Peterson became the first player in NFL history to return three punts for touchdowns in his first eight games. The secret to Peterson's success was unique practice with his father at an early age.
The first 61:30 of Sunday's Cardinals-Rams game were fairly dull, but the last 30 seconds were a doozy. Rookie Patrick Peterson took a punt back 99 yards in overtime to give the Cardinals a 19-13 win over the Rams. It's the third punt that Peterson has taken back for a touchdown this season and it…
Rookie Patrick Peterson returned a punt 99 yards for a touchdown in overtime to give the Arizona Cardinals a stunning 19-13 victory over the St. Louis Rams on Sunday. Peterson, whose pass interference penalty moments earlier seemed to set up the Rams (1-7) for a game-winning field goal, fielded the ball at the 1. He evaded and bounced off tacklers over the next 30 yards or so, then...
Patrick Peterson returned a punt 99 yards for a touchdown in overtime, giving the Cardinals an improbably 19-13 victory Sunday over the Rams at University of Phoenix Stadium.
Rookie Patrick Peterson returned a punt 99 yards for a touchdown in overtime to give the Arizona Cardinals a stunning 19-13 victory over the St. Louis Rams on Sunday.
ST. LOUIS (AP) After a day to mull it over, Steve Spagnuolo's answer was the same: The St. Louis Rams coach would have punted the ball to Patrick Peterson in the shadow of the Arizona Cardinals goal posts, and taken his chances again. Most Mondays have been tough for the Rams, who are 1-7 at the midpoint of the season, but usually because they've been trying to move past...
Reaction from our readers' on the Cardinals' 19-13 win over the Rams on Sunday. From John Skelton vs. Kevin Kolb to Patrick Peterson to what we learned. Vote in our poll and add your thoughts.
This game featured one offensive touchdown, two safeties, four or five cart trips, and six field goals -- one blocked, and that made all the difference in yet another awful loss for the St Louis Rams under the Spagnuolo regime. There are three major classes of losses for these Rams: blowout losses to superior opponents, a few close losses against superior opponents that we used to...
Ken Whisenhunt said it is too early to say if QB would be able to start Sunday's game vs. Eagles.
NFL News

Delivered to your inbox

You'll also receive Yardbarker's daily Top 10, featuring the best sports stories from around the web. Customize your newsletter to get articles on your favorite sports and teams. And the best part? It's free!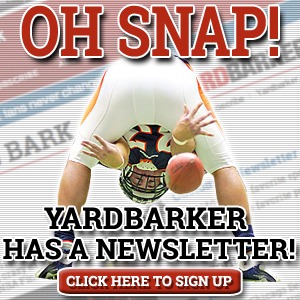 Latest Rumors
The Backyard

Today's Best Stuff

For Bloggers

Join the Yardbarker Network for more promotion, traffic, and money.

Company Info

Help

What is Yardbarker?

Yardbarker is the largest network of sports blogs and pro athlete blogs on the web. This site is the hub of the Yardbarker Network, where our editors and algorithms curate the best sports content from our network and beyond.