Found June 12, 2012 on Chiefs Command:
PLAYERS:
Peyton Manning
,
John Elway
,
Babe Ruth
,
Hank Aaron
,
Bill Walton
,
Joe Montana
,
Joe Namath
,
Kurt Warner
,
Donovan McNabb
,
Brett Favre
,
Johnny Unitas
TEAMS:
Indianapolis Colts
,
Denver Broncos
,
Boston Celtics
,
Tennessee Titans
,
Minnesota Vikings
,
Seattle Seahawks
,
Arizona Cardinals
,
Philadelphia Eagles
,
Washington Redskins
,
Atlanta Falcons
,
Pittsburgh Steelers
,
Kansas City Chiefs
,
St. Louis Rams
,
New York Giants
,
Green Bay Packers
,
New York Jets
,
San Diego Chargers
The biggest news of this off-season in the NFL has been the release and resulting free-agency frenzy of Peyton Manning. The Indianapolis Colts, facing salary cap issues as well as a concern about the direction of the team, released the future Hall-of-Famer. This left Colts fans to ponder what the world will look like without their favorite field general in a Colts jersey; and Broncos fans rejoicing at the possibility of having the best QB in Denver since Hall-of-Famer John Elway retired. Colts fans had their hands over their eyes when Manning finally decided to sign with the Denver Broncos. Football fans everywhere are curiously anticipating the moment Peyton Manning dons a Broncos jersey, and hoping his injured neck healed sufficiently to provide more great memories on the gridiron. Looking back on other sports, Babe Ruth made his final baseball appearance in the uniform of the Boston Braves, Hank Aaron finished in a Brewers jersey and Willie Mays in Mets colors. In basketball, West Coast icon Bill Walton became a vital bench player for the Boston Celtics. In football, NFL fans everywhere have been shocked at the sight of their team's all-time great in another team's threads. Here are the most memorable franchise quarterbacks to have been kicked to the curb. Joe Montana The three time Super Bowl MVP of the San Francisco 49ers performed miracles in the City by the Bay from 1979 to 1990. After two injury plagued years and the development of future Super Bowl hero, Steve Young, Montana spent 1993 and 1994 guiding the Kansas City Chiefs into the playoffs. Joe Namath No story in NFL history is quite so compelling as Broadway Joe and the New York Jet's triumph over the mighty Baltimore Colts in Super Bowl III. Guaranteeing a victory over a team that had lost only once, Namath guided the Jets to the AFL's first Super Bowl win. Fresh out of Alabama, Namath quarterbacked the Jets from 1965 to 1976 while hobbled on brittle knees. Finally, in 1977, at age 34, Namath spent most of the year on the bench of the Los Angeles Rams. Warren Moon Moon, who began his career in the Canadian Football League, quarterbacked the Houston Oilers (now Tennessee Titans) from 1984 to 1993 transforming his team from a sad-sack outfit to a perennial playoff contender. The nine-time Pro Bowler spent the last several years of his career (and well into his forties) in the uniform of the Minnesota Vikings, Seattle Seahawks and Kansas City Chiefs. Kurt Warner The former Arena League pro found himself in the pocket of the "greatest show on turf" with the St. Louis Rams in 1999. That season the league MVP led the Rams to a dramatic Super Bowl win over the Tennessee Titans and continued to pilot the Rams until 2003. Warner's career continued with the New York Giants and a few stellar seasons with the Arizona Cardinals before retiring after the 2009 season. Donovan McNabb After a standout college career at Syracuse, McNabb was installed as the starter for the Philadelphia Eagles in mid-season, 1999. The veteran of 16 post season games, McNabb was the unquestioned field general for the Eagles until 2009. Spending 2010 with the Washington Redskins and this past season with the Minnesota Vikings, McNabb is still looking for somewhere to throw spirals in 2012. Brett Favre After a brief time with the Atlanta Falcons that included only four pass attempts, Favre became the Legend of Lambeau in 1992. The three-time MVP led the Green Bay Packers to a Super Bowl win in 1996 and solidified his position in the hearts of Packer faithful by the time his tenure ended in 2007. After highly publicized negotiations, Favre was finally given his release and spent 2008 with the New York Jets and 2009-10 with the Minnesota Vikings. Johnny Unitas Passed up by his hometown Pittsburgh Steelers, Unitas was a perfect fit for the horseshoe of the Baltimore Colts. Becoming a starter in 1956, Unitas brought the NFL to the big time with the 1958 NFL Championship win over the New York Giants in Yankee Stadium. Winning the NFL Championship again in 1959, the ten-time Pro-Bowler also took part in NFL championships in 1968 and Super Bowl V in 1970. Since Baltimore Colts football was nearly a religious experience in those days, many Colts fans could not believe their eyes when a 40-year-old Unitas dawned the powder blue jersey of the San Diego Chargers for his final season in 1973. Be cheered, Payton Manning fans. While it will take a while to adjust, you will soon get used to the idea that your hero is wearing a Denver Broncos uniform. Yet, as is evident by the stories above, he will always and for all time be a Colt just as Unitas was, as Favre is a Packer, Namath a Jet and Montana is still revered in San Francisco. Can you think of any other examples of all-time greats ending storied careers with another team?
Original Story:
http://chiefscommand.com/nfl/denver-b...
THE BACKYARD
BEST OF MAXIM
RELATED ARTICLES
Denver Broncos quarterback Peyton Manning encourages teammates during NFL football practice at the team's training facility in Englewood, Colo., on Wednesday, June 13, 2012. (AP Photo/Ed Andrieski) Denver media have only been allowed to watch five of the Broncos' 12 practices to date, but according to the Denver Post's Mike Klis, Wednesday's session was Manning's best...
GOING DEEP
A minicamp practice reporter says Peyton Manning looked pretty sharp throwing the football, but that he's still lacking arm strength.
Denver Broncos running back Willis McGahee catches a pass during NFL football practice at the team's training facility in Englewood, Colo., on Monday, June 4, 2012. (AP Photo/Ed Andrieski) Just because the Denver Broncos brought in one of the NFL's all-time greatest passers this offseason doesn't mean they will be abandoning the run game. The common message from the Broncos...
Getty Images According to Nate Davis of USA Today, it was clear during the Denver Broncos' minicamp session on Tuesday, that Peyton Manning's velocity on his deep balls isn't what it once was. Manning has looked very good with his accuracy when he delivers short to intermediate throws.  His doctors remain upbeat about his current condition. "I still have a lot of work...
The Denver Broncos wrapped up their offseason workouts Thursday with another spirited practice marked by potent, precise passes. One thing is abundantly clear after 13 offseason practices, six of which were witnessed by the media: Peyton Manning is back. The four-time MVP has shown no ill effects of the nerve issue that caused weakness in his throwing arm last year, required four...
Peyton Manning is participating in the Broncos' minicamp, giving outsiders a chance to see him throw the ball in person, after 4 neck surgeries. The Broncos obviously weren't too worried about Manning's neck, nor his age, 36, as they made him the highest paid player in the league, despite the fact that he didn't play a down of football last season. Manning's public performance...
Getty Images According to ESPN's Adam Schefter, the health of Denver Broncos quarterback Peyton Manning is looking good so far.  He likely won't have many limitations this season. "Doesn't look like he's gonna have many limitations at all," said Schefter, via Evan Silva. So far, so good in Denver." So far Manning  has been throwing the ball all over the field during...
Even Peyton Manning makes a mistake from time to time. We're all closely watching the Broncos to see how Peyton Manning's rehab is coming along, and Pete Prisco likes what he sees from the future Hall of Famer. The fact that Manning is still impressing everyone isn't surprising to me. I've watched him nearly every weekend for over a decade, and he still surprised...
When Peyton Manning entered the league he had Marvin Harrison on which to rely and not much else. In many ways, Andrew Luck's first year will be much more target-rich. He's taking notice early by getting on the same page as Austin Collie and Reggie Wayne: Luck said he'll rely on veteran teammates such as Collie and Wayne, and 13 of his 25 completions in the afternoon session...
Andrew Luck is getting his first real taste of Colts football and the transition from Peyton Manning. Roughly 10,000 fans showed up for Wednesday's workout at Lucas Oil Stadium, most coming to see exactly what they have in Manning's replacement. The latest workout left some fans impressed. One calls Luck the ''real deal'' while another says he's '...
If Andrew Luck's receivers can get this kind of separation, he'll have a long, prosperous career in Indianapolis. Colts players and fans are having no trouble moving on from the Peyton Manning era. Reviews are flying in that rookie quarterback Andrew Luck is a huge success. I don't have a problem with optimism, but Colts fans and players do need to realize their quarterback...
NFL News

Delivered to your inbox

You'll also receive Yardbarker's daily Top 10, featuring the best sports stories from around the web. Customize your newsletter to get articles on your favorite sports and teams. And the best part? It's free!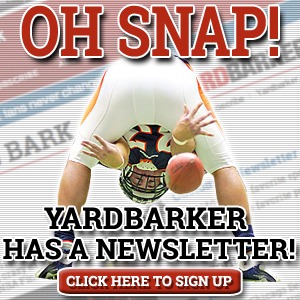 Latest Rumors
Best of Yardbarker

Today's Best Stuff

For Bloggers

Join the Yardbarker Network for more promotion, traffic, and money.

Company Info

Help

What is Yardbarker?

Yardbarker is the largest network of sports blogs and pro athlete blogs on the web. This site is the hub of the Yardbarker Network, where our editors and algorithms curate the best sports content from our network and beyond.