Found July 03, 2012 on Philly Sports Muse:
Not every player new player signed by the Philadelphia Eagles last season was a bust or took a long time to acclimate to the team's system. DE Jason Babin had the benefit of having worked with defensive line coach Jim Washburn previously. And that experience helped him have the best season of his NFL career. Babin recorded 18 sacks in 2011. In 2010 he had 12.5 sacks with the Tennessee Titans, and prior to that, his best season was in 2006, when he had 5 sacks with the Houston Texans. While the Eagles defense struggled mightly at the start of the season, Babin was ready to go from the word "go." He produced in the team's Wide 9 scheme, racking up sacks like it was… okay, well, it is his job. Babin was recognized by his peers throughout the league for his prodution by being named as the 44th best player in the NFL this year. All of this for the bargain price (in NFL terms) of $5.75 million for the coming year. In a list of the 11th best and worst deals in the league, Jason La Canfora ...
Original Story:
http://phillysportsmuse.com/2012/07/0...
THE BACKYARD
BEST OF MAXIM
RELATED ARTICLES
Ronald Martinez / Getty Images Although they are looking to improve on a disappointing season as a whole, there are four Philadelphia Eagles that are primed to carry the team in 2012. The Eagles were expecting more from their role players in 2011, but for a variety of reasons, got inconsistent contributions. If they want any shot at making a deep run into the playoffs, they'll...
The Philadelphia Eagles have a number of reasons to expect an impressive showing from their defense in 2012. But one of the biggest areas of assistance to the team has received this offseason is the the benefit of time. Time is a luxury that no NFL team had the opportunity to enjoy last year due to the lockout. That reality meant that new players to teams, rookies and veterans alike...
In the excitement of this offseason it's easy to forget how much hopes were raised in 2011 and how bad things were.  Amidst all the positivity and anticipation there should still be a sense of caution. The Super Bowl is not an easy feat to achieve and that is exactly what it will take to satisfy Eagles fans this year.  Anything short will be viewed as failure by the masses whether...
DON'T QUIT DAY JOB
Video: Stick to Football DeSean!
A year ago right now, Michael Vick was being considered as a top five overall fantasy football draft pick. Now, he is not even being considered amongst the top five overall fantasy quarterbacks; his overall current ADP is just a remarkable 45th overall. 2011 was a step back for the entire Eagles franchise, not just Vick. Still, he set a career high in passing attempts (423), yards...
Michael Vick is already putting his hefty contract to use, sparing no expense for his recent wedding. Vick's wedding cost $300,000, according to Gossip Extra. The Eagles quarterback married longtime fiancee Kijafa Frink over the weekend. The event took place at the Fontainebleau Miami Beach, and reportedly featured a relaxed vibe with hookahs on the tables and R&B music playing...
Before I introduce Dr. Funt (aka Andrew Short) as today's Open Mike Week guest writer, I need to apologize to Palm Feathers for misspelling his real last name--- it is "Bozek", not "BROZek" as originally reported...I guess it was a case of wishful thinking on my part, to bring another "Broz" into the family. I'll need to go back and make the...
It seems that most athletes want to be rappers these days and Philadelphia Eagles wide receiver DeSean Jackson is the latest athlete to start freestyling. Check out this report from ABC Philadelphia which shows DeSean practicing his rhyming skills: <embed id="otvPlayer" width="400" height="268" type="application/x-shockwave-flash...
It's Independence day! Time to head to the beach, fire up the grill, drink some brews and watch some fireworks. America at its finest. Enjoy some Happy 4th wishes  from some of your Philadelphia Eagles. A national holiday doesn't mean an absence of work. Every day is training day, baby. Have a wonderful and safe holiday, everyone. As Dave Chappelle masquerading as Rick James...
After years…and years…and years together, Michael Vick and his fiance finally tied the knot! Vick proposed to the lovely Kijafa Frink way back in 2009 and boy did she make him pay for the long wedding wait. The ceremony apparently cost an estimated $300,000!! The wedding reportedly took place at Fontainbleau in Miami Beach over the weekend and included guests such as Atlanta...
by Dr. Funt (aka Andrew Short) Andy Reid has always been known as an Offensive Coach, yet over his entire tenure in Philadelphia he has made sure to bring in players throughout the defense always looking to upgrade it to be elite. They brought in Jevon Kearse during my early memories of being an Eagles fan, as I have only been a fan for 10 years. That did not work out as well as...
Getty Images According to GossipExtra.com, Philadelphia Eagles quarterback Michael Vick spent a whopping $300,ooo on his wedding, which went down on Saturday night in Miami Beach. I found it really funny that they only served chicken and waffles. It also featured private pool-side concerts that were held by Gym Class Heroes, Maroon 5 and Flo Rida. Roughly 300 of Vick's family...
NFL News

Delivered to your inbox

You'll also receive Yardbarker's daily Top 10, featuring the best sports stories from around the web. Customize your newsletter to get articles on your favorite sports and teams. And the best part? It's free!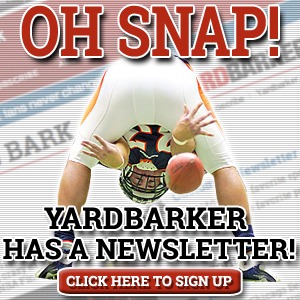 Latest Rumors
Best of Yardbarker

Today's Best Stuff

For Bloggers

Join the Yardbarker Network for more promotion, traffic, and money.

Company Info

Help

What is Yardbarker?

Yardbarker is the largest network of sports blogs and pro athlete blogs on the web. This site is the hub of the Yardbarker Network, where our editors and algorithms curate the best sports content from our network and beyond.