Found February 26, 2012 on The Broad Street Journal:
PLAYERS:
Casey Matthews
,
Nate Allen
,
Michael Vick
,
Asante Samuel
,
DeSean Jackson
,
Nnamdi Asomugha
,
Terrell Owens
,
Tom Brady
,
Eli Manning
,
Drew Brees
,
Andy Reid
,
Donovan McNabb
,
Mike Kafka
TEAMS:
Philadelphia Eagles
,
Cincinnati Bengals
,
New England Patriots
,
New York Giants
,
New Orleans Saints
,
Minnesota Vikings
Over the last several months, all I've been hearing from radio guys, bloggers, co-workers, guys at the urinal, the guy at WaWa, babies, my neighbor's dog, and just about everyone else on the street, is how pitiful the Eagles linebackers and safties were last year. By all the **** talking, you would think that Casey Matthews and Nate Allen played for a hated rival and not our own team.
I do agree that the linebackers and safties left much to be desired, and with the NFL Combine under way, and the 2012 NFL Draft just several weeks away, one can only hope that the Eagles view those positions as positions of need, and not just a fanbase's inpatient bickering. As bad as we want them to draft a linebacker with their first round pick, it's just not going to happen folks. With all the hub-bub surrounding these two positions, it's easy to forget about some of the other major needs the Eagles have.
Like you know,…the quarterback position.
Yeah, I just said quarterback. Sure Michael Vick signed a 6 year, $100 million contract last year, but we all know that 60% of that contract was fluff. It was really only guaranteed for three years, and if the Eagles don't win a Super Bowl, or at least go deep into the playoffs next year, they will have no reason to bring Michael Vick back in 2013. This begs the question of who will replace Vick once his time is up here, and if you're the Eagles, now is precisely the time to start thinking about that move.
Andrew Luck and Robert Griffin III are two of the more intriguing quarterback prospects to come out of college in as long as I can remember. Luck, the experienced, proto-typical pocket passer who played in a pro-style offense, and Griffin III, the shifty, strong armed play-maker, who today at the combine ran a 4.41 in the 40 yard dash.
The Eagles have the 15th pick in the first round, and will have that, and both Asante Samuel and DeSean Jackson (assuming they franchise him) as trade bait, plus cash and other picks, as ammunition to move up to get one of these two quarterbacks. Although highly unlikely, it's fun nevertheless to entertain the thought.
Or is it unlikely?
If one person told you that they thought the Eagles were in the mix to sign Nnamdi Asomugha during last years free agent frenzy, they would have been lying. Not only did the Eagles shock the world then, but remember folks, this is the same team that picked Michael Vick up at Levenworth Prison a few years ago. Don't even act like you saw that coming. And lets not forget the year they signed Javon Kearse, and Terrell Owens within days of each other.
This organization can make a splash with the best of them, and I wouldn't be shocked whatsoever to see them make another one this year in the draft.
As far as their choice if they were to make this splash? Who the hell knows. I personally like Andrew Luck over RG3. He's big, strong, accurate, and exceptionally smart. He fits the mold of a true pocket passer, and can read a defense, maybe better than some of the quarterbacks who are already starting in the NFL.
Not since Ron Jaworski have the Eagles had a quarterback who could stand in the pocket, and deliver a strike, and do it on a consistent basis. It's obvious that this is the style of quarterback that wins in today's NFL. Some of the best quarterbacks in the league are immobile pocket passers. Tom Brady, Eli Manning, Drew Brees. None of these guys are known for their wheels. The rules the NFL have in force now to protect the quarterback, makes it even more of a reason to go in this direction.
Tell that to Andy Reid though. If anyone is infatuated with athletic quarterbacks it's Big Red. First Donovan McNabb and then Michael Vick. The thing that I'll never understand though, and another reason I hate Andy Reid, is that neither of them really fit the type of offense he wants to run. Both McNabb and Vick could throw a kite through a tornado, but neither of them have been consistently accurate, and neither of them have that touch that the great quarterbacks have. McNabb was about as clutch as a paraplegic, and Vick is like a bi-polar Rain Man.
I do however see the reason why people fall in love with athletic quarterbacks like Vick and McNabb. Ever since Cam Newton tore up the league last year, everyone wants the fast, strong armed quarterback who can improvise when the pocket breaks down, and Robert Griffin III certainly fits that mold. Sure he's fast and has a good arm, but he played at Baylor, in a spread system, and ran almost as much as he passed. When I saw RG3 play this past season, I saw a slightly taller Troy Smith, but with better running ability. I'm not saying he won't be good, in fact, I think he'll be one of the first Heisman Trophy winning quarterbacks in a long time to actually be good in the NFL.
When it's all said and done, I don't think the Eagles will be able to move up to get either one of these quarterbacks though–not because they won't try, but because other teams who need a quarterback worse, like the Redskins and Browns, will probably try harder.
So I guess that means our quarterback of the future is Mike Kafka then right?
If I'm Howie Roseman, I think I'm going to make a few phone calls come draft day.
You just finished reading "Philadelphia Eagles Drafting Andrew Luck or Robert Griffin III? Don't Be Shocked" on The Broad Street Journal! I'd love to hear your thoughts about it!Thanks for following along!
Original Story:
http://feedproxy.google.com/~r/thebro...
THE BACKYARD
BEST OF MAXIM
RELATED ARTICLES
Are the Philadelphia Eagles really interested in moving up in the 2012 NFL Draft in order to select Baylor QB Robert Griffin III? According to Phil Sheridan of the Philadelphia Inquirer, don't rule out that possibility. Popular sentiment suggests that the St. Louis Rams are entertaining any and all offers for the second overall pick in this year's draft, but the...
The younger brother of Philadelphia Eagles quarterback Michael Vick has been sentenced to a 10-day jail term on a contempt of court charge. Marcus Vick, a former football star at Virginia Tech, was sentenced Thursday. The charge stems from his failure to appear at two court dates for a charge of driving on a suspended license. Jail spokeswoman Kathleen Carey says Vick was to report...
In his second run of the day at the NFL Combine in Indianapolis, Baylor QB Robert Griffin III ran a 4.38 second 40-yard dash, which places him behind only Michael Vick's 4.33 time for quarterbacks in the history of the combine. In his first run, RGIII posted a 4.41 second time. The St. Louis Rams can't help but smile, because the cost of that #2 pick continues to skyrocket. Hold...
  If Academy Awards were handed out at the NFL Scouting Combine, one thing is clear: The big winner would be Robert Griffin III. For those intrigued about the possibility of Robert Griffin III coming to the Eagles, RG3 ran an incredible 3.38 and 4.41 on the 40 — numbers more typical of the wideouts. If you missed seeing Griffin's speed in action, check out this video. Griffin's...
Phil Sheridan of the Philadelphia Inquirer wouldn't be shocked at all if the Eagles attempted to trade up to grab Robert Griffin III with the second overall pick. Actually Sheridan really believes the Eagles will make a strong effort to execute a trade with the Rams in order to get Griffin III. One good point that Sheridan made, was that Michael Vick could easily be released after...
Plaxico Burress is looking for a job - and he admitted he'd love to find one in the City of Brotherly Love. The talented wide receiver told Philadelphia radio station 97.5 The Fanatic on Tuesday that he wants to sign with the Eagles and be reunited with long-time friend Michael Vick. "Hey, man, nothing else would make me happier ... coming to Philadelphia," the 35...
The younger brother of Philadelphia Eagles quarterback Michael Vick has been sentenced to a 10-day jail term on a contempt of court charge. Marcus Vick, a former football star at Virginia Tech, was sentenced Thursday. The charge stems from his failure to appear at two court dates for a charge of driving on a suspended license.
Marcus Vick is in trouble with the law again. Vick, who like his brother Michael Vick was a Virginia Tech quarterback, but unlike Michael was unsuccessful in the NFL (going undrafted and playing just one game for the Dolphins), had an arrest warrant issued this morning after he failed to turn himself in at the…
The younger brother of Philadelphia Eagles quarterback Michael Vick has been sentenced to a 10-day jail term on a contempt of court charge.
The younger brother of Philadelphia Eagles quarterback Michael Vick has been sentenced to a 10-day jail term on a contempt of court charge.
INDIANAPOLIS -- Robert Griffin III made a quick impression with his interview on Friday at the scouting combine.He made a fast impression in Sunday's 40-yard dash, timed in 4.38 seconds.That's the fastest time for a quarterback in six years. Texas A&M's Reggie McNeal was timed at 4.35 seconds in 2006.Michael Vick was timed at 4.33 seconds when he ran the 40-yard dash in 2001.
Don't believe the hype: Robert Griffin III will be just another quarterback. When we evaluated Cam Newton last year, we knew he would be a good NFL quarterback, we just didn't know how good he'd be in his first year. Newton had that look and feel of a NFL QB and he wasn't afraid to say it. However, we don't get that warm and fuzzy feeling from Robert Griffin III, sorry...
NFL News

Delivered to your inbox

You'll also receive Yardbarker's daily Top 10, featuring the best sports stories from around the web. Customize your newsletter to get articles on your favorite sports and teams. And the best part? It's free!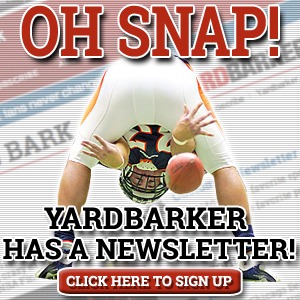 Latest Rumors
The Backyard

Today's Best Stuff

For Bloggers

Join the Yardbarker Network for more promotion, traffic, and money.

Company Info

Help

What is Yardbarker?

Yardbarker is the largest network of sports blogs and pro athlete blogs on the web. This site is the hub of the Yardbarker Network, where our editors and algorithms curate the best sports content from our network and beyond.