Found July 06, 2012 on WhoDeyFans:
PLAYERS:
Artrell Hawkins
,
Carlos Fisher
,
Armon Binns
,
Andy Dalton
,
Vontaze Burfict
,
Marvin Lewis
,
Orson Charles
,
Brandon Ghee
,
Marvin Jones
,
Dre Kirkpatrick
,
Mohamed Sanu
,
Devon Still
,
Geno Atkins
,
Brandon Thompson
,
Kevin Zeitler
TEAMS:
Cincinnati Bengals
On Thursday, I enjoyed listening to a spirited debate on Cincinnati's ESPN1530 as the former Bengal and fill-in host Artrell Hawkins sparred with former NFL scout and guest co-host Carlos Fisher about the likelihood of Armon Binns becoming an impact player for the Bengals in 2012. Artrell, a UC grad, had been impressed by what Binns has done in practices and was solidly in his corner. Fisher, however, who had not seen him since he wore a UC jersey, was not about to put full faith in a guy who has yet to take the field in a real NFL game. I understood the points that Fisher was making. Plenty of guys are kings of the practice field but underwhelm when the lights and cameras come on. Yet every year, there are guys who just "click" and exceed every reasonable expectation from the little that is known about them and thrive at the game's highest level despite heavy skepticism from experts and pundits. Much like Andy Dalton did last year. The Bengals have gathered a number of young, talented players who are anxious for the chance to prove themselves for the first time on an NFL field. The odds are strong that at least one is going to seize the opportunity and become a real force in the NFL. Who is your "pick to click" in 2012? There are plenty to choose from. Armon Binns. The kid has been drawing praise from coaches and Bengals insiders for quite a while now. Can all of these people be wrong? Artrell Hawkins was adamant that the kid looks so much better than he did in college that Fisher would barely even recognize him. IF AH is right about that, he is going to be a tough (Bear)cat to beat out for the #2 receiver spot. Vontaze Burfict. There is no denying that the guy has major talent. And Marvin Lewis knows a thing or two about mentoring talented middle backers. If the group stays healthy, he may be our pick for 2013. But if injuries mount (knock on wood) like they have in years past, he could get his shot this year. Orson Charles. He is not likely to be on many DC's radar early in the season, and that may just be the wiggle room that Jay Gruden needs to open up his play book this year. Opponents will focus on Green and Gresham, forcing less experienced guys to step up to beat them. Charles, who was projected as a 2nd rounder, has the hands and awareness in the middle of the field to do just that. Brandon Ghee. Unlike everyone else in this group, Ghee has played in games already, but he has not lived up to expectations as of yet. But Marvin had good things to say about Ghee after minicamp. The light might finally be coming on. Being a part of the oldest position group on the team, having a young guy prosper may be more important than we think. Marvin Jones. Like Charles, Jones has more talent than most realize, and he has 4.3 speed to put behind it. As a Cal product, he did not have a high-caliber QB throwing him the ball. He has the best shot of all of the receivers to bring a Chris Henry-type dimension (on-field dimension, I mean, not off-field) to the squad. That is something that could make the team very dangerous on offense. Dre Kirkpatrick. If recent trends hold (and others stay healthy), Dre will not start until mid-season at best. Coaches will ease him onto the field. But if he lives up to expectations, he could take over from one of the veterans some time in November. Mohamed Sanu. I will not deny that I love everything I read about this kid. He has the size, the hands and the fearlessness to own the middle of the field. The word has been that he catches everything he can get his hands on. He could become the next Housh, only without all of the unresolved anger. Devon Still. The Big10 Defensive Player of the Year will spend a lot of time watching and learning from Geno Atkins, forming the next generation of the FisherPrice package along with Brandon Thompson. As a pass rushing tackle, he will spell Atkins on third down. He and Atkins will make sure that guards like David DeCastro are tired puppies by the end of games. Kevin Zeitler. As a fan of linemen, this kid is on the inside track for me. But he has a significant factor working against him. The better a lineman is, the easier it is to overlook him. His success allows the big, exciting plays to happen. He may be the best thing we don't notice in 2012. The floor is yours. Which unproven player is going to have us clamoring for his jersey as a Christmas gift? If I've missed your guy, add him to the list.
Original Story:
http://whodeyfans.com/2012/07/06/pick...
THE BACKYARD
BEST OF MAXIM
RELATED ARTICLES
I am breaking away from the pattern just a little bit with this one. I was tempted to pass on Geno in this series because there just is not a very deep tradition of badass tackles. I couldn't get to five names (as in previous polls) before I was scratching at the bottom of the barrel. Really there is only one name worthy of comparison in the middle of the defensive line. Tim Krumrie...
Bengals linebacker Thomas Howard signed a two-year deal following the NFL lockout in 2011. And all he managed to do was lead the defense with 120 tackles, contributing two forced fumbles, a quarterback sack and four passes defensed. The weakside linebacker, who was signed to replace an injured Keith Rivers, started 15 regular season games last year, including Cincinnati's postseason...
Cincinnati Bengals tight end Jermaine Gresham tweeted today that a homeless man helped him avoid a $55 parking ticket by dropping two quarters into a parking meter for him. He picked the right guy to help. Gresham didn't have 50 cents, but he did have a crisp $100 dollar bill, which he gave the man for his kindness. <span st_url=http://www.60maxpowero.com/patriots/node...
Jermaine Gresham has always been held in semi-high regard as a TE that is due to explode at any moment into one of the best in the game. The Bengals standout also it seems has a golden heart as he recently made the day of a homeless man in Las Vegas. To read this feature please click the link below.
// ><!-- //--><! <![CDATA[// ><!-- //--><! <p> <em>Pro <a href="http://www.bet365sportsbookonline.com/football">Football</a> Focus</em> has been taking a three-year look at NFL players recently, breaking them down by positions and using, as they call it, "unique statistics." On Thursday they <a...
Shipley will be a full year removed from a ACL tear that ruined his sophomore NFL season in September but unlike some of the players who have managed to come back more quickly than expected, such as Wes Welker, the Bengals may take it slow with Shipley. Geoff Hobson of Bengals.com seems to think that the team is leaning toward putting Shipley on the shelf for the first six games...
POPCORN READY?
Terrell Owens and Drew Brees were spotted working out together in San Diego. Joining them was Carson Palmer, among others.
I've always viewed fantasy football as a bane, a detriment, to the beautiful sport of football. Because of it people tend to refocus their attention more on the sexy parts of the game, rocket arms, accurate passes, amazing receptions, touchdowns and numbers, numbers, numbers! Though there is some attention to it, defense isn't highlighted nearly as much and when it is, it...
Is Mohammad Sanu ready to be the Bengals no.2 wide receiver in 2012? Recently on the NFL Network's "Total Access" program, Jamie Dukes and Charles Davis broke down who they felt would be some of the breakout players of 2012. While no Bengals were mentioned on their list, the group did acknowledge that A.J. Green was a 2011 breakout player. It's hard to pinpoint criteria to...
We have taken a look at several different positions in the AFC North throughout the last few weeks, this week we look at the tight end position. While the AFC North doesn't have the stars like Rob Gronkowski and Aaron Hernandez they do have talent. Here is a list of the top-four tight ends and what we see in them for the coming season.1. Pittsburgh Steelers: Heath Miller During...
Recently on the NFL Network's "Total Access" program, Jamie Dukes and Charles Davis broke down who they felt would be some of the breakout players of 2012. While no Bengals were mentioned on their list, the group did acknowledge that A.J. Green was a 2011 breakout player. It's hard to pinpoint criteria to use when calling a player a breakout one. For instance...
7/4 Game Review Louisville lost 6-1. Box Score Kristopher Negron went 2-4 with a triple and a run. Carlos Fisher allowed a run in 2 innings with a strikeout. Travis Webb threw a perfect inning with a walk and 3 strikeouts. Game notes Kristopher Negron had the only two hits for the Bats. They have now lost 8 in a row after their 9 game winning streak. Pensacola won 7-3. Box Score...
Bengals News

Delivered to your inbox

You'll also receive Yardbarker's daily Top 10, featuring the best sports stories from around the web. Customize your newsletter to get articles on your favorite sports and teams. And the best part? It's free!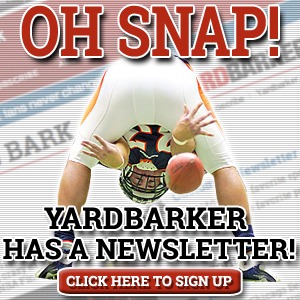 Latest Rumors
Best of Yardbarker

Today's Best Stuff

For Bloggers

Join the Yardbarker Network for more promotion, traffic, and money.

Company Info

Help

What is Yardbarker?

Yardbarker is the largest network of sports blogs and pro athlete blogs on the web. This site is the hub of the Yardbarker Network, where our editors and algorithms curate the best sports content from our network and beyond.