Found October 18, 2012 on Fox Sports Kansas City:
KANSAS CITY, Mo. (AP) The worn-out notebook with the blue cover that Scott Pioli drags out of pile of paperwork on his desk is from 1994. The handwriting inside of it, mostly scouting reports on college players from a bygone era, is tiny and deliberate. It's the few pages toward the front, though, that are the most interesting. That's where the current Chiefs general manager, back then a young front-office assistant for the Cleveland Browns, has given himself a withering self-assessment - several pages of improvements that he's made over time, and things he could be doing better going forward. It's not unlike the scathing critique Pioli has been putting himself through this week. The Chiefs are mired in 1-5 rut to start the season, and most of the blame for it has fallen on Pioli, the disciple of Bill Parcells and Bill Belichick who has struggled to endear himself to increasingly hostile Kansas City fans weary of losing. "Clearly there are things we need to fix, things we need to change, things we need to improve upon," Pioli said during an interview with The Associated Press, "and it starts with me." The Chiefs haven't just been losing, they've been getting blown out. Four of their five losses have been by two touchdowns, and their lone victory required a franchise-record comeback. They're off this week before facing Oakland on Oct. 28. "We're all frustrated," Pioli said Wednesday, sitting in his office overlooking the Chiefs' practice fields. "It's not what any of us came out of the gate expecting." Naturally, it's made Pioli's job status the topic du jour. Pioli said he's not concerned about his future with the organization, even after a group of fans paid for a banner to fly over Arrowhead Stadium calling for him to be fired. Pioli said the biting criticism comes with the job, and that he deserves most of what's coming his way. "Everyone has to do their job better in this thing, starting with me," he said. "I'm in charge of the football operation and there are things we need to get fixed." What are they, exactly? "I'm not going to get into specifics," he said. "I mean, it's on display every Sunday." The job done by coach Romeo Crennel, the porous defense, the lousy quarterback play, the lack of impact players, shallow depth across the board - all of it appears to be fair game. Pioli admitted changes are necessary, though he said "getting into the specifics publicly is not in anybody's best interest right now." The former NFL executive of the year did say he remains confident in Crennel, who has appeared to struggle as he juggles duties as the team's defensive coordinator. Pioli didn't sound nearly as confident in his quarterback situation. One of his first significant moves in 2009 was trading for Matt Cassel, who'd been impressive as a fill-in for injured Patriots starter Tom Brady. Pioli proceeded to sign Cassel to a six-year, 63 million deal - one that has tightly tied the GM to the starting quarterback. Cassel has struggled mightily the past two seasons, and could lose his job to backup Brady Quinn next week against Oakland. Cassel is expected to be available after sustaining a concussion in a game against Baltimore, but Crennel said the starting spot is open competition. "There's a lot of issues," Pioli admitted, "and that position is one of them." Pioli went on to say it's not the only issue, even though in a league increasingly dependent on consistent quarterback play it may be most critical. Pioli has been reluctant to use early draft choices on a quarterback, and the Chiefs haven't selected one in the first round since 1983. Pioli admitted that he's made other mistakes in four years on the scene, though he refused to discuss any of them in detail. He did say that they encompass all facets of his job. "They're in compartments, you know what I mean? There are mistakes I've made in terms of not understanding well enough the role of the general manager in Kansas City from a public standpoint. I've made some personnel-decision mistakes," he said. "There's been a lot of mistakes." Pressed again on whether that has put his job in jeopardy, Pioli slowly shook his head and said, "This isn't about me. This is about me doing my job." "Do you know how many people are counting on me to do my job, and do my job well?" he asked. "I'm talking about coaches, coaches' families, employees and their families, and all the fans, people who are emotionally and financially invested in this thing. I don't have time to worry about me. I have to concern myself with fixing the team and making the team better. That's the job." Pioli said he hears what people outside the organization are saying, dissatisfied fans who pay for season tickets and the media that dissects every play. It's impossible not to hear it in Kansas City, where the Chiefs have been woven into the fabric of the community for decades. Pioli also understands that the discontent has festered for years. The Chiefs haven't won a playoff game since 1993, and are heading toward their fifth losing season in six years. That's why he brought in that ragged, old notebook to show his players recently. Perhaps it's time for everyone in the organization to take a moment for introspection, just like Pioli did all those years ago in Cleveland, and just like he's been doing this week. "All you can be concerned about is the task at hand," Pioli said. "Right now the task at hand isn't my job. This isn't about me, you know what I mean? That's one of the things I've promised myself. You do the best you can, suck it up, tough it out, work as hard as you can, and then things will take care of themselves, however they're meant to be."
Original Story:
http://www.foxsportskansascity.com/10...
THE BACKYARD
BEST OF MAXIM
RELATED ARTICLES
Chiefs general manager Scott Pioli tells The Associated Press he is not concerned about his job status despite a 1-5 start by the team in his fourth season in charge. Pioli says he has made mistakes, though he refused to discuss any of them in detail He did say they encompass all facets of his job: player personnel, fan relationships and a failure to fully understand the role of...
Chiefs general manager Scott Pioli tells The Associated Press he is not concerned about his job status despite a 1-5 start by the team in his fourth season in charge. Pioli says he has made mistakes, though he refused to discuss any of them in detail. He did say they encompass all facets of his job: player personnel, fan relationships and a failure to fully understand the role of...
According to Yahoo's Jason Cole, Dwayne Bowe "very badly" wants out of Kansas City, but could he reunite with his ex-offensive coordinator in Buffalo? Chan Gailey is currently on the hot seat in Buffalo and it is understandable, but if the Bills can land a player like D-Bo to go opposite of Stevie Johnson the Buffalo Bills could become an immediate contender.Another team that...
When Matt Cassel was knocked out of a game against Baltimore two weeks ago fans cheered. The fans were Chief fans who had grown frustrated with the frequent turnovers and poor play of Cassel. It has been a long two years since Cassel appeared to be turning the franchise around. Now the franchise seems in utter disrepair.Last week the Chiefs turned to Brady Quinn. Quinn took control...
KANSAS CITY, Mo. (AP) In what will come as a huge relief to worried, frustrated, restive and angry Kansas City fans, Dustin Colquitt sounds like he has no desire to leave the Chiefs. If Colquitt does sign a new contract, it also will be one less criticism that embattled general manager Scott Pioli has to dodge. Colquitt has become a deadeye master of directional punting, providing...
Chiefs receiver Dwayne Bowe "very badly" wants out of Kansas City, according to Jason Cole of Yahoo! Sports. Ben Volin of the Palm Beach Post cited a team source in saying that the Dolphins are not currently in trade talks with the Chiefs for Bowe.Fantasy Spin:While we'd like to see what Bowe could do with Ryan Tannehill throwing him the ball instead of Matt Cassel...
Kansas City Chiefs quarterback Matt Cassel has been cleared to resume non-contact drills, which puts the team in a position to have a controversy at their most important position entering the bye week, reports Bob Dutton of the Kansas City Star. "What I told them is I'm rotating the quarterbacks," Chiefs coach Romeo Crennel said prior to Tuesday's practice....
Romeo Crennel doesn't like quarterback controversies. So why did he create one? The Kansas City Chiefs coach announced this week that Matt Cassel had been cleared to return to non-contact practice work with the team after missing a week because of a concussion. In doing so, Crennel made sure everyone understood that Cassel and last week's starter, Brady Quinn, would split...
Per @JasonColeYahoo on @560WQAM , Dolphins are potentially negotiating a deal for Chiefs WR Dwayne Bowe. Bowe a former Pro Bowl WR would be a huge upgrade for the Dolphins WR group. Bowe is a native Floridian who has mentioned before on the Joe Rose show that he would love to come back home and play, he is an alum of Norland High School. Bowe is an unrestricted free agent. It...
As the Chiefs begin to plummet into obscurity, Dwayne Bowe wants out. Again.  The talented receiver is the only weapon in the Kansas City passing game, but with only a one-year deal in his pocket and a crashing tide of changes due to hit his team, he may no longer be a part of their long-term plans. Chiefs GM Scott Pioli would be foolish not to listen to offers before the NFL...
NFL News

Delivered to your inbox

You'll also receive Yardbarker's daily Top 10, featuring the best sports stories from around the web. Customize your newsletter to get articles on your favorite sports and teams. And the best part? It's free!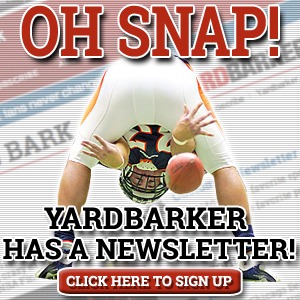 Latest Rumors
The Backyard

Today's Best Stuff

For Bloggers

Join the Yardbarker Network for more promotion, traffic, and money.

Company Info

Help

What is Yardbarker?

Yardbarker is the largest network of sports blogs and pro athlete blogs on the web. This site is the hub of the Yardbarker Network, where our editors and algorithms curate the best sports content from our network and beyond.