Found August 20, 2012 on Purple Jesus Diaries:
PLAYERS:
Brad Childress
,
Audie Cole
,
Chris Cook
,
Josh Robinson
,
Aaron Rodgers
,
Chris Kluwe
,
Blair Walsh
,
Jerome Simpson
,
Sage Rosenfels
,
Joe Webb
,
Paul Rudd
TEAMS:
Minnesota Vikings
,
Green Bay Packers
I Don't Go to Vikings Games: But I went to a Vikings game on Friday (which they won, 36-14, by the way). Oh, I've BEEN to Vikings games before. Plenty of them. I was there when Purple Jesus scored his first NFL touchdown. I was there when Paul Edinger booted a 56-yard field goal to beat the Packers in 2005. I also remember going to some Lions games as a very young, innocent child, not knowing what the hell I was looking at. Wonderful times. I even had season tickets for a couple of years, but quickly backed out when Brad Childress became head coach, for OBVIOUS reasons. Point being, I've BEEN to Vikings games, but I don't GO to them. In fact, I hadn't been to a Vikings game in almost three or maybe even four years. It was some preseason match up where I left at half time and got drunk. It was fun. And you know what? Friday's game was kind of fun too. There weren't a ton of people there, the game wasn't particularly meaningful, and the fans were beyond obnoxious, but the overall experience would DEFINITELY rate as a B, B+, and probably better if you considered the company I had. So congratulations, Metrodome, you are back in my good graces.
That God Damn Wave Fiasco: The fans, however, are not. I've talked plenty on here before about how much I hate the wave. HATE IT. Only the lowest of the lowest common denominator are entertained by people throwing their arms up to mimic water in motion for an extended period of time. Oh, also, WHILE a football game is going on! Pay attention, assholes! I know it's preseason and everything, but you missed some solid defensive series and and deep ball that was pretty exciting. Usually if the forbidden wave gets going during a regular season, a play will happen and shut these morons up. NOT VIKINGS FANS DURING THE PRESEASON, THOUGH! Vikings fans had more important things to do, like ruining the Metrodome cleaning crew's night by ripping up pages from the free programs provided and tossing them into the air like snowballs. Or, sometimes, the entire book, too, which would then flutter down and topple other fans' nachos, beers, sodas, and probably offer a concussion to small children. My, how fun! Stupid ********. I guess this is why I don't go to Vikings games, because the average football fan is a ******* idiot. Prove me wrong, you gargantuas.
The General Story of the Dome: Having it been almost a half decade (or whatever) since I'd last been to the Metrodome, I will also say that I was pleasantly surprised by the quality of the stadium. The new roof really brightens the place up, AND gets rid of the eery presence of Nazi support. The concessions have most certainly been upgraded, too. Craft and local beers were seen, as were new bratwurst stands, and even simple things like better quality chips. The details count! I went in Gate G originally and they even had a small band playing nearby inside. It wasn't GOOD or anything, and I didn't want to stick around and watch them largely because I hate everything, but hey, it's a nice touch. Even the seats seemed better than I remembered, and I'm pretty sure they added or extended one of the video screens recently, too, as well as added additional premier seating in special lounges, on the field, and other suites. Not to say that it's all good. The concourse DOES feel a bit claustrophobic, admittedly, and those video boards are smaller than my TV at home. But it's really not as bad as I remember, so that somehow makes it better than it actually is in my mind, too.
Mushroom Stamp of Approval: As for the game, without a doubt, the winning Mushroom Stamp should go to linebacker Audie Cole. I mentioned last week how I noticed his play stand out and was excited to see what he could do again this week. With as weak as our linebacking core has looked this preseason, having ANY player stand out, make some plays, and distance themselves from the competition is pretty damn exciting. Audie has been doing just that. I keep hearing that he hasn't shown these flashes in camp and practice, and that's fine I suppose, but he's a completely different player when he gets out on the field. I figured he'd make the final 53-man roster even before we played any games because the team seemed pretty dedicated to him by signing him to a contract early, but he's really shown something already, particularly as a 7th round pick. Good for him. And thanks for scoring touchdowns. You are now the team's offensive scoring leader through two games.
Other Thangs: Lot's of other bits and pieces to get to, so let's jump into it:
Ponder looked good, again. There might be a trend starting ... He completed over 75% of his passes on the night, had no turnovers, a touchdown, and even ran for six yards. I'm wishing SO MUCH that he turns out good, because he seems totally amiable, is a great team leader, fun, AND LOOKS AWESOME WITH HIS SHIRT OFF, and I just want this team to have a franchise quarterback we can cheer for. Pondexter MIGHT be that guy!
Zach Bowman showed up again at corner. With Chris Cook being held out for precautionary concussion reasons, Bowman might get a better look in practice too. I AM EXCITE. I like Bowman, and I haven't seen any others really stand out, except ...
Josh Robinson! It's like all my Disney dreams are coming true! Robinson looked the part, was crafty, fast, and covered pretty well in his first NFL action. And this was all while he still wasn't fully recovered from a minor hamstring tweak. I'm jacked up for this kid. I would love for nothing more than to have Winfield, Cook, and Robinson be three (four if you count Bowman) reliable, nasty, defensive backs that put fear into opposing receivers and make Aaron Rodgers look like a *****, at least ONE game. It was a good start for Robinson, so I'll keep that dream under my pillow for now.
I'm pretty sure I was the only one at the stadium cheering for Chris Kluwe on every point after attempt, punt, and jog off the field. It felt good. Real good. His own punts, however, were not very good. He probably couldn't find the right joystick to use.
Speaking of kickers and things, Care Blair Walsh?! Nice work, kid! He was booming them, and technically made a field goal when he kicked off from like 80+ yards. He did miss one on the night, but he also has been pretty much the only person to score points this preseason (outside of Audie Cole!), so that counts for something.
Whenever I look at the cheerleaders on the sidelines, I just can't help but think that they have lost their souls. Personally, I would be devastated to hoof around like a horse all night long (serious, watch their leg stomps, kicks, and ****. It's weird) so that fat and grubby purple painted fans could stare at my ****. Mmmm, what a Friday night of fun!
Jerome Simpson had his awesome jump over a defender again. There was a kid, maybe 8 or so, sitting in front of me when it happened and he almost lost his **** he was so impressed. It was hilarious. The team is really going to hurt with Simpson being out for the first three games. Feels bad, man.
I'm irrationally excited to have Sage Rosenfels on the team again. He does nothing for us, I mean, as a player. He's not going to see the field really, but just KNOWING that he's there, maybe softly repositioning an elbow on a Joe Webb follow through, or whispering sweet words of veteran confidence in Ponder's ear all season long makes me knees weak. GET TO THE ROSENCOPTER!
Paul Rudd Gives Me a Broner: There's no reason to show this other than to let you know that Paul Rudd makes my pants tight, and since Madden is related to football, and football is related to Vikings football, this is clearly relevant to this post. You're welcome.
A Winners Haiku, Ya'll:
Here's the deal, Vikings -
If you win, Nice! If you lose ...
You get the SHOCKER!
That kid gets it. Good stuff, everyone. Thanks to everyone who checked in over the weekend. It was a fun game, and is always a fun time when the Vikings win. I also got to meet some blog readers at the game, too, which was a blast. I got to watch the game with @HitandMissKarla and @Qommie, both of whom were very pleasant individuals. @Qommie has some very nice season tickets, so you should probably be nice to her. It also got me thinking more about hosting a watch party during some game later this year. Anyone interested? We'll take location suggestions.
Until then, see you Friday for another barn burner.
[follow]
Original Story:
http://purplejesusdiaries.com/2012-ar...
THE BACKYARD
BEST OF MAXIM
RELATED ARTICLES
EDEN PRAIRIE, Minn. Adrian Peterson is ready to go for the Minnesota Vikings. Coach Leslie Frazier isn't so sure he's ready to let Peterson in a game. Following his first week of practice since coming back from major knee surgery, Peterson's status for Friday's third preseason game is in doubt. Peterson, coming back from surgery Dec. 31 to repair two torn ligaments...
EDEN PRAIRIE, Minn. As Bill Musgrave remembers his playing days, he didnt have to slide very often to avoid vicious hits from opposing defenders. The Minnesota Vikings offensive coordinator has been working with second-year starting quarterback Christian Ponder about the best way to slide to stay healthy while getting the most yardage possible. Ponder was beat up often during his...
Minnesota Viking running back Adrian Peterson might play in Friday's preseason game against San Diego. At least Vikings coach Leslie Frazier did not rule out the possibility. "We'll probably just see how he does with some of the stuff that we'll give him and probably make a determination by Tuesday or Wednesday if we want to do any more," Frazier said...
EDEN PRAIRIE, Minn. Running back Adrian Peterson and Minnesota Vikings head coach Leslie Frazier have both expressed interest in getting the recovering Peterson action in the preseason.It turns out Peterson's first game action might come in the regular season, according to a report from ESPN1500.com's Judd Zulgad. Zulgad reported from an NFL source that Minnesota plans to...
EDEN PRAIRIE, Minn. The Minnesota Vikings finally have approval for their new stadium to replace the outdated Metrodome. Now they might be playing overseas as they wait for the new stadium to be built. According to a report in the St. Paul Pioneer Press, Minnesota is being eyed for games to be played in London over the next four seasons. "We've expressed an interest,...
The Minnesota Vikings have a better idea about how to prepare Adrian Peterson and his surgically repaired left knee for the season. Their plan is to simply load him up with a variety of work in practice over the next two weeks, rather than put him in an exhibition game for a couple of carries. Coach Leslie Frazier confirmed Tuesday his change of mind about Peterson's preseason...
Despite hints by Vikings coach Leslie Frazier that running back Adrian Peterson might play in Friday's preseason game against San Diego, NFL.com reported Monday that Peterson will not play in that game. Peterson, who had surgery to repair a torn anterior-cruciate ligament on Dec. 30, came off the physically unable to perform list on Aug. 12 and has had a week of practice....
(Eds: Updates. With AP Photos.) By DAVE CAMPBELL AP Sports Writer The Minnesota Vikings tied for the league lead in sacks last season, so opposing quarterbacks should've been pressured into forcing plenty of bad throws that the secondary could take the other way. But rarely happened against a depleted group of defensive backs and the Vikings matched the NFL's worst interception...
Vikings coach Leslie Frazier said Adrian Peterson won't play in the preseason, but he hasn't suffered a setback. They just want more time in his recovery.
AP According to Dan Wiederer of the Star Tribune, the Minnesota Vikings don't plan on playing running back Adrian Peterson at all this preseason. "Adrian Peterson's hopes of seeing at least some action in a preseason game have been dashed. The Vikings have decided to take the safe route with their star running back, opting to hold him out of their final two preseason contests...
Adrian Peterson will not play in the preseason. Adam Schefter reported on ESPN that the Vikings believe AP is will be ready for week 1 but do not want to risk playing him in the preseason. There have been no set backs and from all indications AP is ahead of schedule and on track for week 1.
NFL News

Delivered to your inbox

You'll also receive Yardbarker's daily Top 10, featuring the best sports stories from around the web. Customize your newsletter to get articles on your favorite sports and teams. And the best part? It's free!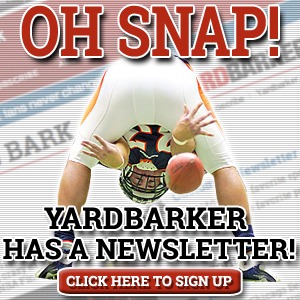 Latest Rumors
Best of Yardbarker

Today's Best Stuff

For Bloggers

Join the Yardbarker Network for more promotion, traffic, and money.

Company Info

Help

What is Yardbarker?

Yardbarker is the largest network of sports blogs and pro athlete blogs on the web. This site is the hub of the Yardbarker Network, where our editors and algorithms curate the best sports content from our network and beyond.