Found July 09, 2012 on Gridiron Experts:
PLAYERS:
Colt McCoy
,
James Harrison
,
Terrell Suggs
,
Geno Atkins
,
Ben Roethlisberger
,
Carson Palmer
,
Andy Dalton
,
Graham Harrell
,
Aaron Rodgers
,
Matt Cassel
,
Brady Quinn
,
Ricky Stanzi
,
Jamaal Charles
,
Andy Reid
,
Vince Young
,
Trent Edwards
,
Mike Kafka
,
Nick Foles
,
Michael Vick
,
Jeff Fisher
,
Sam Bradford
,
Tom Brandstater
,
Kellen Clemens
,
Austin Davis
,
Kurt Warner
,
Larry Fitzgerald
,
Kevin Kolb
,
DeSean Jackson
,
Jeremy Maclin
,
LeSean McCoy
,
Brent Celek
,
Jeff Garcia
TEAMS:
Pittsburgh Steelers
,
Baltimore Ravens
,
Cincinnati Bengals
,
Oakland Raiders
,
Green Bay Packers
,
Kansas City Chiefs
,
Philadelphia Eagles
,
St. Louis Rams
,
Arizona Cardinals
,
Texas Tech Red Raiders
Colt McCoy was doomed from the start in Cleveland.That's not an indictment on his play as much as it is on the team around him, and the division they play in.  While he did have an elite left tackle and center in front of him, McCoy's WR and RB cohorts proved to be lacking, and his defense did little to make their quarterback's job easier.Meanwhile, McCoy had to go out and face down James Harrison, Terrell Suggs, and Geno Atkins six times per season.  The brutal schedule for AFC North quarterbacks is the reason the men with the most success in that division over the last decade – Ben Roethlisberger, Carson Palmer, and Joe Flacco – are all very large individuals (this is also why I want to see Andy Dalton survive a couple seasons before crowning him a 10-year guy for the Bengals).So, here now stands Colt McCoy, two seasons after being drafted, with 4,309 yards, 20 passing touchdowns, and 20 interceptions to his name.  Trade rumors swirl in Cleveland like the wind off Lake Erie.  So w...
Original Story:
http://gridironexperts.com/playing-qu...
THE BACKYARD
BEST OF MAXIM
RELATED ARTICLES
Dion Lewis The Philadelphia Eagles have thankfully not been plagued with the rash of player arrests that have afflicted some teams, like the Detroit Lions this off season. But that streak has come to an end. Running back Dion Lewis was arrested over the weekend in Albany, New York with his older brother for pulling trying to gain entry into the hotel's lobby and eventually pulling...
Not that this is some kind of revelation or anything, but the Philadelphia Eagles' top three cornerbacks last season landed in the top-12 of Pro Football Focus's worst tackling efficiency list. The list is comprised of all defensive backs too, so it includes both safeties and cornerbacks.  It also is based on the past three years of statistics, not just 2011. This isn't new...
Jason Peters of the Philadelphia Eagles has ruptured his Achilles' tendon for the 2nd time and will require another surgery to repair it. Picking the Philadelphia Eagles to go to the Super Bowl? This question has been a statement quite often over the past years under Andy Reid. If you are one to make a prediction on who you think will be playing in the big game and got it right...
Philadelphia Eagles running back Dion Lewis was arrested with his older brother on Saturday morning for channeling his inner high schooler and pulling a fire alarm in a hotel he was staying at. According to the Times Union: The incident unfolded around 4 a.m., when Lewis and his brother, Lamar Lewis, were locked out of the Hampton Inn on Chapel Street, police said. The two men...
As Dion Lewis knows, nothing is worse than getting locked out of your hotel late at night. But, as Lewis apparently doesn't know, pulling the fire alarm is not the best way to try and get back in, according to ESPN. The Philadelphia Eagles running back and his brother, Lamar Lewis, were arrested early Saturday morning after pulling the fire alarm at an Albany, N.Y. area hotel...
10) Abstract act of free speech9) In his defense, who really thinks that the fire alarms at a Hampton Inn would actually work?8) Drew the short straw among the team's skill players for embarrassing the team in the off-season7) Was short on material tor his upcoming appearance at the Boys & Girls Club6) Wanted to add drama to the upcoming camp battle for the backup RB job5...
Philadelphia Eagles running back Dion Lewis and his older brother were charged with a felony count of falsely reporting a fire and misdemeanor reckless endangerment. According to the Albany Times-Union, Lewis and his brother were arrested for pulling early Saturday morning for pulling a fire alarm at a hotel and banging on locked glass doors in the lobby.
According to The Albany Times-Union, Vikings Running Back Adrian Peterson wasn't the only RB to be arrested this weekend. Dion Lewis, a fifth round draft pick for the Eagles in 2011 was also arrested, but his charges are much more than that of Peterson's. Lewis was arrested Saturday in a Albany Hotel on Felony charges for falsely reporting a fire. SI.com writes: Lewis, along...
Philadelphia Eagles running back Dion Lewis and his older brother were charged with a felony count of falsely reporting a fire and misdemeanor reckless endangerment.
Andy Reid enters his 14th season in Philadelphia, which is an eternity for head coaches. The man who led the Eagles to five NFC Title games has seen many All-Pro talents come and go during his time as head coach, and the 'Philly phaithful', myself included, can go on for hours listing off memorable moments in the time "Big Andy" has held the play-chart.   Just for debate's...
A lot of week-by-week game previews of the upcoming 2012 NFL season have been flying around lately. I personally think it's delusional to preview any game when we haven't even made it to training camp yet. But I understand football writers and broadcasters need to get veeery creative and theoretical to fill space in early July. The real problem with projecting game previews...
NFL News

Delivered to your inbox

You'll also receive Yardbarker's daily Top 10, featuring the best sports stories from around the web. Customize your newsletter to get articles on your favorite sports and teams. And the best part? It's free!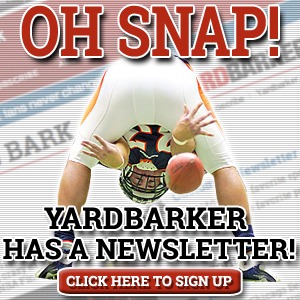 Latest Rumors
The Backyard

Today's Best Stuff

For Bloggers

Join the Yardbarker Network for more promotion, traffic, and money.

Company Info

Help

What is Yardbarker?

Yardbarker is the largest network of sports blogs and pro athlete blogs on the web. This site is the hub of the Yardbarker Network, where our editors and algorithms curate the best sports content from our network and beyond.