Posted December 22, 2011 on AP on Fox
Jim Harbaugh and Pete Carroll may not always get along - see USC vs. Stanford - or find much the polarizing coaches can agree on. But look at why San Francisco has the second-best record in the NFC and Seattle is making a late surge for an unlikely playoff berth and it's apparent the 49ers and Seahawks are finding their success in similar ways. They're bucking the NFL's pass-happy trend and relying on being run-first teams, asking their quarterbacks not to do too much and playing stingy, stout defense. ''Regardless of how other people want to do it - there's a million ways to do it - but this is a way to do it that I particularly like the style. I like being part of it and I like the locker room and I like the meeting room when we are like we are, and our guys do, too,'' Carroll said. ''We like to play to it. We're not trying to win any popularity contests. We're just trying to win games and play well, so this is the way we're doing it.'' With Frank Gore and Marshawn Lynch at the forefront the 49ers travel north to play Seattle on Saturday in an NFC West matchup thick with playoff implications for both sides. San Francisco is postseason bound for the first time since 2002, having locked up the division weeks ago. They are currently in line for the No. 2 seed and a potential first-round playoff bye, but any slip could open the chance of being passed by New Orleans for that coveted first weekend off. Meanwhile, Seattle (7-7) has won five of six to get back to .500, but needs plenty of help to complete its second-half charge and reach the postseason for a second straight season. Foremost is Seattle must win its final two games and see either Atlanta or Detroit drop its final two games to even have a hope. ''Some things got to happen for us to get to the playoffs. If that happen it happens, if it don't, it don't,'' Lynch said. ''I'm just proud to see the turnaround that we had, especially with all these young guys and pieces that we've had.'' At a time when passing is dominant in the NFL, the Seahawks and 49ers are taking an old school approach. For San Francisco, it started immediately, in the opening week when the Niners beat Seattle 33-17 thanks to two late kick returns for touchdowns by Ted Ginn, Jr. - one on a kickoff, one on a punt. That victory set the 49ers on course for a division title that's featured a lot of Gore, who has 1,119 yards rushing in his fifth 1,000-yard season, and the most solid season of quarterback Alex Smith's career. Not asked to be the key to winning games, and rather be an intelligent operator of the offense, Smith has led the 49ers with efficiency, not explosiveness. He's thrown just five interceptions, fewest in the NFC, and his passer rating of 91.1 is on pace to be a career high. Last Monday against Pittsburgh, Smith rebounded from arguably his worst performance of the season at Arizona to throw for a steady 187 yards and a touchdown in the win. He's getting pushed for the Pro Bowl by Harbaugh and others, although Smith brushed off that talk this week. ''It's hard when you're still in the thick of it. That's probably a better question to ask me at the end of the season whenever everything's wrapped up. Right now there's still a lot on the line,'' Smith said. ''It's not quite time for me to reflect on anything. We've done some good things, put ourselves in a good situation. Tough to reflect right now.'' It's certainly made life easier for Smith, Gore and the rest of San Francisco's offense that the defense is among the best in the NFL. The Niners lead the league in rushing defense, points against and, most critical, turnovers. The 49ers are the first team in NFL history to not allow a touchdown rushing in the first 14 games, a statistic that astounds just about everyone. They haven't allowed a 100-yard rusher in 36 games, dating to Ryan Grant's 129 yards rushing for Green Bay on Nov. 22, 2009. ''As long as we win, it doesn't matter to me if we have a running touchdown or not,'' Seattle fullback Michael Robinson said. That streak of holding opponents out of the end zone while running will get one of its toughest tests on Saturday thanks to the resurgence of Lynch. Seattle's change didn't take hold until midseason, when gimmicks were abandoned and the Seahawks put their season on the back of Lynch. He's responded with the finest stretch of his career, having scored touchdowns in 10 straight games played - minus the one week he sat out due to back spasms. He's become Seattle's first 1,000-yard back since Shaun Alexander's MVP season of 2005 and given the Seahawks an image and identity they struggled to find through Carroll's first 1 1/2 seasons back in the NFL. ''He's running extremely hard. He's running angry. He's running with purpose. He's fighting for every inch that he can get,'' San Francisco defensive coordinator Vic Fangio said. ''He's got the ability to be a powerful inside runner, but yet bounces it outside. He's got a good stiff arm. And he's scored 11 rushing touchdowns this year, so it's probably been our biggest test from a running back in a while.'' Seattle fans are hoping this isn't Lynch's last appearance in a Seahawks uniform at home. Lynch will be a free agent at the end of the season and the last seven weeks have cemented his future importance for the Seahawks. ''He's been the face of the program here in terms of setting the tempo and the attitude, the philosophy that he brings,'' Carroll said. ''The competitiveness that he stands for in his play that you can't help but see by the way he brings it, are all exemplary and emblematic of what we'd like to be.'' --- Follow Tim Booth on Twitter: http://twitter.com/ByTimBooth
Original Story:
http://msn.foxsports.com/nfl/story/Pl...
THE BACKYARD
BEST OF MAXIM
RELATED ARTICLES
If you did not have enough reasons to hate the Harbaugh brothers, let me add one more for good measure. San Francisco 49ers head coach Jim Harbaugh was on the Murph and Mac radio show today on KNBR 680 and Harbaugh was talking about the 49ers upcoming game against the Seattle Seahawks. While talking about the Seahawks, Harbaugh said, "I believe their defense, watching them on...
This is the one Pete has been waiting for. Four years ago, Pete Carroll watched the Stanford Cardinal spoil his Trojans' perfect season in the Coliseum. Pete's USC team were 41-point favorites to take care of business against the previously lowly Cardinal, but Jim Harbaugh's boys spoiled the day for them in stunning fashion, winning 24-23. Since that game, Carroll and Harbaugh...
San Francisco head coach Jim Harbaugh talked about his former players at Stanford, cornerback Richard Sherman and receiver Doug Baldwin. Harbaugh said he made a mistake in not taking Baldwin in the draft. The Niners drafted USC receiver Ronald Johnson in the sixth round instead, who's no longer with the team. "Well, I should have drafted him," Harbaugh said. "Yeah, I'm...
In a pivotal NFC West showdown, the Seattle Seahawks host the San Francisco 49ers Sunday; at 4:15pm EST. Pete Carroll and Jim Harbaugh are familiar foes, having coached against each other nearly four years ago in the Pac-10. This is a different stage where Harbaugh comes in with the powerhouse Niners, who are trying to clinch a first round bye, where as the Seahawks are trying to...
Jim Harbaugh has proven everywhere he's been that he's a great coach. He won at USD, Stanford, and now he's winning in his first year in San Francisco. He's not just winning, either; he has the 49ers tied for the second-best record in the league. He's maximized the defensive talent the team already had, but what's been most impressive is the success he's had with Alex...
I would like to start things off by apologizing in advance if you aren't a fan of lengthy articles. The 2011 calendar year for the San Francisco 49ers has been jam-packed with high points. In fact, there has been so many positive things to focus on since the season began, that I often forget just how much uncertainty surrounded the franchise on New Year's Day, almost...
On Monday night, 49ers coach Jim Harbaugh said wide receiver Braylon Edwards was inactive against the Steelers because he felt Michael Crabtree , Ted Ginn Jr. and Kyle Williams gave San Francisco "the best chance." On Tuesday, Harbaugh was asked more specifically about the decision to...
On Monday night, 49ers coach Jim Harbaugh said wide receiver Braylon Edwards was inactive against the Steelers because he felt Michael Crabtree, Ted Ginn and Kyle Williams gave the Niners "the best chance." In addition, he added, San Francisco wanted to use Brett Swain as a No. 4 wide receiver...
NFL News

Delivered to your inbox

You'll also receive Yardbarker's daily Top 10, featuring the best sports stories from around the web. Customize your newsletter to get articles on your favorite sports and teams. And the best part? It's free!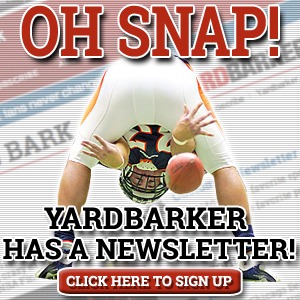 Latest Rumors
The Backyard

Today's Best Stuff

For Bloggers

Join the Yardbarker Network for more promotion, traffic, and money.

Company Info

Help

What is Yardbarker?

Yardbarker is the largest network of sports blogs and pro athlete blogs on the web. This site is the hub of the Yardbarker Network, where our editors and algorithms curate the best sports content from our network and beyond.