Found February 27, 2012 on Grits Blitz:
PLAYERS:
Julio Jones
,
Michael Turner
,
Roddy White
,
Ray Edwards
,
Kelvin Hayden
,
James Sanders
,
Matt Ryan
,
A.J. Green
,
Thomas Dimitroff
,
Peria Jerry
,
Sam Baker
,
Lawrence Sidbury
,
Thomas DeCoud
,
Mike Johnson
TEAMS:
Atlanta Falcons
,
Cincinnati Bengals
Welcome to Point/Counter-Point. This is where we take a hot topic and look at the issue from two differing perspectives. A couple of weeks ago we discussed Falcons RB Michael Turner. Today we take a look at Julio Jones and the cost associated with drafting him. The Falcons swapped their 27th overall pick in last years draft for Cleveland's 6th overall pick and also sent the Browns four additional picks. Was it worth it?
Why the Julio Jones trade was not worth the draft picks

When the news broke during last year's NFL Draft that the Falcons had traded up, from number 27 to number six, in order to draft Julio Jones I was very surprised. When the news broke of what Atlanta had given up in order to move up, 2011's 27th, 59th, and 124th as well as 2012's first and fourth round picks I was sick. I simply could not comprehend mortgaging two drafts for a single player that was not a quarterback, especially at the wide receiver position. The Falcons had, and continue to have, so many more immediate needs.
Going into the 2011 draft anyone with knowledge of the Atlanta Falcons agreed the organization needed to address the pass rush (defensive end), pass coverage (safety) and overall defensive depth (linebacker depth topping the list) along with bolstering the offensive line if at all possible; all the more reason the trade was so stunning. Moreover, the team had a legitimate NFL number one wideout in Roddy White and possessed good overall depth at the position. While it's true the Falcons' receiving corps wasn't top flight, they certainly weren't a point of weakness either. Bottom line, wide receiver wasn't the Falcons' problem.
The results of the decision to trade away two drafts caught up to the Falcons, who were left to try and address their biggest needs through free agency. In turn, the Falcons had to over pay for defensive end Ray Edwards and settle for castoff defensive backs Kelvin Hayden and James Sanders. The 2011 Falcons defense continued to struggle rushing the passer and consistently defend quality wide receivers.
All that said, the most disastrous effect of trading away two drafts bore out throughout the entire season when the Falcons couldn't protect quarterback Matt Ryan, even to minimum standards, to allow him to get the ball to Julio Jones. Keep in mind, the organization also led fans to believe that Julio was the missing piece to a championship team. The results were a worse record, finishing second in the division and a road playoff game. One thing remained the same however; the team was embarrassed in that playoff game.
Follow Joe on Twitter @Joe_Mac_
Why the Julio Jones trade was worth the draft picks
Was the Julio Jones deal bad business for the Atlanta Falcons? In my opinion the answer is tricky. Yes if we are strictly talking about value I believe Julio's talent is equivalent to multiple high end draft picks. If you were to ask anyone if they would trade essentially 2 first round picks or more to get a game changer like Andre Johnson or Calvin Johnson I believe that many fans would be willing to make that deal. Let's get one thing straight, I am not endorsing Julio Jones as the next "Transformer", but I believe without question that he has the talent to become a top wide out in this league for years to come. I told myself leading up to April's draft that if the Falcons were able to move up in the draft to get one of the playmakers then I would not complain about the price.
The Atlanta Falcons traded their 27, 59, 124 picks in 2011 as well as their 1st and 4th round picks this year. This is not nearly the price paid out for the Ricky Williams deal but for a receiver it is hard to fathom a bigger move in recent years. Most experts had negative things to say about the trade only because they questioned Julio's hands and durability. Well, I think we saw his hands on display this year in spectacular fashion. Julio finished the season with over 1,000 yards receiving and led the rookie wide outs with 8 touchdowns. Many will compare him to A.J. Green, the main problem I have with this is that A.J. is the only wide receiver threat the Bengals have. Julio is the #2 option in the passing game, however I believe this will change dramatically over the next few seasons.
I believe on average most Falcon fans would have called 600-700 yards with 4 touchdowns a great rookie season. I know that is another thing I told myself back in April. No, the Falcons did not win a playoff game this year, but we did find one of the most explosive players to come out of the draft in years. The front office made a big move; now personally I believe that this move was highly leveraged by Arthur Blank. Thomas Dimitroff is known for being a draft guru but honestly if you look at his history so far it has been really been hit or miss. Peria Jerry, Sam Baker, Chevis Jackson, Lawrence Sidbury, Chris Owens, Thomas Decoud and Mike Johnson are some top round picks that have not hit under this administration. Therefore looking at that draft history I am able to find comfort that this trade will not set us back.
The Atlanta Falcons have a lot of work to do on the opposing lines. Many would argue that the secondary is in dire need of restructuring. Whichever you believe is the priority this offseason at least keep in mind that this trade would not have impacted our lack of success this year. This team had gaps, could we have filled those gaps with the draft picks that we traded away? Sure, but it isn't a sure thing. Julio Jones is a sure thing.
Follow Mike on Twitter @ColossalChicken
Is there a topic you would like us discuss in a future point/counter-point article? E-mail us a suggestion at gritsblitzblog at gmail.com
[follow]
Original Story:
http://gritsblitz.com/2012-articles/f...
THE BACKYARD
BEST OF MAXIM
RELATED ARTICLES
This past season was an electric but ultimately disappointing experience for the Atlanta Falcons and their fanbase. Atlanta is infamous for having brought home only one championship in more than 150 cumulative sports seasons; and although I'm not going to be so bold as to predict a Super Bowl for this coming season, it wouldn't be entirely out of the question either (please note...
  Atlanta Falcons linebacker Curtis Lofton (50), who could become a free agent, forces Miami Dolphins quarterback Chad Henne (7) to throw an incomplete pass during first quarter NFL preseason football action in Miami, Friday, Aug. 27, 2010. (AP Photo/Wilfredo Lee) INDIANAPOLIS – The market is starting to set for Falcons middle linebacker Curtis Lofton, who can become an unrestricted...
Your Turn to Rate the Falcons Free Agents Coming Back After All? (AJC) Just a quick new thread before the "Changes to Falcons Defense" is finished. Rate your Falcons soon-to-be free agents on importance of re-signing. 1) Brent Grimes According to reports, it appears the Falcons are intent on keeping. If Dimitroff and Co. can find a way to keep Grimes to a reasonable but fair...
According to D. Orlando Ledbetter of the Atlanta Journal-Constitution, the Falcons are considering placing the franchise tag on cornerback Brent Grimes. "Those are high-dollar discussions," said Falcons GM Thomas Dimitroff. "Brent Grimes is a fine football player. We'd like to have him back. We have begun our negotiations with his representatives." If Grimes ends up getting...
The Cleveland Browns resigned linebacker D'Qwell Jackson today to a five year deal worth $42.5 million. That move has the Atlanta Journal-Constitution wondering whether the Atlanta Falcons pay what they have to to keep Curtis Lofton. Lofton and Jackson are two very similar players and amongst the best inside linebackers in the league. Jackson is now paid like it, he's now...
Last April, the Falcons shook up the draft board by jumping from No. 27 to No. 6, picking former Alabama receiver Julio Jones. The Falcons gave up a lot to make the move, investing the 27th pick, a first-round pick in 2012 (No. 22 overall), a second-round pick in 2011, a fourth-round pick in 2011,…
Coach Mike Smith and General Manager Thomas Dimitroff have manufactured the longest stretch of winning regular seasons in the history of the Atlanta Falcons. But the team has struggled mightily in the postseason, losing in blowouts to Green Bay and the New York Giants in back-to-back seasons. Still, the cupboard is overflowing, with quarterback Matt Ryan and two stud wideouts in...
The Atlanta Falcons enter the 2012 NFL Draft with no first round selection and a limited amount of picks as it is (5), so the emphasis is going to be on making every selection count—hopefully this mock draft will reflect a few of those potential picks. The biggest potential name-loss for Atlanta—this year—will be defensive end John Abraham, but in a small way, his exodus...
NFL News

Delivered to your inbox

You'll also receive Yardbarker's daily Top 10, featuring the best sports stories from around the web. Customize your newsletter to get articles on your favorite sports and teams. And the best part? It's free!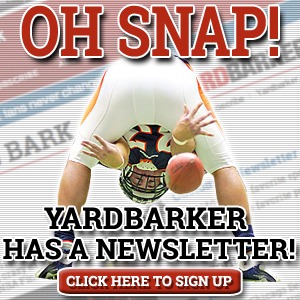 Latest Rumors
The Backyard

Today's Best Stuff

For Bloggers

Join the Yardbarker Network for more promotion, traffic, and money.

Company Info

Help

What is Yardbarker?

Yardbarker is the largest network of sports blogs and pro athlete blogs on the web. This site is the hub of the Yardbarker Network, where our editors and algorithms curate the best sports content from our network and beyond.