Found October 17, 2012 on Fox Sports North:
EDEN PRAIRIE, Minn. Christian Ponder was the last starting quarterback in the NFL this season to throw an interception, part of the growth he's shown in his short career as the Minnesota Vikings' cornerstone.Ponder has spoken repeatedly since the offseason of the development he's made in his second year in the league and second year in offensive coordinator Bill Musgrave's system. He's more comfortable, more confident, understands what's being asked of him.Yet, perhaps the most important aspect of his maturation has been the ability to stay confident when facing adversity, something he and coach Leslie Frazier admit wasn't always the case last season. Ponder has thrown four interceptions and lost a fumble in the past two weeks, including three turnovers in Sunday's 38-26 loss to the Washington Redskins.There he was Wednesday, though, facing the media as confident as ever. Now with a season's worth of starts under his belt, Ponder doesn't go through the same ebbs and flows in confidence he might have last year when he had 15 turnovers in his 11 games."I think I got through that all last year," Ponder said of maintaining his confidence after poor performances. "Week to week last year, it probably fluctuated. That's out of my system. Now that it's my second year, I'm completely confident in what I'm doing."Being pressed into action last season earlier than expected has started to pay dividends for Ponder. Last year, he was able to show some of the ability that led Minnesota to draft him with the No. 12 overall pick. But he experienced extreme highs and lows during a season in which he completed only 54.3 percent of his passes, threw as many interceptions as touchdown passes (13) and lost two fumbles while also dealing with a concussion and hip injury in 11 games and 10 starts.The Vikings put their trust in Ponder, committing to him as the starter heading into the offseason. He embraced the role as leader and worked diligently in the offseason with Musgrave and quarterbacks coach Craig Johnson and looked every bit the hope for a long-term answer at the position while leading Minnesota to a 4-1 record before Sunday's troubles. Ponder ranks ninth in the league with a 92.4 quarterback rating. He's thrown eight touchdown passes and four interceptions."Just my whole comfort level; my whole confidence level, it's just different," Ponder said. "I really feel like this is my team and I'm a part of this team. I don't know. A year makes a big difference for sure."On Sunday, the 16th start of his career, Ponder completed 35 of a career-high 52 passes for 352 yards in a comeback attempt. He threw two touchdowns but also had a fumble that led directly to a touchdown and an interception returned for a touchdown. His final interception was in the end zone with 31 seconds left as the Vikings tried to rally."Even though things weren't perfect for us on Sunday, by no means, to see him bounce back and help us get back in that ballgame in the fourth quarter, that's what you like to see in your quarterback; just the resiliency that's necessary to lead your team back, and I saw that in him," Frazier said. "He never got down on himself. Never took himself out of the game mentally, and that's a sign of his maturation as a player. You see it in his command of our offense. But at the same time, we know that this is his second year in our offense, second year in the National Football League, and there are going to be some bumps in the road. That's part of the process. But he's come so far in a short time, and he'll only get better."Instead of needing to take major mental steps, Ponder is now focused on fine-tuning aspects that will make him a more complete player. Ponder, who is second in the league with a 68.6 percent completion rate, misfired on several throws during Sunday's game, a problem he equates to poor footwork.He claims the interceptions the past two weeks were more of an issue of poor throws than bad decisions. Ponder jumped in the air immediately after letting go of a pass intended for receiver Michael Jenkins on Sunday, knowing he had overthrown an open receiver on the interception that was returned for a touchdown."It's not really decision-making," Ponder said. "I'm not making bad decisions, it's something that's easily correctable. I think a lot of it has to do with my footwork and something I'll work on this week."Following that missed pass to Jenkins, which put Washington ahead, 31-12, early in the fourth quarter, Ponder connected on 20 of his final 28 passes for 199 yards, two touchdowns and one interception. He said he embraces the chance to have the ball in his hands with the game on the line. Frazier saw the workload Sunday as another step in Ponder's development despite conditions neither hoped would arise."We always talk about there's going to be some games where you have to be able to win different ways, and Sunday was one of those where we needed to score and score fast," Frazier said. "And he showed he can help us to get that done when the game falls back almost entirely on him. So, that's encouraging."Follow Brian Hall on Twitter.
Original Story:
http://www.foxsportsnorth.com/10/17/1...
THE BACKYARD
BEST OF MAXIM
RELATED ARTICLES
PURPLE REIGN
Minnesota Vikings second-year quarterback Christian Ponder appeared to confirm on Twitter that he is currently dating ESPN personality Samantha Steele.
Through six games this season, Ponder has taken a dramatic step forward. He is boasting a 69% completion percentage, 1,434 yards passing and 8 TD's vs 4 Int's. Let's compare his numbers versus last season's. He has increased his completion percentage by 14%. He has increased his quarterback rating by 20 points and his QBR by over 30 points. He threw 13 interceptions in 11...
Christian Ponder is no longer one of Minnesota's most eligible bachelors. Not only does the Vikings quarterback have his team at 4-2, but his personal life seems to be going just as well. In a tweet Thursday, Ponder confirmed to the world that he is dating ESPN college football sideline reporter Samantha Steele. A fan tweeted "Is @cponder & @Samantha_Steele dating...
EDEN PRAIRIE, Minn. Christian Ponder has the Minnesota Vikings off to one of the more surprising starts in the NFL as the teams starting quarterback. Turns out hes been pretty successful off the field too, confirming Friday he is dating ESPN college football sideline reporter Samantha Steele. "Obviously, I am a catch," Ponder joked. "But I outpunted my coverage...
It appears a high profile pairing between an NFL quarterback and an attractive ESPN personality is the real deal, after speculation over the past few days that said stars were an item. The possibility that Minnesota Vikings second-year quarterback Christian Ponder and ESPN sideline reporter/host Samantha Steele was originally addressed by Busted Coverage earlier this [...]
NO IFS ANDS OR BUTTS
Minnesota Vikings quarterback Christian Ponder had a little rookie hazing prank up his sleeve on Thursday. Ponder tweeted the photo you see above and said he found the items in teammate Matt Kalil's locker. He added, "I hope you're okay bud."Preparation H and Tucks are medications used to treat hemorrhoids. Kalil, a rookie offensive tackle who was drafted fourth overall in...
It looks like our Samantha Steele-Christian Ponder dating investigation was spot-on. Ponder, unless he's just joking, said on Twitter yesterday that his girlfriend is Steele, the rising star of ESPN's GameDay operation. If this isn't a joke, this player-sideline reporter relationship would be a college/NFL first, according to our researchers. Steele, 26, hasn't exactly tweeted...
Vikings QB Christian Ponder said his decision-making is better than his footwork, which led to two interceptions for the second straight game.
For the past few days, some of our Interweb bloggy peers have been speculating that the recent Twitter activity between Minnesota Vikings QB Christian Ponder and ESPN college football reporter Samantha Steele made it seem like they had something going on. Like, maybe they were sexting like the cool kids do. And it turns out they do have something going on, because Ponder is an open...
Minnesota Vikings quarterback Christian Ponder is scoring both on and off the field. The second-year signal-caller from FSU confirmed on Twitter yesterday that he is dating ESPN reporter Samantha Steele. Steele is a ridiculous hottie, and Erin Andrews replacement, so it's the perfect complement to Ponder's being 2nd in the NFL in completion percentage, ninth in passer rating...
Melvin Ingram was meant to lead all rookies in sacks within an improved San Diego pass rush, while up-and-coming Kansas City and Carolina were stealing their respective divisions. Matt Ryan and Mike Smith had originally received invitations to Michael Vick's dog house, and Peyton Manning was destined to be an all-time free agent bust.Ingram has 12 tackles and zero sacks through...
Vikings News

Delivered to your inbox

You'll also receive Yardbarker's daily Top 10, featuring the best sports stories from around the web. Customize your newsletter to get articles on your favorite sports and teams. And the best part? It's free!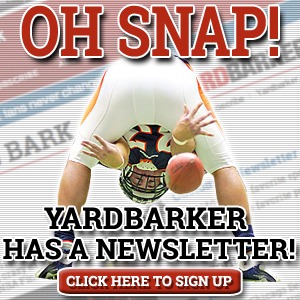 Latest Rumors
The Backyard

Today's Best Stuff

For Bloggers

Join the Yardbarker Network for more promotion, traffic, and money.

Company Info

Help

What is Yardbarker?

Yardbarker is the largest network of sports blogs and pro athlete blogs on the web. This site is the hub of the Yardbarker Network, where our editors and algorithms curate the best sports content from our network and beyond.