Found July 26, 2012 on Fox Sports North:
PLAYERS:
Christian Ponder
,
John Sullivan
,
Kyle Rudolph
,
Kevin Garnett
,
Randy Moss
,
Joe Mauer
,
Leslie Frazier
,
Brett Favre
TEAMS:
Minnesota Vikings
,
Boston Celtics
,
San Francisco 49ers
,
Minnesota Twins
EDEN PRAIRIE, Minn. On a summer Friday night, Minnesota Vikings quarterback Christian Ponder might be seen at Target Field cheering on the Twins' baseball team. A warm Saturday might bring him to Lake Minnetonka. Look around the Twin Cities and there's a good chance the Vikings' second-year starting quarterback will be out in public. While some professional players try to keep to themselves, Ponder is enjoying all the aspects of being in Minnesota. He has met with fans, done community outreach and also been a willing participant in charity activities. Ponder sees all this as his responsibility as the quarterback of the most popular team in the state. He has embraced his role as a team leader, but just as important to Ponder is embracing his role as the face of the Vikings. "I know there's some guys that like to stay home and not really get out," Ponder said last month while attending the Vikings' playground build in Minneapolis. "But I love Minneapolis. I love being here, and I love to be a part of everything. Getting out on Lake Minnetonka. You go to restaurants, go to Twins games there's so much the city has to offer, and I take full advantage of it." Ponder enjoys the camaraderie with teammates and being in the public. He isn't bothered by the attention when out. His Twitter page (@cponder7) is a testament to his interactions in the Twin Cities and the many fans that see him around. He tweets pictures with center John Sullivan while out on Sullivan's boat at Lake Minnetonka. His friendship with tight end Kyle Rudolph is well-documented ,and pictures of the two at the golf course are common tweets for Ponder. If Ponder's play on the field can match his enthusiasm for the Twin Cities, Ponder could become one of the most adored athletes in the state's history. Kirby Puckett, Kevin Garnett, Randy Moss -- the names are synonymous in the Twin Cities with their respective former teams. They had the on-fieldcourt success to become faces of their franchises and fan favorites. But most of their adoration stemmed from their exploits while playing. Alongside hometown Twins star Joe Mauer, Ponder has the chance to become Mr. Minnesota when it comes to athletes in the Twin Cities because of the way he embraces the state and its fans. "Everyone knows the quarterback is the face of the franchise," Rudolph said. "Christian's taken that role and he's going to run with it. He does a lot for the community. Everyone knows our friendship's no secret. We're hanging out a ton, and whether it's out at the lake or on the golf course, we enjoy spending time together and it's not just us. We have a group of young guys that love to hang out off the field. "We were mentioning the other day it seems like college again. A lot of times you hear about, you get to the NFL and there really isn't any off-the-field stuff. But with us, we hang out off the field just as much, probably more, than we do on the field." And that friendship doesn't leave town when the season ends. Ponder, Rudolph, Sullivan and others spent much of the offseason in the area. For Ponder, that was a goal even before being selected with the 12th overall pick in last year's draft by Minnesota. "I knew coming into this thing, wherever I got drafted I was going to divulge myself into the community and wherever I was living and be here full-time," Ponder said at the annual Vikings Children's Fund golf tournament. "And Minnesota's been so great to me, I want to do as much as possible to give back and there's so many opportunities to do that. Especially when you're a Minnesota Viking, people want to have you out all the time. It's fun. I've really enjoyed doing it." The Vikings appreciate Ponder's efforts and named him the first Vikings Children's Fund Rookie of the Year earlier this offseason, recognizing his on- and off-field work. "I think it's very important because he sets the tone in so many ways for our football team," coach Leslie Frazier said. "So when other young guys come to our team (they) recognize that our quarterback is one of the leaders when it comes to community involvement. Not only is he a good football player, but he's a leader in that area. It's got to have a spillover effect, and that's what you hope happens." Ponder is trying to become more of a leader on the field and in the locker room as well. Before breaking for the offseason, Frazier and general manager Rick Spielman emphasized Ponder was going to be their No. 1 quarterback for the foreseeable future. That trust helped Ponder start his offseason focus of becoming a better teammate and leader. "Knowing as a rookie this last year, knowing that there's guys that have been there and have put in the time, I kind of stayed back and learned from those guys," Ponder said. "It was a great opportunity to learn from those guys that have been around and the things we've said. Now I feel, it's my second year I haven't been here that long, but I feel like I've put in a lot of time to earn that leadership role. I know as a quarterback it kind of comes naturally and you're looked at to be a leader. Kind of taken it by the horns and hopefully I'm doing a good job." Now Ponder needs the on-field success to finish his transformation as a team leader and face of the franchise. He admits he made many mistakes during an inconsistent rookie season in which he unexpectedly became a full-time starter just seven games into his first season. Ponder finished an up-and-down year with a 70.1 quarterback rating after throwing for 1,853 yards on 54.3 percent passing with 13 touchdowns and 13 interceptions. He says he has watched a lot of the film from last year and is embarrassed by some of the mistakes he made. He has worked extensively with offensive coordinator Bill Musgrave this year to become more accustomed to the offensive schemes. "I know the quarterback position is a position of leadership on the team," Ponder said. "It's not really something that you seek out and say, Hey, I'm going to be a leader today. 'No. It's just something that comes natural. Obviously, there's things I can do as a leader; put in the time, the effort, studying my playbook, being in the weight room and everything. I'm trying to do a lot better job of getting together with the guys off the field. Obviously, I'm pretty close friends with Kyle Rudolph and Sully, but trying to get to know a lot of the other guys a lot closer, like Jerome (Simpson), the receivers and the offensive linemen. That's something I had a conversation with a guy about Brett, and Brett Favre was so close to everybody and knew everybody in a personal level off the field and that's what helped him become a great leader." If Ponder can help make the Vikings winners, the relationships he's building both on and off the field could turn him into one of the most popular athletes Minnesota has ever seen. Follow Brian Hall on Twitter.
Original Story:
http://www.foxsportsnorth.com/07/26/1...
THE BACKYARD
BEST OF MAXIM
RELATED ARTICLES
The biggest beneficiary of Matt Kalil's arrival in Minnesota is unquestionably quarterback Christian Ponder. Whether with dinner, golfing or joyriding on teammate Kyle Rudolph's boat, Ponder has pounced on the opportunity to welcome Kalil to the Vikings, fully realizing how much he needs his rookie left tackle to protect him this season and beyond. So, naturally, Ponder...
EDEN PRAIRIE, Minn. One more signing down and the Minnesota Vikings are only left with one to go. Third-round draft pick Josh Robinson has reportedly agreed to a four-year contract, according to ProFootballTalk.com and now Minnesota only has top pick Matt Kalil to sign before players are required to report to training camp on Thursday. Robinson, a speedy cornerback out of Central...
MANKATO, Minn. Percy Harvin showed up on time to Minnesota Vikings training camp Friday, expressed his love for coach Leslie Frazier and said the issues he had with the team during last month's minicamp last month have been resolved. Harvin was one of the final arrivals to Minnesota State University in Mankato, Minn., on Thursday's report day. He showed up before the 4...
The Vikings signed cornerback Josh Robinson toa four-year contract on Wednesday and continued negotiations with first-round pick Matt Kalil, the only rookie in Minnesota's 10-member 2012 draft class yet to sign with the team. The Vikings drafted Robinson in the third round (66th overall). He was the second defensive back drafted by the team -- Notre Dame safety Harrison...
Getty Images According to Jeremy Fowler of the Pioneer Press, the Minnesota Vikings have placed running back Adrian Peterson on the PUP list to start training camp.  He reportedly fought the decision, but this is the best for him as his knee recovers from ACL surgery. The Vikings will have the option to take Peterson off the PUP list and place him on their active roster at any...
This is the 13th in a series of 13 previews leading up to the Minnesota Vikings' July 27 start of camp.July 10: Quarterbacks July 11: Running backs and fullbacks July 12: Wide receivers July 13: Tight ends July 16: Offensive linemen July 17: Defensive linemen July 18: Linebackers July 19: Safeties July 20: Cornerbacks July 23: Specialists July 24: Coaches July 25...
Getty Images According to Jeremy Fowler of the Pioneer Press, Minnesota Vikings wide receiver Percy Harvin has reported to training camp, even though he expressed some issues with the Vikings organization during the offseason. Harvin will have a chance to earn more snaps this season if he's able to prove he can be a more versatile receiver in camp.
Former Vikings linebacker Ben Leber said it bugged him that Brett Favre came back for the money in 2010 and then showed a lack of commitment.
As expected, the Vikings started training camp with Adrian Peterson on the PUP list, watching instead of participating.
New Minnesota Vikings kicker Blair Walsh (who we're still working VERY HARD to come up with a proper nickname for) recently did a 20-questions thingy with the always revered and HIGHLY RESPECTED (I use caps locks as my sarcasm font, FYI) Bob Sansevere of the currently VERY SUCCESSFUL media outlet, Star Tribune. Whew. Anyway, Baby Blair just, like, said a whole bunch of weird...
@GeoffSchwartz76 on Twitter by: Duke Manyweather  This week Beyondthecombine.com caught up with Minnesota Vikings offensive lineman Geoff Schwartz. Schwartz enters his 5th year in the NFL and is looking for a bounce back year after missing the entire 2011 season due to hip surgery. Schwartz was… READ MORE Related articles 2013 NFL Draft Preview: Ricky Wagner, OT Wisconsin(110sportztalk...
NFL News

Delivered to your inbox

You'll also receive Yardbarker's daily Top 10, featuring the best sports stories from around the web. Customize your newsletter to get articles on your favorite sports and teams. And the best part? It's free!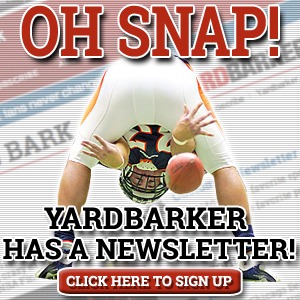 Latest Rumors
The Backyard

Today's Best Stuff

For Bloggers

Join the Yardbarker Network for more promotion, traffic, and money.

Company Info

Help

What is Yardbarker?

Yardbarker is the largest network of sports blogs and pro athlete blogs on the web. This site is the hub of the Yardbarker Network, where our editors and algorithms curate the best sports content from our network and beyond.