Found December 05, 2012 on Fox Sports North:
EDEN PRAIRIE, Minn. Facing the most criticism he's received in his still young career, Minnesota Vikings quarterback Christian Ponder took another hard look at himself and his play in Sunday's 23-14 loss at Green Bay. He's received support from coaches and teammates. But even Ponder can feel time, in a sense, slipping away, both for this season and the chance to establish himself as a long-term answer at quarterback for the Vikings. Sunday's game, when he completed 12 of 25 passes for 119 yards, with a touchdown and two costly interceptions, had many wondering about his future prospects. Coach Leslie Frazier received more questions about Ponder's starting spot and the timeframe he has to establish himself. "The clock is still ticking on his improvement and development, and that's part of evaluating the quarterback position," Frazier said Monday. "But we are not at a point where we're going to throw in the towel on Christian Ponder. He's going to get better, and he's going to play better this Sunday. I really believe that." Facing his own questions about his play and his status as the team's starter, here are five questions and answers between Ponder and reporters Wednesday during his weekly press conference: 1.Sounds like you were taking a real critical look at yourself after that game Sunday, was there anything that made you want to get so critical? PONDER: Looking at that loss, we were in that game and some of the mistakes I made were very frustrating. Obviously I'm always critical of myself, but with such an important game and with such costly mistakes just because of me, that was very frustrating. So, it was kind of a wake-up call that obviously I need to be doing some stuff differently and change my game and elevate my play. So that, especially where we are in the season and with the goals that are in our hands, I've got to make sure that I give our team a chance to be successful and achieve those goals. 2.How do you go about balancing the turnovers that are in the back of your head and you don't want to commit those again, but also playing loose and winging the ball around out there? PONDER: Well, it's not that hard. Looking back, the mistakes I made were pretty obvious and pretty dumb. So it's not hard to eliminate those dumb mistakes. We still want to be aggressive. We just have to be so much smarter. I think trying not to force things, especially I think the turnovers came either on first or second down and we want to be smart and not have to make a perfect throw on first or second down; being patient and taking those checkdowns. It just goes back to being a lot more patient and not trying to make the perfect throw. Because it's not on me, we've got so many good players, especially the way Adrian's running the ball, it's not on me to make a perfect throw. 3.How have you learned to balance being critical of your play, but not beating yourself up too much? PONDER: I think through the years I've found ways and kind of learned that. I think early on, especially through high school and my early years at Florida St. I was probably way overcritical of myself; would put myself in a negative position to approach practice that next week after a bad loss. So, now just learning to refocus and that's what makes me excited for the next couple of days at work after a loss like that. I don't get too frustrated with myself. I go back through the film and look critically at what things I need to improve on, what those mistakes were and kind of get excited to work on those things the rest of the week. 4.How many starts or years do you think it will take before you establish what you're going to be as an NFL quarterback long-term? PONDER: I don't know. I hope not that long; hopefully as soon as possible. I don't really know. I think it's hard to establish a timeline like that. Every player is different. Obviously I want to get to that consistent level as soon as possible. 5.It's kind of routine to see Adrian (Peterson) have big games, do you guys have a sense in the room that you're actually witnessing greatness? PONDER: I don't know. It's kind of getting to be like a regular thing that we expect him to have these 60-, 80-yard runs for touchdowns. We're almost maybe taking it for granted. But I think 10 years down the road, when we look back and kind of really think about what he did or after the season think about what he really did, it is really tremendous and amazing what he's doing. He is a one-of-a-kind player." Follow Brian Hall on Twitter.
Original Story:
http://www.foxsportsnorth.com/12/05/1...
THE BACKYARD
BEST OF MAXIM
RELATED ARTICLES
FOR BETTER OR NORSE
Minnesota Vikings quarterback Christian Ponder and ESPN reporter Samantha Steele are now engaged, a few months after they went public to reveal they were dating.
The NFL is a pass-first league, unless you're the Minnesota Vikings. The Vikings are a run-first—or more accurately a run-only—team for two reasons. One, they have the best running back in the NFL in Adrian Peterson, who is playing the best football of his career after recovering from a torn ACL. Second, Christian Ponder is apparently not capable of throwing the ball further...
Christian Ponder has 22 starts for Minnesota in his NFL career. Many of his peers have enjoyed far more success in a similar amount of time, but Ponder said Wednesday he's not comparing himself to other quarterbacks around his age. He said he hopes he doesn't need much longer to find his rhythm on the job. Ponder blamed himself for the Vikings' 23-14 loss at Green Bay...
Minnesota Vikings fans who blame ESPN sideline reporter Samantha Steele for Christian Ponder's dip in production this season are not going to be happy. According to Sports Illustrated's Richard Deitsch, Steele confirmed on Tuesday that she and Ponder are engaged. Unless the two were dating for a long time and did a great job of keeping it a secret prior to Ponder confirming it...
Wow, that was quick.  It was less than a month ago when the world found out via twitter that Samantha Steele and Minnesota Vikings QB Christian Ponder were dating.  Now the two are engaged.  Richard Deitsch of Sports Illustrated confirmed the report on his twitter account earlier today.   Christian moves fast, hopefully for him he only moves fast in one way.  The Vikings have...
Spoke to ESPN's @samantha_steele today. She confirms she is engaged to @vikingsfootball quarterback Christian Ponder. — Richard Deitsch (@richarddeitsch) December 4, 2012 Sports Illustrated's Richard Deitsch confirmed on Tuesday that ESPN reporter Samantha Steele and Minnesota Vikings quarterback Christian Ponder are officially engaged to be married. After some speculation...
EDEN PRAIRIE, Minn. Leslie Frazier stood at a podium Monday, taking repeated questions from the media regarding Minnesota Vikings quarterback Christian Ponder and Frazier's resolute stance that Ponder is, and will be, Minnesota's starter. Before standing up and explaining his and the team's position on Ponder, Frazier had already thought long and hard about a vastly...
Minnesota Vikings quarterback Christian Ponder is scoring both on and off the field. The second-year signal-caller from FSU is engaged to ESPN reporter Samantha Steele. Sports Illustrated's Richard Deitsch confirmed it on Twitter "Spoke to ESPN's @Samantha_Steele today. She confirms she is engaged to @VikingsFootball quarterback Christian Ponder," Deitch tweeted. Steele...
How Many Boos Does Christian Ponder Get? Does he get all the boos? Every single one? Will any of them be directed at Big Leslie or Bill Musgrave? I would think some of them would be, wouldn't you? When will they start? Right away? When the offense runs out on to the field? I bet they'll announce the defense to prevent that from happening. But as soon as the offense takes...
This is Mark Swanson. I'll bet his friends called him "Swanny" in high school. Or Marky. Or ... Well, he's allegedly 39 years old, so maybe he's young enough to have gone by Marky Mark? I don't know. Either way, he's a Minnesota Vikings fan who recently attended a Vikings/Packers game at Lambeau field. In retrospect, he probably wishes he wouldn'...
Leslie Frazier said he believes in Christian Ponder as the Vikings' best option at quarterback, for now and for developing long-term. Meanwhile, he said his approach at quarterback is different than other positions.
Vikings News

Delivered to your inbox

You'll also receive Yardbarker's daily Top 10, featuring the best sports stories from around the web. Customize your newsletter to get articles on your favorite sports and teams. And the best part? It's free!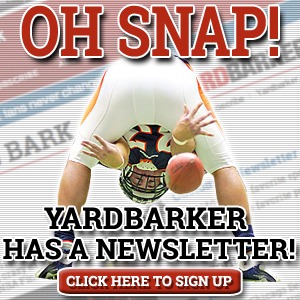 Latest Rumors
The Backyard

Today's Best Stuff

For Bloggers

Join the Yardbarker Network for more promotion, traffic, and money.

Company Info

Help

What is Yardbarker?

Yardbarker is the largest network of sports blogs and pro athlete blogs on the web. This site is the hub of the Yardbarker Network, where our editors and algorithms curate the best sports content from our network and beyond.