Found December 03, 2012 on Fox Sports North:
PLAYERS:
Christian Ponder
,
Jerome Simpson
,
Jarius Wright
,
Kyle Rudolph
,
Jerome Felton
,
Michael Jenkins
,
Morgan Burnett
,
Adrian Peterson
,
Aaron Rodgers
,
Greg Jennings
,
Jordy Nelson
,
Harrison Smith
,
James Starks
,
Alex Green
,
Randall Cobb
,
Blair Walsh
,
Chris Kluwe
,
Percy Harvin
,
Marcus Sherels
,
Everson Griffen
,
Jared Allen
TEAMS:
Minnesota Vikings
,
Chicago Bears
,
Seattle Seahawks
,
Green Bay Packers
,
Tampa Bay Buccaneers
The Minnesota Vikings' playoff chances are slipping away with each missed opportunity, such as Sunday's 24-13 loss at the Green Bay Packers. Green Bay and the Chicago Bears (8-4) are tied atop of the NFC North, with the Packers owning a tiebreaker advantage against Chicago. Minnesota (6-6) is a game out of the playoffs after the Seattle Seahawks (7-5) beat the Bears Sunday. The Vikings are tied with the Tampa Bay Buccaneers, who beat Minnesota earlier this season. With four games remaining, the Vikings are in must-win territory beginning with next week's home against the Bears. Here's how Minnesota graded out against Green Bay to get into this position: Pass offense: FWhen this season began, getting a full evaluation of quarterback Christian Ponder might have been the most pressing matter. With four games left, the evaluation wouldn't be positive, and Sunday's game might have screamed for a needed change more than any other this season, a season Ponder has thrown for less than 100 yards twice already. In half of the team's games, Ponder has managed less than 200 yards passing, including Sunday's 12 of 25, 119-yard performance. But two very costly turnovers tell a big part of the story. Another was the play of the wide receivers. The first catch by a wide receiver came with 2 minutes, 55 seconds left in the entire game. Two receivers, Jerome Simpson and Jarius Wright, caught a total of three passes. Ponder was 5 of 5 -- with completions to tight end Kyle Rudolph and fullback Jerome Felton -- on a scoring drive in the second quarter and went 38:51 on the game clock before completing another pass. Ponder was misfiring, throwing high, lofty passes that were off the mark. His turnovers were inexcusable, especially the first on the opening drive of the second half when Minnesota could have extended its 14-10 halftime lead. Rolling right, Ponder lofted a ball into the endzone to a covered Michael Jenkins gift-wrapping the interception by Morgan Burnett and costing the Vikings points. The second was another example of Ponder getting away from good technique, throwing off his back foot and not getting enough on a pass that Burnett easily stepped in front of. All of this when Ponder wasn't even sacked Sunday and didn't face much pressure from Green Bay. Run offense: AAdrian Peterson somehow continues to find ways to do even more than he did the week before. The league's rushing leader simply can't be stopped. Peterson ripped off an 82-yard touchdown run, the longest touchdown run of Peterson's career. He had his sixth-straight 100-plus yard rushing day Sunday, setting a new team record. But Peterson wasn't stopping at 100 yards. He had the third 200-yard rushing game of his career and the first since his rookie season in 2007. Peterson had 21 carries for 210 yards, an amazing 10 yards-per-carry average. He slipped several tackles on his 82-yard touchdown run as well as a 48-yarder, with a big spin move, that put Minnesota into scoring position before Ponder's fateful first interception. Yet, as Green Bay chewed up the game clock in the fourth quarter, Peterson went without a carry in the final quarter because the Vikings had only two drives and were behind by more than one score by the time it got the ball the first time in the fourth quarter. Sadly, an amazing season by Peterson is being wasted by a stumbling passing offense and turnovers. Pass defense: CComing into the game, if Green Bay was going to score points, most figured it would need to come from the arm of quarterback Aaron Rodgers and his strong receiving corps, which welcomed back Greg Jennings this week. However, Jordy Nelson left early with an injury and Minnesota's pass defense actually held Rodgers under 300 yards passing. The biggest concern for Green Bay, and the Vikings focus on defense, was putting pressure on Rodgers, but he was only sacked twice, both coming in the fourth quarter. Rodgers finished 27 of 35 for 286 yards, one touchdown and one interception. The touchdown came on the first possession of the game. The interception, by safety Harrison Smith was followed by a three-and-out from Minnesota's offense. The Vikings had a strong effort going until the fourth quarter against the pass defense, but the league's reigning MVP made the plays when he needed and Green Bay was 6 of 9 on third downs in the second half, and 9 of 16 for the game. Run defense: DMinnesota's defense is probably most disgusted with not being able to stop the Packers' mediocre running game. Green Bay had the league's 23rd ranked running game coming in, averaging 100.7 yards per game. Sunday, though, with James Starks and Alex Green, splitting carries, each ran for over 50 yards and Green Bay ran for 152 yards as a team, the second-highest total of the season for the Packers. Green Bay averaged 4.2 yards per run and Starks' 22-yard touchdown run turned the tide of the game, helping the Packers reclaim the lead. With Rodgers and Starks having their way, Green Bay put a back-breaking drive together at the start of the fourth quarter, an 11-minute clock-killing possession that ended with a field goal. The Packers converted four third-downs on the drive, including a third-and-12, and had 35 rushing yards on the drive that essentially took Minnesota, and Peterson, out of the game. Special teams: CThe Vikings handled standout returner Randall Cobb, even though kicker Blair Walsh didn't have any touchbacks. Punter Chris Kluwe also had a strong game, averaging 47 yards per punt, 44.8 net yards. Minnesota didn't have its dynamic returner, Percy Harvin, who missed his third straight game. Marcus Sherels averaged 26.5 yards on two kick returns and had two punt returns for a total of one yard. However, Walsh missed a 42-yard field, just his third miss of the season. It's the second straight game Walsh has missed a field goal attempt. Overall: DMinnesota lost the turnover battle again, with Ponder's two interceptions proving extremely costly, taking points away from the Vikings and ending up in six Green Bay points. Minnesota had several undisciplined, penalties early, but ended with only five penalties for 48 yards, but again, those penalties were costly. Everson Griffen was hit with a roughing the quarterback penalty nullifying an interception by Jared Allen, who had 1.5 sacks. The Vikings have now lost two in a row, both being important NFC North road games to the teams they are chasing. Minnesota hasn't slipped into any prolonged slumps this season, but it will be challenged in stemming the tide with next week's home game against the Bears. Peterson's efforts are being wasted and the defense played a decent game Sunday minus the one big drive in the fourth quarter. But with Ponder struggling and the passing game able to offer very little, the Vikings can't stay with the better teams on its schedule. As Sunday showed, as Ponder and the receivers go, so will go the, otherwise solid, team.
Original Story:
http://www.foxsportsnorth.com/12/03/1...
THE BACKYARD
BEST OF MAXIM
RELATED ARTICLES
FOR BETTER OR NORSE
Minnesota Vikings quarterback Christian Ponder and ESPN reporter Samantha Steele are now engaged, a few months after they went public to reveal they were dating.
Minnesota Vikings fans who blame ESPN sideline reporter Samantha Steele for Christian Ponder's dip in production this season are not going to be happy. According to Sports Illustrated's Richard Deitsch, Steele confirmed on Tuesday that she and Ponder are engaged. Unless the two were dating for a long time and did a great job of keeping it a secret prior to Ponder confirming it...
Spoke to ESPN's @samantha_steele today. She confirms she is engaged to @vikingsfootball quarterback Christian Ponder. — Richard Deitsch (@richarddeitsch) December 4, 2012 Sports Illustrated's Richard Deitsch confirmed on Tuesday that ESPN reporter Samantha Steele and Minnesota Vikings quarterback Christian Ponder are officially engaged to be married. After some speculation...
EDEN PRAIRIE, Minn. Leslie Frazier stood at a podium Monday, taking repeated questions from the media regarding Minnesota Vikings quarterback Christian Ponder and Frazier's resolute stance that Ponder is, and will be, Minnesota's starter. Before standing up and explaining his and the team's position on Ponder, Frazier had already thought long and hard about a vastly...
Minnesota Vikings quarterback Christian Ponder is scoring both on and off the field. The second-year signal-caller from FSU is engaged to ESPN reporter Samantha Steele. Sports Illustrated's Richard Deitsch confirmed it on Twitter "Spoke to ESPN's @Samantha_Steele today. She confirms she is engaged to @VikingsFootball quarterback Christian Ponder," Deitch tweeted. Steele...
Leslie Frazier said he believes in Christian Ponder as the Vikings' best option at quarterback, for now and for developing long-term. Meanwhile, he said his approach at quarterback is different than other positions.
By Andrew Gruman FOXSportsWisconsin.com GREEN BAY, Wis. When Vikings coach Leslie Frazier approached a dejected Christian Ponder at his locker just moments after the young quarterback struggled yet again, it wasn't to make a change. Instead, Frazier's intentions were to let Ponder know that he stood by him and won't be changing quarterbacks despite another dismal showing...
GREEN BAY, Wis. A day after the Packers defeated the Minnesota Vikings at Lambeau Field, defensive coordinator Dom Capers, special teams coordinator Shawn Slocum and offensive coordinator Tom Clements addressed several topics from the 23-14 win. Here are three question-and-answer highlights from each coordinator: DOM CAPERS, defensive coordinator 1. How good was Morgan Burnett...
GREEN BAY, Wis. -- For the Minnesota Vikings (6-5) to make the playoffs this season, they'll need to win at least one of their two upcoming games with the division-rival Packers (7-4). The first of those two NFC North showdowns is Sunday at Lambeau Field, with both teams' regular-season schedules concluding four weeks later in Minnesota. "I want to go ahead and control...
GREEN BAY, Wis. -- With one month until the playoffs begin, the Packers showed Sunday that they still have a lot of work to do to become serious Super Bowl threats. But this was certainly an improvement over how they played a week ago, so coach Mike McCarthy's team is starting to make a few of the necessary adjustments. Handing out grades following the Packers' 23-14 win...
GREEN BAY, Wis. -- Aaron Rodgers got plenty of help. Adrian Peterson got none at all. The Green Bay Packers won a key NFC showdown against division rival Minnesota 23-14 on Sunday at Lambeau Field. With a win by the Packers (8-4) and a loss by Chicago (8-4), the Packers are tied for first place in the NFC North. The Vikings (6-6), meanwhile, are in deep trouble after losing for...
NFL News

Delivered to your inbox

You'll also receive Yardbarker's daily Top 10, featuring the best sports stories from around the web. Customize your newsletter to get articles on your favorite sports and teams. And the best part? It's free!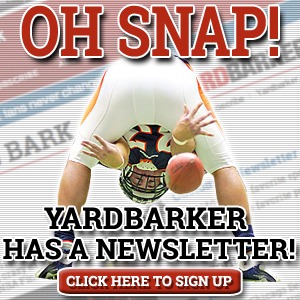 Latest Rumors
The Backyard

Today's Best Stuff

For Bloggers

Join the Yardbarker Network for more promotion, traffic, and money.

Company Info

Help

What is Yardbarker?

Yardbarker is the largest network of sports blogs and pro athlete blogs on the web. This site is the hub of the Yardbarker Network, where our editors and algorithms curate the best sports content from our network and beyond.