Found August 31, 2012 on WhoDeyFans:
PLAYERS:
Andy Dalton
,
Bruce Gradkowski
,
Zac Robinson
,
Bernard Scott
,
Brian Leonard
,
Cedric Peerman
,
Chris Pressley
,
Jourdan Brooks
,
Dan Herron
,
A.J. Green
,
Armon Binns
,
Brandon Tate
,
Andrew Hawkins
,
Marvin Jones
,
Ryan Whalen
,
Jermaine Gresham
,
Donald Lee
,
Orson Charles
,
Colin Cochart
,
Kyle Cook
,
Jeff Faine
,
Trevor Robinson
,
Clint Boling
,
Kevin Zeitler
,
Anthony Collins
,
Dennis Roland
,
Andrew Whitworth
,
Andre Smith
,
Otis Hudson
,
Reggie Stephens
,
Robert De
,
Robert Geathers
,
Michael Johnson
,
Carlos Dunlap
,
Jamaal Anderson
,
Geno Atkins
,
Domata Peko
,
Brandon Thompson
,
Devon Still
,
Pat Sims
,
Thomas Howard
,
Rey Maualuga
,
Manny Lawson
,
Dan Skuta
,
Vincent Rey
,
Vontaze Burfict
,
Roddrick Muckelroy
,
Nate Clements
,
Leon Hall
,
Jason Allen
,
Terence Newman
,
Dre Kirkpatrick
,
Taylor Mays
,
Reggie Nelson
,
Jeromy Miles
,
George Iloka
,
Robert Sands
,
Mike Nugent
,
Kevin Huber
,
Clark Harris
,
Bryce Davis
TEAMS:
Cincinnati Bengals
Here's a position-by-position look at the current Bengals 53:
Quarterbacks (2):  Andy Dalton, Bruce Gradkowski
It was assumed the Bengals would only carry two signal-callers, and that's exactly what happened with starter Dalton entrenched and Jay Gruden favority Bruce Gradkowski as the lone back-up.  Zac Robinson played well in the preseason, and is eligible to return to the practice squad.
Running backs (6):  Ben Jarvis Green-Ellis, Bernard Scott, Brian Leonard, Cedric Peerman, and Chris Pressley
This also went as expected.  FA's Jourdan Brooks and Dan Herron were let go after lackluster performances in preseason.  Scott and BJGE are still slowly coming off injuries.  Leonard remains the third down guy and Peerman has flashed while again playing solidly on special teams.  Pressley returns as the lone fullback.  Don't be surprised if the team scours the waiver wire for a potential upgrade, however.  Scott, in particular, could be in jeopardy.
Wide Receivers (7):  A.J. Green, Armon Binns, Brandon Tate, Andrew Hawkins, Mohammed Sanu, Marvin Jones, and Ryan Whalen
Big surprise here that the team kept seven.  Six is the norm with one being inactive on game day.  In the end, it could indicate that the team still isn't sure who their top 6 are, and are afraid of letting a talent like Whalen go just yet.  No one has really separated themselves so far, though Jones makes the best case.  Whalen's big performance last night might have secured a spot.
Tight Ends (3):  Jermaine Gresham, Donald Lee, and Orson Charles
Expected in my view.  Gresham is the clear starter, and Donald Lee performs well whenever his number is called.  Charles was fairly safe as a mid-round pick, which meant that Colin Cochart was the odd man out.  Cochart could return to the practice squad.  He was a regular contributor last year.
Offensive Line (9):  C Kyle Cook, C Jeff Faine, OG Trevor Robinson, OG Clint Boling, OG Kevin Zeitler, OT Anthony Collins, OT Dennis Roland, OT Andrew Whitworth, OT Andre Smith
Cutting both Otis Hudson and Reggie Stephens means the team is comfortable with the undrafted C/G Trevor Robinson to play significant snaps in 2012.  His performance against the Colts may have made that final argument.  Boling takes over as the starter on the left side, and the rookie Zeitler will start on the right.  Faine will likely get the start next week.  The Bengals are most likely planning to put Cook on injured reserve after September 4th, allowing them to bring him back later on in the season.  This means the team will probably sign another offensive lineman at that point to bridge the gap.
Defensive Line (8):  DE Robert Geathers, DE Michael Johnson, DE Carlos Dunlap, DE Jamaal Anderson, DT Geno Atkins, DT Domata Peko, DT Brandon Thompson, and DT Devon Still
Moving Pat Sims to the PUP allows them to keep him on the roster through week 8 before deciding what to do with him.  In the meantime, this group should perform well, assuming Dunlap and Geathers return quickly from their current injuries.  Jay Hayes's group should be able to platoon in and out again this year, keeping the line fresh.
Linebackers (6):  Thomas Howard, Rey Maualuga, Manny Lawson, Dan Skuta, Vincent Rey, and Vontaze Burfict
The team is going a little light here.  Seven would be better, but with the question marks on the O-line and WR, this was the place a spot was taken from.  The same starters from 2011 return (Howard, Maualuga, and Lawson) as does first back-up Skuta, who can play all 3 spots.  Rey and Burfict were kept while Roddrick Muckelroy was let go.  The team must really like Rey's versatility and smarts and Burfict's potential.  Muckelroy could get scooped up elsewhere after a strong preseason.
Cornerbacks (6):  Nate Clements, Leon Hall, Adam Jones, Jason Allen, Terence Newman, Dre Kirkpatrick
Despite a myriad of injuries and a general lack of practice time, the team went with the expected group of 6 first round picks.  Clements and Newman have been reliable so far but are the graybeards in this group.  Hall is still working his way back from the Achilles injury, and the last three, Jones, Kirkpatrick, and Allen, have all been walking wounded for weeks now.  The team will likely bring Chris Harris-Lewis back on the practice squad (assuming he clears waivers).  Harris-Lewis stayed healthy all summer and provided some pretty impressive play.  His availability might be required as the season wears on.  Jones and Allen need to get back on the field in a hurry.  Clements will swing to safety some this year.
Safety (4):  Taylor Mays, Reggie Nelson, Jeromy Miles, and George Iloka
The season-ending injury to Robert Sands secured Iloka's spot.  Mays and Miles will likely alternate a bit this year.  Nelson looks to continue being a stalwart in Mike Zimmer's backfield.
Specialists (3):  K Mike Nugent, P Kevin Huber, LS Clark Harris
No surprises here.  The same group from last year.  Nugent destroyed his competition during camp, nailing long field goals with relative ease.  Huber was uncontested and has done a solid job in the preseason.  Harris held off a push from rookie Bryce Davis.
What do you think of this roster?
Take Our Survey!
Original Story:
http://whodeyfans.com/2012/08/31/posi...
THE BACKYARD
BEST OF MAXIM
RELATED ARTICLES
The Bengals have announced the cuts/roster moves necessary to get down to the 53 man limit as required by 9:00 PM EDT today.  Here the are: Waived:  DT Nick Hayden, DT Vaughn Meatoga,  CB T.J. Heath, RB Boom Herron, OG Otis Hudson, LB Grant Hunter, LB Emmanuel Lamur, DE Micah Johnson, CB Chris Lewis-Harris, T Matthew O'Donnell, QB Zac Robinson, OG Reggie Stephens, LB Roddrick...
Bengals quarterback Andy Dalton left on the Bengals' first series Thursday night with a bruised right arm. Dalton was hit by Robert Mathis and others on the Bengals' sixth offensive play. Initially, he stayed down, then got up and walked toward the sideline where he dropped to the ground again. Trainers appeared to be checking his elbow. Bruce Gradkowski replaced Dalton...
Throughout their 44-year history, the Cincinnati Bengals have rarely been more than a one-year playoff wonder. The Bengals have gone to the playoffs in back-to-back seasons only once. They went to the Super Bowl for the first time and lost to San Francisco during the 1981 season, then made the playoffs again the following year. That's it. It's even worse by another measure...
A year ago, the Cincinnati Bengals were the odds on favorite to win the Andrew Luck sweepstakes. Their veteran quarterback, Carson Palmer, had sworn never to play for the organization again, leaving the offense to an untested second round pick, Andy Dalton. Their new offensive coordinator, Jay Gruden, had his greates successes in the Arena Football League and was installing a new...
  With the season opener only a few days away and the Bengals roster cuts made today, there's no better time than now to offer some rapid fire thoughts on the roster. -I'm sad to see Roddrick Muckelroy go. I thought Muckelroy played well in the preseason (and in his limited opportunities as a rookie) and figured he would be a decent replacement should Rey Maualuga ever get...
After center Kyle Cook saw a foot specialist early in the week, the Bengals brought in Jeff Faine for a visit as insurance for Cook, whose initial prognosis did not look good. After the Bengals signed Faine, Cook's prognosis isn't looking any better. According to the Cincinnati Enquirer, "indications are" he'll miss a "large amount of time," possibly even the whole...
Bengals quarterback Andy Dalton left Thursday's preseason game with an injury to his throwing arm.Fantasy Spin:Dalton was sandwiched by two Colts defenders on the opening drive in the team's final exhibition game. The quarterback didn't need to go to the locker room, however, so this shouldn't be a serious issue.
Tonight our Bengals play their final tune-up for the regular season against the new-look, Luck-ed up Colts.  There won't be much to see from the starters, so there won't be much opportunity to see the guys who will take the majority of the snaps against Baltimore in the big Monday Night opener.  That's too bad, because frankly I'm getting a little uneasy about things about...
The Colts and Bengals will each be missing five starters in Thursday night's preseason finale. Indy will play without receiver Austin Collie, cornerback Jerraud Powers, defensive end Cory Redding and left guard Joe Reitz. All are hurt. Dwight Freeney also is sitting out and will be replaced in the lineup by Justin Hickman. Ricardo Matthews takes over for Redding, Donnie Avery...
Bengals News

Delivered to your inbox

You'll also receive Yardbarker's daily Top 10, featuring the best sports stories from around the web. Customize your newsletter to get articles on your favorite sports and teams. And the best part? It's free!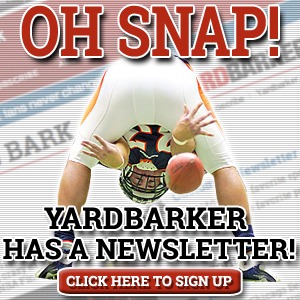 Latest Rumors
Best of Yardbarker

Today's Best Stuff

For Bloggers

Join the Yardbarker Network for more promotion, traffic, and money.

Company Info

Help

What is Yardbarker?

Yardbarker is the largest network of sports blogs and pro athlete blogs on the web. This site is the hub of the Yardbarker Network, where our editors and algorithms curate the best sports content from our network and beyond.