Found June 13, 2012 on Fox Sports South:
PLAYERS:
Tony Gonzalez
,
Reggie Kelly
,
Justin Peelle
,
Ben Hartsock
,
Michael Turner
,
Michael Palmer
,
Tommy Gallarda
,
Ryan Winterswyk
,
Adam Nissley
,
LaMark Brown
,
Aron White
,
Daniel Graham
,
John Abraham
,
Ray Edwards
,
Dirk Koetter
,
Jason Snelling
,
Thomas DeCoud
TEAMS:
Atlanta Falcons
,
Carolina Panthers
,
Tennessee Titans
,
Boise State Broncos
FLOWERY BRANCH, Ga. -- Take a look at the Atlanta Falcons lineup and there are few gaping holes. One of the only ones might be at blocking tight end -- a spot that was accentuated by the absence of starter Tony Gonzalez during offseason team activities. Friday will be the Falcons' final OTA and Wednesday was the last session open to the media. Next Tuesday begins a three-day mandatory mini-camp, when Gonzalez's Hall-of-Fame presence will make its return to the team's practice facility. (He tweeted recently from Paris where he vacationed with his wife.) At age 36, Gonzalez often remains on the field for running plays, but he is mostly there to catch passes, so to the extent that the Falcons want to run two or three tight end formations, someone is going to have to win the job -- or the Falcons will have to go outside their current crop to find one, as they did last season in signing Reggie Kelly. Over the last four seasons, the Falcons' No. 2 tight end has represented something of a revolving door. Last season, Kelly, at age 34, filled the role, catching one pass. The team parted ways with him after the season concluded. The two seasons prior, Justin Peelle, who had the versatility to both catch and block, often played opposite Gonzalez in two tight end sets and the team would go to him in third-down situations. Ben Hartsock played the role for his one season in Atlanta in 2008, catching three passes, which only under-scored his role as a blocker during a season when Michael Turner ran for 1,699 yards. During 2012 OTAs, the Falcons have had six tight ends on their roster. After Gonzalez, the next man on the depth chart would appear to be Michael Palmer, who will enter his third season with the team but is more of a pass-catcher. Another is Tommy Gallarda (listed at 6-foot-5, 262), who spent most of last season on the practice squad and helps to fulfill the team's infatuation with tight ends out of Boise State. (Last season the Falcons took Ryan Winterswyk, who played defensive end at Boise State, into camp as a tight end, only to cut him.) The others are rookies Adam Nissley (6-6, 267) out of Central Florida; Lamark Brown (6-3, 220) out of Minnesota State-Mankato -- better known for producing pro hockey players -- and Aron White (6-4, 239) out of Georgia. All four were undrafted, as was Palmer, it should be noted, out of Clemson in 2010. Collectively, then, the five players after Gonzalez on the roster have a grand total of three years' worth of NFL experience under their belt and 30 games. Asked about the team's depth at the position, head coach Mike Smith said someone must emerge but said that since hitting is not permitted during OTAs, the team won't know much more until training camp. "I think that we've got to try to find some guys and right now it's going to be interesting to see how the competition goes," he said. "It's very difficult to evaluate that specific skill when right now we're in a non-contact period, so really that competition will kind of ween itself out in training camp." On Wednesday, the Tennessee Titans cut 11-year veteran Daniel Graham who was due to make 2 million. He could be a possibility if the Falcons could work his veteran minimum salary into their tricky cap situation. Smitty: "I think that we've got to try to find some guys and right now it's going to be interesting to see how the competition goes. It's very difficult to evaluate that specific skill when right now we're in a non-contact period so really that competition will kind of ween itself out in training camp." Edwards: "Most definitely. Ray is much healthier than he was at the end of the season like all of our guys. We anticipate he's going to improve working with Mike and the new scheme there's a learning curve he and all the guys are going through but I think he's going to do a very good job for us." Gonzalez and defensive end John Abraham, 34, the only two players who chose not to attend the voluntary workouts for the duration, will rejoin the team on Tuesday. "It's always a pleasure to see those two guys here in the building and, of course, they've been doing this for a long time," Smith said. "They understand what their bodies need to do and they've always come in and they're probably one of the most prepared guys on our football team so they're veterans. They understand it and we look forward to seeing them with mandatory mini-camp." Higher hopes for Edwards Defensive end Ray Edwards, the team's top free-agent signing last season, had an underwhelming debut season with the Falcons in 2011, dropping from eight sacks in 2010 with Minnesota to 3.5. He suffered through some injuries -- at the start of training camp last year and then during the season -- but Smith is hoping for better in new coordinator Mike Nolan's defense. "Ray is much healthier than he was at the end of the season, like all of our guys, but we anticipate he's going to improve, working with Mike in the new scheme. There's a learning curve all the guys are going through, but I think he'll do a very good job for us." In Minnesota, Edwards said the ends mostly focused on rushing the passer. He thinks Nolan's defense will be more like that and that it will benefit him. "It's a lot better towards us up front attacking, attacking, attacking, not dropping back in coverage," Edwards said, "so that's the more plus things about this defense and let the back end play the way they play." Snelling could benefit from screens The screen game -- virtually nonexistent under former offensive coordinator Mike Mularkey -- will be emphasized more under new offensive coordinator Dirk Koetter. One of those who stands to benefit is Jason Snelling, who is often used in third-down situations. Snelling has caught 108 passes for the Falcons since joining the team in 2007 and is looking forward to that aspect. "I mean, most definitely," Snelling said. "It's an opportunity, a chance to get the ball in my hands. All the backs are working on the screen game because we want to make sure we can do it from any package and it doesn't matter who we plug in there. It's only going to make our offense better, so we're real excited about it and we're real excited about the direction of the whole offense and where it's going." Timing and lots of reps are keys to getting the screen game right. "It's real important," Snelling said. "We've been working on the timing a lot. It's going to come with just repetition, but I feel like when it's time to do it we'll be ready." Quotable "It's good. I'm about two weeks in, so it's good so far. I can't complain. I haven't done anything to mess up so far." -- safety Thomas DeCoud on the married life
Original Story:
http://www.foxsportssouth.com/06/13/1...
THE BACKYARD
BEST OF MAXIM
RELATED ARTICLES
FLOWERY BRANCH, Ga. -- Atlanta Falcons linebacker Akeem Dent has not benefited much from continuity over the last four years of his career. Starting with the much maligned defensive coordinator Willie Martinez at the University of Georgia, Dent is on his fourth defensive coordinator in four years and along with musical coaches he's also had to play musical schemes. Dent transitioned...
While we've been mostly covering cheerleader tryouts, little did I know that some pro cheerleading squads are "working" in other ways.   Looks like a couple of weeks ago the Atlanta Falcons girls got to enjoy the sand and sun in Jamaica for a little calendar shoot action. Seriously, how awesome is that job?  Going to the Caribbean for nearly a week to take pictures in tropical...
Taking a quick look at the Falcons' 2012 schedule (listed below) two things require immediate attention. First, there isn't an "easy" game to be found. Second, the Falcons have a bit of a scheduling anomaly in that they do not play back-to-back home games or back-to-back road games at any point in the season. People will argue that there are no easy games in the NFL. That...
Most NFL players relish the opportunity to play against the best and Atlanta Falcons' players are no different. Whether they will admit it or not, every player on the Falcons' roster has been paying attention to everything that has been going on with their division rivals the New Orleans Saints this offseason. From the suspension of Saints' head coach Sean Payton and...
With so many NFL teams going with a committee backfield the past few years, it's really hard to find that one running back who is going to have a spectacular fantasy football season. After much self debating and pondering on who I think could finally have a breakout year in 2012, here are five guys who I think could make a name for themselves and should be on everyone's radar...
NFL News

Delivered to your inbox

You'll also receive Yardbarker's daily Top 10, featuring the best sports stories from around the web. Customize your newsletter to get articles on your favorite sports and teams. And the best part? It's free!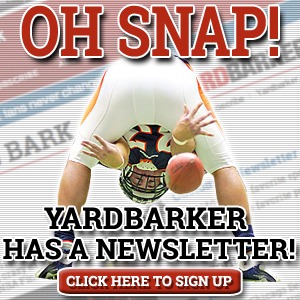 Latest Rumors
The Backyard

Today's Best Stuff

For Bloggers

Join the Yardbarker Network for more promotion, traffic, and money.

Company Info

Help

What is Yardbarker?

Yardbarker is the largest network of sports blogs and pro athlete blogs on the web. This site is the hub of the Yardbarker Network, where our editors and algorithms curate the best sports content from our network and beyond.