Found September 06, 2013 on isportsweb.com:
It's no secret that the Cleveland Browns have been the epitome of ineptitude since re-entering the league in 1999, carrying an overall record of 73-151 (.326 winning percentage) since that time. The past few years have been especially horrid for the franchise, as the Browns have not won more than five games during any of the previous five seasons. Given these statistics, it's no surprise that the team is 1-13 in season openers since its rebirth. Starting the season on a high note does not guarantee playoff contention, but it's certainly a nice place to start. For both a franchise and a fanbase that have become so starved for an above-average on-field product (heck, an average on-field product would suffice at this point), the optimism for Browns football hasn't been higher than it is in 2013 for a quite a long time. The flurry of offseason moves completed by a front office made up of almost entirely new faces has generated genuine excitement for the city and its fans. Desperation is a phrase I'd rather not use, but let's face it: Browns fans are desperate for a winner. Mostly because of these reasons, the Browns sold out of single-game tickets for their home opener against the Miami Dolphins in just 28 minutes (have no fear, StubHub still has plenty available). Now that Thursday night's season opener between the Baltimore Ravens and the Denver Broncos is behind us – Denver picked up the W with a 49-27 shellacking of the defending champions) – most NFL fans have turned their full attention to the first NFL Sunday of the 2013 season. Here are some of the key storylines to keep an eye on during the Browns' Sunday afternoon matchup against Miami. Mingo a no-go Despite the fact that Barkevious Mingo's lung injury occurred nearly a month ago, Mingo will not be playing in Sunday's game. The rookie out of LSU was able to get back on the field for practice this past week but was limited to participating in non-contact drills only. Speed is expected to play a crucial role in defensive coordinator Ray Horton's attacking defensive scheme. Mingo would have been the fastest member of the front seven on the field for the Browns, but the injury has pushed his NFL debut back at least another week. Both Mingo and head coach Rob Chudzinski have been relatively quiet as to how long Mingo is expected to be kept out of action, and his return is not a guarantee for next week, either. The Browns have plenty of depth along the front seven, so his absence from Sunday's game shouldn't have a massive impact on the pass-rushing abilities of the Horton-led Browns defense. The possible absence of defensive end Ahtyba Rubin, who is listed as questionable, could have much larger implications on the game, though. Backups Billy Winn and John Hughes would certainly be able to hold there own against an offensive line that underperformed during the preseason. Then again, it was exactly that – the preseason. However, the thought of Ahtyba Rubin coming after your quarterback is a much less pleasant one than the thought of Winn or Hughes coming after your quarterback. Cornerback Buster Skrine, who was expected to start opposite of Joe Haden, is also listed as questionable. Skrine's injury is of less concern than Rubin's, simply due to the fact that Skrine is seemingly only a slight step ahead (if that) of his backups skills-wise. Veteran Chris Owens would replace Skrine as the starter, and rookie Leon McFadden would be the next man in line. Joe Haden vs. Mike Wallace Among the flurry of offseason additions made by Miami, the Dolphins made their biggest splash (ha!) when they signed Wallace, a former wideout for the Pittsburgh Steelers. After breaking out in 2010 and then carrying his success over to the following season, Wallace posted a disappointing 2012 campaign in which he collected 834 yards receiving, while his average yards per catch slipped to 13.1 (21.0 in 2010, 16.6 in 2011). Despite this, the Dolphins threw nearly $60 million at Wallace to encourage the speedy wide receiver to take his talents to South Beach. This was surely welcoming news for second-year quarterback Ryan Tanehill, who will be looking to fully utilize his superior arm strength by stretching the field via Wallace and his blistering speed. If it were not for the presence of top-flight cornerback Joe Haden, I would have little confidence in the Browns' ability to stop Wallace. Luckily, Haden will be lining up against Wallace on the opposite side of the field, presenting an excellent matchup between two of the NFL's best at each of their respective positions. These two are certainly familiar foes, given the two players' experiences against each other during many intense rivalry games between the Browns and the Steelers over the past few years. Haden has had Wallace's number in their most recent matchups, but Wallace is expecting big things for himself on Sunday. In an interview with the South Florida Sun Sentinel, Wallace said, "I'm going to have my swag out, too, so he better be ready on Sunday." The Dolphins receiver was referring to Haden's routinely top-notch gameday appearance when using the word "swag" (take notes, older folks), but he was also warning Haden and the Browns about the Dolphins' plans to open up the passing game against a Browns secondary that lacks experienced talent, besides Haden and safety T.J. Ward. My money's on the man with the most "swag" (the guy has a very extensive sneaker collection): Haden. Familiar faces in new places Davone Bess spent the first five seasons of his NFL career as a member of the Dolphins. In his first game as a member of the Browns – following an offseason trade that sent Bess to Cleveland from Miami – Bess finds himself squaring off against his former team. Look for Bess to play a key role in Sunday's game, as the Browns will likely lean heavily on the 27-year-old to make up for the absence of top wideout Josh Gordon, who will be out for the first two games of the season for violating the league's substance-abuse policy. At some point in the game, Bess may line up against the 'Fins #2 cornerback, Dimitri Patterson. Ironically, Patterson – who spent a large portion of the previous two seasons as a member of the Browns – will also be facing his former team. Both veterans will obviously have plenty of added motivation on Sunday as they look to prove a point to their former employers. Final prediction Simply due to the fact that I will be in attendance for Sunday's game, I am picking the Browns to defeat the Dolphins 52-0 (52 because we have to let the newly-signed Billy Cundiff warm up his leg with at least one field goal for the Browns' upcoming Super Bowl run). Biases (and hallucinogens) aside, I look for the Browns defense to impress in Horton's first game as the team's defensive play-caller, despite the loss of Mingo from the lineup. The game hinges on the Browns offense, which should be improved from a season ago as the young impact players continue to develop (Weeden still counts as young, right?). The Dolphins as a whole should be much improved from last season, as well, considering the large number of impact free-agent signings that were made by the team during the offseason (Mike Wallace, Brent Grimes, Dannell Ellerbe). This is not a team that will go out quietly so expect a "dawg" fight. In the end, though, this one goes to the Dawgs: 20-17, Browns.
Original Story:
http://feedproxy.google.com/~r/isport...
THE BACKYARD
BEST OF MAXIM
RELATED ARTICLES
Trent Richardson. Brandon Weeden. Joe Haden. We know these guys are absolutely critical to any progress the Browns can hope to have this upcoming season. That much is obvious. But, what about the not-so-obvious? As we get ramped up for Miami on Sunday, after watching the four preseason games, reading press conference transcripts, and having a lot of time to think, here are five guys...
Browns rookie linebacker Barkevious Mingo has been cleared to play and is expected to make his NFL debut this week after being sidelined with a bruised lung. Mingo was injured during an Aug. 15 exhibition against Detroit while covering a kickoff. He experienced shortness of breath, spit up some blood on the sideline and was hospitalized for two days. He practiced last week but...
CBS Sports' Jason LaCanfora reports via twitter this morning that Cleveland Browns center Alex Mack will not be signing a contract extension anytime soon. Also, Browns standout C Alex Mack will play out his rookie deal. No contract talks; he's not open to deal in-season league source said — Jason La Canfora (@JasonLaCanfora) September 8, 2013 The Browns are well over $20...
The Browns released their injury report Friday afternoon, and there was a new name on the list. Defensive lineman Ahtyba Rubin did not participate in practice with a calf injury. Defensive back Buster Skrine was also listed as questionable with his shoulder injury. Friday's report: - G Shaun Lavauo (ankle) OUT - LB Barkevious Mingo (lung) OUT - DL Ahtyba Rubin (calf) limited participation...
Cleveland Browns  2014 Season Predictions Brian  Browns: 8-8 Second Place in AFC North Super Bowl: Broncos over Packers I can seriously see the Browns winning anywhere between 4 and 11 wins, because I am a delusional unapologetic homer who is both eternally optimistic and heartbroken. I want to give Weeden the time to develop...
(Eds: With AP Photos.) By TOM WITHERS AP Sports Writer The buildup has almost always been followed by the letdown. The Browns' season opener, treated by Cleveland fans with the same anticipation as kids awakening on Christmas morning to wrapped packages under the holiday tree, has brought mainly misery to this football-frenzied city since the franchise returned to the NFL as...
This is the time of the year when grocery and liquor stores post their best sales since January for food and beer because football is back, baby. Try-outs are no longer the focus for NFL teams as they look towards another goal, the playoffs. There's no question that the ultimate destination is the Super Bowl, but 12 out of the 32 NFL squads must first qualify for the most highly...
Publisher Nick St. Denis, associate editor Dan Begnoche and senior contributor Sean Donovan pick the Miami Dolphins' road battle with the Cleveland Browns.Sean's take:As silly as it is to call a Week 1 game a must-win, considering the next four games on the Dolphins' schedule, a loss to the Browns has the potential to doom the expectation-laden 2013 season before it gets...
The Cleveland Browns and the Miami Dolphins kick off their 2013 seasons against each other in Cleveland on Sunday. Both teams are going into the season with playoff expectations and plenty of hype, so with two similar teams facing off it could come down to a last second field goal or miraculous play. The little things matter in games like this, especially certain matchups on the...
The first week of the 2013 NFL season has finally arrived and the Miami Dolphins will kickoff their campaign with a matchup against the Browns in Cleveland.  Since the schedule was released, there has been a lot of debate in regards to this Dolphins-Browns tilt mainly due to the fact that the outcome will have a significant impact on Miami's season. Considering the four...
Click on the photo for the sexiest NFL WAGs of 2013 From Aaron Rodgers to Jordan Cameron, it doesn't matter if you are a former MVP or a backup TE with the Cleveland Browns, landing a beautiful woman is just something that NFL players do. It is almost second nature to them.  But some do […]
You know I was really trying to hide my exasperation at yet another piece of information with little or no relevance being treated like an earth shattering revelation. How did I do? The more surprising aspect of this news wasn't that former UNC WR Greg Little was given $20,000 by an agent or that Jennifer Wiley was involved. That sort of thing goes on all the time according to...
Browns News

Delivered to your inbox

You'll also receive Yardbarker's daily Top 10, featuring the best sports stories from around the web. Customize your newsletter to get articles on your favorite sports and teams. And the best part? It's free!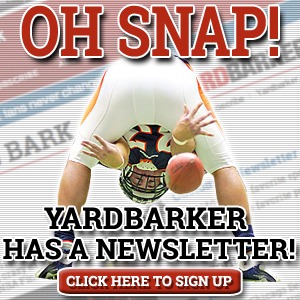 Latest Rumors
Best of Yardbarker

Today's Best Stuff

For Bloggers

Join the Yardbarker Network for more promotion, traffic, and money.

Company Info

Help

What is Yardbarker?

Yardbarker is the largest network of sports blogs and pro athlete blogs on the web. This site is the hub of the Yardbarker Network, where our editors and algorithms curate the best sports content from our network and beyond.