Found March 12, 2013 on Pro Football Zone:
When you follow small school, and over-looked prospects, New Orleans Saints Wide Receiver Joe Morgan is considered a true success story. A guy many other players in his similar position can look up to. Morgan was a University of Illinois transfer, who did not light the college football landscape ablaze at Walsh University. The assumption that one must dominate the smaller divisions in order to be an NFL success, did not prove to be true in the case of Morgan. In his final season with the Cavaliers, Morgan logged 653 yards and 5 touchdowns. That amount would be a hard sell to most "draftniks". And true to form, Morgan was not a highly rated prospect, although he did earn an invite to the NFL Combine (where he would run a 4.44 40 yard dash, vertical jump 35.5 inches and log a 6.91 in the 3 cone). As was somewhat expected, Morgan went undrafted in the 2011 draft. However, from that point on, his fate became his own. And in the end, he emerged as one of New Orleans brightest young stars by the end of the 2012 season. In his sophomore campaign, Joe showed big-play ability. He piled 379 yards and 3 touchdowns, at a 37.9 average. By comparison, look at the 2012 seasons of more hyped WR's in the 2011 draft, all taken within the first 100 picks- Jonathan Baldwin (K.C. Chiefs-1st round)- 325 yards, 1 td; Austin Pettis (St. Louis Rams-3rd round) 261 yards 4 tds; Titus Young (Detroit Lions- 2nd Round)- 383 yards, 4 touchdowns & cut and Jerrel Jernigan (N.Y. Giants-3rd Round)- ready? 22 yards. 22….yards. It just goes to show you, it pays to think outside the box in the NFL Draft, and to pay attention to more players than just whom Mel Kiper is talking about. This…is Joe Morgan's story. My interview with NFL-underdog success story. Shaun DePasquale: Thank you for taking the time to speak with me today Joe. Your story is a fascinating one and something that can help to inspire a lot of guys in a similar position. Can you explain how you got your start in college and what it was like at Illinois for you? Joseph Morgan: No problem. Thank you for this interview as well. Getting to a D-1 college for me was a journey. I had zero offers or even looks after my junior year in high school. I didn't start getting noticed until halfway through my senior year thanks to hard work on and off the field. I ended up choosing Illinois because Coach Zook made it a family type atmosphere. I'm a family driven person so that was important first and foremost. Illinois for me was a great experience. It was nice being away from home first of all. Football wise it helped me tremendously to grow as a player. I got faster and stronger and also better as a receiver. Some of my best football memories come from my days at Illinois. I had the opportunity to play in some of the biggest games of my career. SD: What led to your transfer to Walsh, and do you feel it helped you prepare for the NFL? JM: Honestly I got into trouble at Illinois. I was enjoying my time as a college student a little too much. The school gave me chances but I took advantage of them. I had to withdraw and basically try to get into another institute. Walsh ended up being the last resort for me. I have to thank Coach Dennison at Walsh as well as the rest of the coaching staff for giving me an opportunity. I obviously had the ability to play in the NFL but Walsh helped me prepare for the NFL by humbling me. Having to leave Illinois forced me to grow up. There's more to being a pro than just athletic ability. I learned that everything can be taken from you in an instance and you're ultimately an afterthought. Be thankful for the opportunity you have without taking that for granted.   SD: What was your mindset coming out of Walsh and preparing for the NFL? JM: I had the small school guy mentality. I was just looking for an opportunity to prove myself. Any opportunity I got I wasn't going to waste. Working out with guys who had first round grades and coming from bigger schools I made it a goal to try and work harder than them.   SD: Were there ever any thoughts that the road to the NFL might be too tough and you might not make it?   JM: The only time I had a negative thought like that was after draft day when my name wasn't called. I was a part of a unique situation with that being the lockout. I wanted to get drafted because nobody knew when the lockout would be over. It could've been a week or it could've been an entire year for all we knew. A year-long lockout would put an undrafted guy like myself up against thousands more the following year. A lot tougher to get noticed and make it in that situation. What cleared up those negative thoughts though, was faith. Just had to keep believing the situation was going to get resolved. I continued to do my part and that was stay working out and in shape waiting for the day the lockout was lifted. SD: Did you participate in any All Star Games or Combines? How did that process play out for you? JM: I was blessed enough to participate in the Texas Vs The Nation All Star game and the NFL Combine. The all star game was a great way to initially get noticed. It allowed me to talk to numerous amounts of teams as well as showcase my abilities against guys from schools all over the country. Showing I could still compete with guys from the top tier schools was a must. The Combine is the big stage. I personally had to prove to coaches and scouts that I had matured from my time at Illinois. The Combine is a rough process but it helped me out. SD: When you weren't drafted, what was your mindset from that point? JM: I already knew getting drafted was a longshot. I knew I was good enough to get into somebody's camp once the lockout was lifted. My mindset was to get into a camp and work from there. Hard work is a must. Not only on the field and in the weight room when everybody is supposed to be watching, but also after practice and after hours when you think nobody is watching. That's where I had to win. I knew I had to put in the extra work when everyone else was tired and content. SD: Entering Saints minicamp, what approach did you take? JM: My approach into training camp was to be consistent. I had talked to someone before camp and he told me to be consistent. Consistency will determine your fate in the NFL. If you're consistently doing the right things you have a better chance than if you are consistently doing all the wrong things. I also had numerous vets tell me that the best way to make the team is to make yourself available for anything at any time. Get yourself noticed in a good way. When the coaches know who you are and you're not just a number then your chances of making it are greater. SD: What was the first NFL practice like? Did anything stand out to you? JM: My first practice was fast. The tempo was a lot different. There was no re-doing plays or really slowing down to learn. You learn in the classroom, walk through on the field beforehand, then you practice. What stood out to me is how a lot of learning, especially for a younger guy, is done on the fly. You have to learn something in the blink of an eye. Always have to be paying attention. SD: At what point did you feel you had a great chance to make the team? JM: I never at one point felt I had a great chance of making the team because I didn't want to get complacent. I felt I would get comfortable if I thought I had a great chance of making the team. I just continued to work regardless of how well I was doing. However, one moment that actually gave me hope was before the 49ers game. Coach Payton pulled me aside and told me that all it takes it one. He was referring to returning a kick back for a touchdown. He told me that if I didn't make the Saints team because of it that I had a great chance of making any of the other 31 teams. SD: Were there any people key to your development as a player transitioning to the NFL that gave you support? JM: I would say my grandfather, my agent and Nate Washington. Nate was an undrafted guy when he first came out. We shared the same agent so I had the opportunity to talk to him a few times. He basically gave me all the advice I needed to continue working hard and to not give up hope. My agent helped me obviously by having faith in a small school guy like myself and by putting me in the position to always be the best or compete with the best. My grandfather was essential mentally. His wisdom and guidance is what kept me focused. Without him I don't believe I would have had the mental capacity to achieve anything. SD: Looking back on it, would you change anything you went through? JM: I wouldn't change anything at all. I'm a firm believer that everything happens for a reason. I never have regretted a thing in my life. Are there things I wish I would have done differently? Of course. But I do not regret anything because I've learned from all my experiences. Good and bad. SD: Last question, what would be your message to other NFL hopefuls that aren't getting enough attention right now? JM: My advice would be to not give up hope. If you have the ability and the mindset then the NFL will find you. Some of us have to take different routes than others. Don't quit if you're not in YOUR ideal situation. Stay humble and stay hungry. Any opportunity you get you have to give your all. Take advantage. Have faith and believe. SD: Thank you so much for your time Joe.. Continued good luck with the Saints in 2013 and beyond! JM: Really appreciate it. Thank you again for the interview. Need NFL Tickets? var _CI = _CI || {}; (function() { var script = document.createElement('script'); ref = document.getElementsByTagName('script')[0]; _CI.counter = (_CI.counter) ? _CI.counter + 1 : 1; document.write(''); script.type = 'text/javascript'; var _CI = _CI || {}; (function() { var script = document.createElement('script'); ref = document.getElementsByTagName('script')[0]; _CI.counter = (_CI.counter) ? _CI.counter + 1 : 1; document.write(''); script.type = 'text/javascript'; script.src = 'http://widget.crowdignite.com/widgets/27484?_ci_wid=_CI_widget_'+_CI.counter; script.async = true; ref.parentNode.insertBefore(script, ref); })();
Original Story:
http://feedproxy.google.com/~r/ProFoo...
THE BACKYARD
BEST OF MAXIM
RELATED ARTICLES
The New Orleans Saints has been through so much last season with the whole "Bountygate" allegations and are just ready to put it behind them.The NFL and Roger Goodell didn't have any pity for the former Super Bowl winning team when they found out that they were involved in such activities.The New Orleans Saints were treated unfairly as the punishments were handed down to where...
ESPN's Adam Schefter reports that the Chiefs have reached an agreement in principle with former Saints QB Chase Daniel. Daniel will reportedly receive a three-year deal. There was a lot of buzz surrounding Daniel in the past two weeks with the Browns and Buccaneers rumored to have interest. Some even speculated that he could a team that might be willing to give him a shot at competing...
Drew Brees has lost his blindside protector in left tackle Jermon Bushrod. The Chicago Bears have made a statement that they want to protect their quarterback Jay Cutler by handing Bushrod a multi-year package worth millions. Please click here to read this story. The post New Orleans Saints lose Jermon Bushrod to Chicago Bears appeared first on Players View.
According to Jason La Canfora of CBS Sports, Saints back up quarterback Chase Daniel is expected to sign a free agent contract that will pay him about $3 million per year and one team that's really interested is the Kansas City Chiefs. After sitting behind Drew Brees for the past few years, It looks like the Chiefs believe Daniel has a shot at being either a viable back up for...
Season SummaryIt was obvious early on that the season would be a wash for New Orleans in 2012 after Commissioner Goodell ruled that "Bounty-gate" actually did exist and players in past years (under the regime of head coach Sean Payton & defensive coordinator Gregg Williams specifically) received monetary compensation for injuring players on other teams during games. As a...
According to Ian Rapoport of the NFL Network, the Bears have reached an agreement with former Saints offensive lineman Jermon Bushrod on a five-year deal. Source: #Bears and reps for #Saints LT Jermon Bushrod are finishing up a long-term deal. #JayCutlersmiles — Ian Rapoport (@RapSheet) March 12, 2013 Losing Bushrod is a huge blow to the Saints' offensive line.   The Bears...
Jermon Bushrod was someone I felt would get overpaid and sure enough he did. Bushrod may be a two-time Pro-Bowler, but that's more to the credit of Drew Brees' quick release and pocket presence and the how overall uneducated the Pro-Bowl voting public is. Bushrod may have two Pro-Bowl appearances, but has never been close to being voted an All-Pro by the writers, who tend to...
The Chicago Bears have agreed to a five-year contract with New Orleans Saints Pro Bowl left tackle Jermon Bushrod, filling a major hole on the offensive line. The Bears announced the signing Tuesday. A person familiar with the situation tells The Associated Press that the deal is potentially worth about $36 million, with $17.7 million guaranteed. The person spoke on condition of...
Ian Rapoport reports that the Chicago Bears and free agent OT Jermon Bushrod are finalizing a long-term agreement. Sean Jenson reports that Bushrod's deal is a five-year agreement. The Saints were reportedly trying to retain Bushrod, but the Bears were clearly targeting an offensive tackle and Bushrod probably made the most sense for them given the addition of Aaron Kormer as...
Saints News

Delivered to your inbox

You'll also receive Yardbarker's daily Top 10, featuring the best sports stories from around the web. Customize your newsletter to get articles on your favorite sports and teams. And the best part? It's free!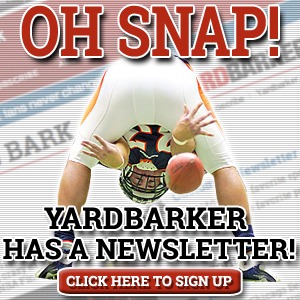 Latest Rumors
Best of Yardbarker

Today's Best Stuff

For Bloggers

Join the Yardbarker Network for more promotion, traffic, and money.

Company Info

Help

What is Yardbarker?

Yardbarker is the largest network of sports blogs and pro athlete blogs on the web. This site is the hub of the Yardbarker Network, where our editors and algorithms curate the best sports content from our network and beyond.