Found August 06, 2012 on CJ Sports NFL Talk:
Ben Roethlisberer…a true warrior. Big Ben led the Pittsburgh Steelers to another great regular season last year, finishing with a 12-4 record and clinching a wild card spot. But when it came to the play-offs the Steelers weren't good enough…they fell to Tim Tebow and the Denver Broncos. Overall, Ben had another great season, but unfortunately he is very injury-prone. As I said before, Roethlisberger is a true warrior, even if he's injured, he will still run out onto that field and put his heart into anything and everything. Big Ben finished the season with a rating of 90.1, threw for over 4,000 yards, and threw for 21 touchdowns. He threw 14 interceptions and had 7 fumbles, and one of the reasons for this is because he is under pressure often and gets sacked several times. Let's get back to the positives again. Roethlisberger had a very good completion percentage of 63.2. Ben Roethlisberger is a real fighter and will continue to be a leader for his team no matter what, even if he is extremely injured and is in a tremendous amount of pain. I think the Pittsburgh Steelers will have another good year but not be as good as they used to. Ben Roethlisberger is dealing with another injury and the team is facing many challenges at the moment, including Mike Wallace's holdout. I think the Steelers will go 11-5 or 10-6, but still clinch a wild card spot.   Related articles
Tough Times Could Be Ahead for the Steelers (110sportztalk.com)
QB Breakdown: Cleveland Browns' Colt McCoy [Quick Take] (110sportztalk.com)
QB Breakdown: Mark Sanchez [Quick Take] (110sportztalk.com)
Original Story:
http://110sportztalk.com/qb-breakdown...
THE BACKYARD
BEST OF MAXIM
RELATED ARTICLES
While all of the talk this past week concerning Pittsburgh Steelers quarterback Ben Roethlisberger has been about his ankle and small rotator cuff tear in his throwing arm, not enough credit has been given to him for his attempts to help out in getting restricted free agent Mike Wallace into camp. Columnist Ron Cook of the Pittsburgh Post Gazette called out the Steelers quarterback...
Pittsburgh Steelers first round draft pick David DeCastro reportedly hasn't set Latrobe on fire through the first twelve days of training camp, and according to quarterback Ben Roethlisberger, it is the physical part that is giving DeCastro the most problem. Mike Bires of the Beaver County Times reports Monday that Roethlisberger talked to the Stanford product recently to see...
Getty Images According to Jim Corbett of USA Today, Pittsburgh Steelers quarterback Ben Roethlisberger suffered a sprained left ankle in practice on Saturday after being stepped on by one of his lineman.  He was seen limping off the field with an ice pack on his ankle. "It was my bad ankle," Roethlisberger said. Roethlisberger now has a bad ankle to go along with his already...
Pittsburgh Steelers quarterback Ben Roethlisberger suffered a sprained left ankle at practice Saturday. He limped off the field after being stepped on by a defensive lineman and had the ankle wrapped in an ice pack, USA Today reported. Roethlisberger, entering his ninth season in the NFL, also said earlier that he's dealing with a partially torn rotator cuff in his throwing...
The weather finally caught up with the Pittsburgh Steelers and forced them away from Saint Vincent College in Latrobe on Sunday. The team was forced to pack up their belongings and travel over to the Southside so they could practice in their indoor facility. The practice was only open to the media who were not allowed to live tweet while present. Because of the social media ban...
The Pittsburgh Steelers have Monday off before getting back on Tuesday and starting their third week of training camp. Now is as good of time as any for me to post some things that have stuck out to me through the first two weeks of training camp based on all of the news, reports and interviews. If you would have told me that Mike Adams was having a better camp and looking more...
This is getting to be as routine as getting the oil changed or seeing another ridiculous political ad on TV. 'This' that I speak is my annual article imploring all of you and myself included to take Steelers' Quarterback Ben Roethlisberger with a grain of salt. Every season it seems Big Ben announces to us that there is something bothering him physically. An ankle here and...
Pittsburgh Steelers offensive line coach Sean Kugler doesn't sound worried about first round draft pick David DeCastro, who according to several reports hasn't been overly impressive in training camp thus far. Quarterback Ben Roethlisberger was quoted as saying this week that his rookie guard, who will start Thursday night in the Steelers first preseason game against the...
There is not a whole lot to talk about Sunday night as the Pittsburgh Steelers were forced to travel to their indoor facility today to get their practice in because of the weather. The media was allowed to observe practice, but there was a social media ban on them as a result. Because of that, the information is very thin from what went on today. The episode today is mostly a...
NFL News

Delivered to your inbox

You'll also receive Yardbarker's daily Top 10, featuring the best sports stories from around the web. Customize your newsletter to get articles on your favorite sports and teams. And the best part? It's free!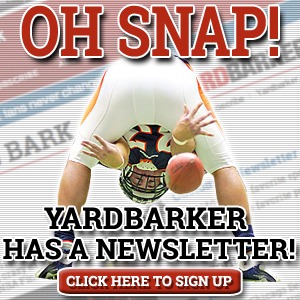 Latest Rumors
Best of Yardbarker

Today's Best Stuff

For Bloggers

Join the Yardbarker Network for more promotion, traffic, and money.

Company Info

Help

What is Yardbarker?

Yardbarker is the largest network of sports blogs and pro athlete blogs on the web. This site is the hub of the Yardbarker Network, where our editors and algorithms curate the best sports content from our network and beyond.