Found December 04, 2011 on Jets Insider.com:
LANDOVER, MD -- The Jets are never on schedule, but always on time. For the second straight week and the tenth time under Rex Ryan and Mark Sanchez the Jets have come from behind to steal a victory. And it doesn't stop on Sundays, it's something Jets fans have come to expect after Thanksgiving.The past two seasons the Jets have gone on a late season run to roll into the playoffs. And this one isn't any different. It wasn't pretty, but the team made plays when the opportunity presented itself and capitalized.With the win the Jets are now 7-5,...
Original Story:
http://www.jetsinsider.com/blogs/wesl...
THE BACKYARD
BEST OF MAXIM
RELATED ARTICLES
On any injury updates from the game… I think with Joe (McKnight), I'm not sure what the MRI showed, I know he had one and was on his way back. Again, it sounded like a hyper-extended elbow. We'll see how it is. Obviously, if you're a running back, you have to be able to grip the football and protect it. So that's something. Jason Taylor played with a hyper-extended elbow...
Florham Park, N.J. - "I'm gonna tell you what. If I look at these stats and there were no sacks given up we will have a 'Victory Monday'... No sacks." - (c) Rex RyanMonday's are the worst. No one likes Monday's, it's not just Garfield. But 'Victory Monday's are different. 'Victory Monday' stands in stark contrast of a regular Monday...
Rex Ryan 'more comfortable' with S Jim Leonhard returning punts [NJ] Are the Jets Back? [NY Times] Westerman Provides Shot In Arm To Linebackers [Turn On The Jets] Matt Slauson said Jets pressed 'panic button' after loss to Denver [NJ] Ryan admits being more involved in offense [SportingNews] Kerley fumble costs return job [ESPN]
These nerve-racking New York Jets sure have a flair for the dramatic lately. Maybe that deflating loss to Tim Tebow and the Denver Broncos nearly three weeks ago rubbed off a little. ''We're a team that just wants to win and get in the playoffs and see what happens,'' coach Rex Ryan said Monday on a conference call. ''Our goal is intact, even though...
By: Rich Bergeron ' We've seen a crotch kick, an arm stomp, late hits, helmet to helmet launches, and even Jets Coach Rex Ryan cursing at spectators. Flags are flying on NFL fields from coast to coast this year for questionable hits, and the old highlight reel collisions are no longer legal. Players are still getting hurt, and many are playing hurt. From Cowboy QB Tony Romo taking...
Coaches and players describe Kevin O'Connell as a pseudocoach, sticking close to Sanchez during games and consulting with Coach Rex Ryan's assistants.
Sanchez and Holmes can't seen to get on the same page, according to Rich Cimini of ESPN NY … but why is that? One of the biggest mysteries of the Jets' season is the lack of chemistry between QBMark Sanchez and WR Santonio Holmes. They've played 26 games together, including playoffs, and sometimes they look like they're still in their first minicamp. Sanchez has completed...
New York Jets – 34, Washington Redskins – 19 Even in a win the Jets look like they won despite Mark Sanchez (166 total yards, 1 TD), not because of him.  Sanchez threw 32 passes but only had 165 passing yards on the day, which he salvaged with a second half touchdown.  Rex Grossman (221 yards, 0 TDs, 1 INT) looked bad against the intense Jets pressure, barely completing 40...
Mark Sanchez hit Santonio Holmes for a 30-yard touchdown pass with 4:49 to play Sunday, and Shonn Greene added a pair of insurance scores to give the New York Jets a 34-19 win over the Washington Redskins.
Picture this scenario for the New York Jets: at about 7 PM this Sunday night, they sit at 8-5 and in complete control of their own playoff destiny. If they win out, they will be in. No scoreboard watching. No worrying about another team giving them help. It isn't that far fetched. The New York Jets host the Kansas City Chiefs at 1 PM, in a game that they should win. Considering...
The Jets squeaked one out in Landover Maryland yesterday, and while they were able to pour on points in the last five minutes, the final score was not reflective of the struggle that the game was up until that point.  The Jets, and specifically Mark Sanchez, know that they have to play better to keep their playoff chances alive.   Neil Best wrote about it for Newsday, saying that...
My Gleek friend tells me that it's all about MASHUPS! these days.  That's right, MASHUPS!! In an attempt to broaden TJB's demographic, here's some MASHUPS! in the form of game notes.  Just click the title for the accompanying song. Her Flight Lands at Nine, My Game Just Rewind – Marky Marky give me one more chance, Marky Marky give me one more chance. Seriously, how...
Jets News

Delivered to your inbox

You'll also receive Yardbarker's daily Top 10, featuring the best sports stories from around the web. Customize your newsletter to get articles on your favorite sports and teams. And the best part? It's free!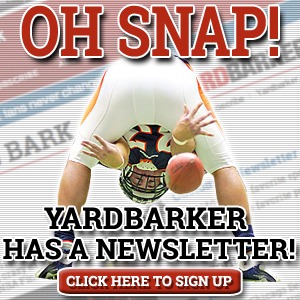 Latest Rumors
Best of Yardbarker

Today's Best Stuff

For Bloggers

Join the Yardbarker Network for more promotion, traffic, and money.

Company Info

Help

What is Yardbarker?

Yardbarker is the largest network of sports blogs and pro athlete blogs on the web. This site is the hub of the Yardbarker Network, where our editors and algorithms curate the best sports content from our network and beyond.