Found July 17, 2012 on The Jersey Jets Fan:
Quinton Coples will be a BUST: Quinton Coples: Will be a B.U.S.T??!! BRUTALLY. UNUSUAL. SPECIAL. TALENT.   Heading into the 2012 NFL draft, the New York Jets had needs at multiple positions including a right tackle, a deep threat wide receiver, a safety, and finally, a pass rusher. In each of the past two seasons, the Jets leader in sacks has not been impressive for gang green; in 2010, Bryan Thomas led the team with six, and in 2011, Aaron Maybin, a situational pass rusher, also recorded six sacks to lead a team that is so blitz oriented, and known for its complex and creative defense.
So, when Jake Steinberg, the best Jets reporter in the business, tweeted fans asking who the Jets should take with the 16th pick the day before the draft, I made sure to respond to him right away. Got it! That very next day on April 26th 2012, The New York Jets Selected Quinton Coples, defensive end out of the University of North Carolina. Following the pick, many NFL experts from all over the country were saying this could be another bust like Vernon Gholston was in 2008. Their main points included Coples having a decline in numbers his senior year, having an inconsistent motor, and also taking off plays and showing an uninspiring effort at times. While the 6 foot 5, 284 pound defensive end had SLIGHTLY declining numbers in 2011, the story behind his senior year is anything short of impressive.
Junior year stats 2010: 59 tackles, 15.5 tackles for loss, 10 sacks, 1 forced fumble, 2 batted passes
Senior year stats 2011: 55 tackles, 15 tackles for loss, 7.5 sacks, 3 forced fumbles, 1 fumble recovery, 2 batted passes While Quinton Coples had hardly any less tackles and sacks his senior year, too many people forget the circumstances he played under. In 2010, 14 UNC players missed the opening game against LSU, while 7 players were forced to sit out the entire season. Why? UNC football players were found guilty of accepting impermissible gifts from sports agents, as well as having a "tutor" write their papers and participating in academic fraud. With future second round pick Marvin Austin suspended indefinitely, Coples was forced to play defensive tackle due to inadequate depth at the position. He thrived, and was rewarded with first-team All-ACC honors at the end of the season. When a player dominates the way he did, opposing teams take notice and you become a priority in their game plan. Welcome the 2011 season, where Coples went back to where he belonged at defensive end. With the scandal at UNC still going on, along with a new head coach after Butch Davis was fired at the end of 2010, Quinton Coples dominated again, recording solid numbers and consistent pressure on the quarterback. The only difference is that he was DOUBLE TEAMED virtually every single play of every single game that year!! When someone is double teamed play after play and can remain ruthlessly active, you know he's the real deal. Quinton Coples has the ideal size, tremendous strength and bull rush ability, stops the run extremely well, and is very gifted athletically. Think NFL defenses will be able to slow him down by double-teaming him? Think again.
The New York Jets' top acquisition this offseason had nothing to do with someone who straps on a helmet ready to take the field. The organization brought in Karl Dunbar, arguably the best defensive line coach in the game today. Dunbar came over from the Minnesota Vikings, who tied for the league best in total team sacks last year, and led the league outright in 2009. The plan this season is to use a ton of 46 defenses, creating a lot of one-on-one matchups for the Jets' defensive line. Coples will have the chance to silence his critics right away when he starts this season, and it doesn't hurt to have second year player Mohammed Wilkerson opposite of him, along with Sione Pouha, Kenrick Ellis, and Mike Devito doing the dirty work inside. The bottom line is that this kid doesn't get nearly the amount of credit that he is due. He stayed away from the UNC scandal and drama on the football team, he was also found not guilty after being accused of receiving a free trip to a draft party (not true, he provided receipts showing he paid for it all on his own), all the while remaining double teamed and targeted his entire senior year. Coples played with a chip on his shoulder in the senior bowl game featuring the best college football players in the world. He terrorized the nations top offensive lineman, recording two tackles for a loss, one of which was a five-yard sack on Kellen Moore. The rookie defensive end will carry the same chip on a shoulder mentality into this season, and will prove to everyone why he should have never slipped to New York at the 16th pick in the draft. The last time the New York Jets had a double digit sack player was Jonathan Abraham in 2005 (10.5 sacks), but that can all change very soon, possibly even this year. Jets fans, we may have drafted the 2012 AP Defensive Rookie of the Year.
Original Story:
http://feedproxy.google.com/~r/TheJer...
THE BACKYARD
BEST OF MAXIM
RELATED ARTICLES
Santonio Holmes did an interview on the NFL Network last night, most of you probably saw it and more of you surely know about the interview and what he said by now. I don't normally like to write a piece on someone else's interview that everyone has access to, but like Will McAvoy from the new HBO show The Newsroom, "I'm on a mission to civilize."This isn'...
The New York Jets defense struggled heavily when it came to covering the tight end last season. Basically, if a team had a good receiving tight end, they exploited the hell out of Rex Ryan's defense. Jason Witten finished with 110 yards, including a 64 yarder. Fred Davis grabbed 6 passes for 99 yards. Brent Celek went off for 156 yards and a touchdown. Rob Gronkowski pulled in...
In the past, I've been accused of being a Tim Tebow hater, and that's not simply not true. He's a dynamic player, but I'm not sure he can be successful in a long term capacity as an NFL starter. Regardless of your personal feelings on Tebow as a starting quarterback, it's a proven fact that he can excite a fanbase like no other player in the NFL, and for the Jets...
New York Jets wide receiver Santonio Holmes wants the New York media to be more supportive of the team (Credit: AP Photo/Julio Cortez) During an appearance on an NFL.com podcast with Dave Damesheck, Santonio Holmes commented on his current relationship with Jets quarterback Mark Sanchez. "One day you have a fight the next day you make up," Holmes said. He also took some time...
The New York Jets have decided not to re-sign safety Jim Leonhard (Credit: AP Photo/Kathy Willens) Citing a source, The New York Post is reporting that the New York Jets will not re-sign safety Jim Leonhard. Last season, Leonhard suffered a torn patellar tendon in his right knee in December, which prematurely ended his season in the final year of his contract. The Jets signed free...
Ir is highly unlikely that the Jets brought in Tim Tebow simply to be a backup quarterback or a contributor on special teams. As Rex Ryan and the New York coaching staff have mentioned, Tebow is expected to receive several snaps per game and be a big part of the team's offense. He may be bluffing, but Ryan has made it clear that opponents should be ready for a dose of both Mark...
Getty Images According to ESPN's Chris Mortensen via NFL.com, the New York Jets can only wait and see if cornerback Darrelle Revis holds out from the start of training camp. "I think (the Jets) are going to see what Revis does," Mortensen said. "He's kept everyone guessing. I'm almost going to be surprised if he's there day one." I wouldn't be shocked if Revis decides...
Getty Images New York Jets wide receiver Santonio Holmes was a guest on the NFL Network via ProFootballTalk.com and said that having two quarterbacks taking the first-team reps won't work in the NFL. "I don't think so," Holmes said. "Because you have to allow one quarterback to get in the rhythm of a game. And it starts from the preparation of practice." Holmes believes...
The Jets will be an interesting team to keep an eye on this season. If their season gets off to a shaky start I see the wheels falling off. It isn't Tebow's fault that he is a megastar for off the field reasons, but the Jets are going to try to carry out something that has proven not to work in the NFL. Santonio Holmes shares his thoughts on the Two Quarterback system.. ...
Jets mercurial wideout Santonio Holmes shared his thoughts with the NFL network crew on how he thinks Mark Sanchez and Tim Tebow will coexist in New York.
If you ever needed proof that owning an NFL franchise is a very fruitful endeavor, Forbes Magazine has it. Forbes ranked the 50 most valuable sports franchises around the world and all 32 NFL teams made the list. The New York Jets checked in at No. 12 on the full list and are the fifth [...]
It seems that most analysts, with the exception of Hugh Douglas as Don alluded a few days ago, are picking the Buffalo Bills to finish second in the AFC East this season. While I agree that the Bills will be improved from last year's 6-10 team that finished the season 1-8, those predictions are also based on the assumption that the Jets are trending downward. Those predictions...
NFL News

Delivered to your inbox

You'll also receive Yardbarker's daily Top 10, featuring the best sports stories from around the web. Customize your newsletter to get articles on your favorite sports and teams. And the best part? It's free!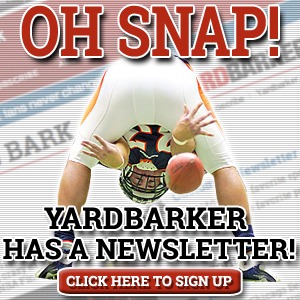 Latest Rumors
Best of Yardbarker

Today's Best Stuff

For Bloggers

Join the Yardbarker Network for more promotion, traffic, and money.

Company Info

Help

What is Yardbarker?

Yardbarker is the largest network of sports blogs and pro athlete blogs on the web. This site is the hub of the Yardbarker Network, where our editors and algorithms curate the best sports content from our network and beyond.