Found November 14, 2011 on Thoughts from the Dark Side:

Earlier this season we saw the rise of Darrius Heyward-Bey to levels we had not seen before in his career. Now, suddenly he is the forgotten man in Oakland while Denarius Moore is suddenly the go to receiver. This change didn't happen gradually, it seemed to change overnight, much to everyone's surprise. But the reason is not hard to see.

Darrius Heyward-Bey has been the Raiders' number one receiver since the day he first set foot on the field in Silver and Black. He was an Al Davis speed guy and therefore this seventh overall pick was going to see the field as often as humanly possible, regardless of how much or how little it was deserved.

The coaching staff, knowing that DHB was going to be in the starting lineup, found his skill set as an underneath possession type receiver with the speed to take those short passes the distance. This season he was finally starting to put his talents together and the result was a career high in receptions and yards just seven games into the season.

His skills perfectly meshed with Jason Campbell's because Campbell is the type of quarterback who is known to check down and look to short passes as a kind of security blanket. He doesn't like to take a lot of chances downfield. These two made for a great combination. The receiver who has found his niche in short yardage and the quarterback to likes his quick slants and comebackers.

It took a few games into the season for the two to begin heating up but in week 4 they caught fire when the two connected four times for 115 yards. It was the most receiving yards in a game of DHB's career. And it was the last game for which Al Davis was alive.

The Raiders were in Houston to face the Texans the day Davis passed. The next day, DHB made his late owner proud once again when he caught seven passes for 99 yards and a touchdown helping the Raiders beat a tough Texans team. The Campbell/Heyward-Bey connection was alive and well.

That combination was disrupted the next week at home against the Browns when Campbell broke his collarbone. DHB had 82 yards receiving in that game catching passes from both Campbell and Kyle Boller.

Just two days later the Raiders acquired Carson Palmer in trade from the Bengals. And the Raiders would face the Chiefs in their final game before their bye week. That game saw an offense that was geared for Jason Campbell but with Kyle Boller and Carson Palmer lining up behind center. That was a recipe for disaster, however, Darrius continued to have success; pulling in five catches for 89 yards.

That game happened on October 23 and it was the last time DHB recorded a catch.

During the bye week Carson Palmer brought in an entirely new skill set and Hue Jackson has tailored his receiving corps to cater to that skill set. Palmer opens the Raider offense to the long ball. And since DHB has never been able to handle catching the long ball, he has not been on the field much.

If Al Davis were still alive, DHB would very likely still be a starter regardless of his not fitting with Palmer's abilities. Hue would be forced to make it work and essentially continue to try and fit a square peg in a round hole. But in recent weeks Hue has made it very clear that this Raider team is no longer business as usual.

Enter Denarius Moore.

This rookie dazzled in training camp. He made some of the most spectacular catches I've seen from any receiver, let alone a rookie fifth round pick. Those talents had not been fully on display through the first seven games of the season. With the notable exception of his 5 catch, 146 yard performance in the week two loss in Buffalo. In every other game he averaged just over one catch per game for 11 yards. He also had zero catches twice.

After week seven came the bye week. So from the time Carson Palmer was brought on board, to his first full game, he had nearly three weeks to get to know all his receivers. Three weeks is more than enough time to discover who he favors and who he trusts. The two at the top of his list are Jacoby Ford and Denarius Moore.

Hue also liked what he saw from these three and come the game against the Broncos, Carson had Denarius and Jacoby as his starting receivers. Jacoby led the Raiders in receiving that day with 5 catches for 105 yards. Jacoby was targeted six times in the game. That seems like a decent amount until you realize Denarius was targeted 12 times in the game. That leaves little doubt who Palmer trusts most among his new receivers. Moore would come down with 4 of those passes for 61 yards.

Palmer had this to say of targeting Denarius in the game against the Broncos:

"My reads have taken me there a lot, but also the position he plays, he's most consistently at that spot. Where the Z-receiver spot is a handful of guys, the F-receiver spot is a handful of guys, and really, Denarius is the X, with a backup also, but I've had a lot of time on task with him and he's a special talent for sure. The X-receiver in any offense gets quite a few more targets, and he will get in this offense also."

In last week's win over the Chargers, Denarius showed Palmer and the rest of the world just why his new quarterback has such trust in him. He pulled down 5 catches for 123 yards and 2 touchdowns. He was targeted seven times in the game. No other wide receiver saw more than 2 targets. Ford went out early with a sprained foot or he would have seen more action as Palmer's second favorite target.

In the process, Palmer threw 5 passes that went for more than 25 yards—something Jason Campbell was rarely known to do. Three of those five passes went to Denarius (46, 33T, 26T) and two of them for touchdowns.

"He can be as good as he wants to be." Said Palmer of Moore. "That catch he made in the long fade was amazing. He ran some great routes. He has great hands. He has everything you need to be a successful receiver. It just depends on how great he wants to be, but I'm excited about him. He's as special talent and the sky's the limit for him."

In the two games since Palmer has taken over this team, DHB has been targeted one time, with zero catches while Denarius has been targeted 19 times with 9 catches for 184 yards and two touchdowns. That is an average of 92 yards per game. In the four games leading up to the bye week, DHB was averaging 96 yards per game while in those same games Denarius was averaging one catch for 8 yards per game.

For this Raiders offense it's out with the old regime—Jason Campbell and Darrius Heyward-Bey—and in with the new regime—Carson Palmer and Denarius Moore.

Follow me on Twitter @LeviDamien or befriend me on Facebook.

[follow] 
Original Story:
http://www.tfdssports.com/2011-articl...
THE BACKYARD
BEST OF MAXIM
RELATED ARTICLES
1. TAG! YOU'RE IT. – Michael Bush proved once again just how productive he can be as a starter in this league.  His 242 yards from scrimmage were the most by a Raider since the merger.  The Raiders need to use the franchise tag on him in the off-season, as its clear he is worth [...]
The Raiders continue to be depleted by injury. And due to the consistent shortage of able-bodies to put on the field, they continue to work out players to try and replenish their ailing team. Today they worked out five players—four cornerbacks and a linebacker—to find out who may be out there to help. The cornerbacks are Bryan McCann, Jamar Wall, David Pender, and Mikail Baker...
The Raiders really took it to the Chargers on Thursday night and came away with a seven-point victory in San Diego. The Raiders played well and a few players really stood out in a good way and a couple in a bad way. Special mention to the Raider Nation's Southern California division for making the [...]
Denarius Moore, the soft handed rookie wide receiver from Tennessee, has found a home with the Oakland Raiders offense, now being led by ex-Bengal quarterback Carson Palmer. Owner Al Davis' passion for speed and size was well documented, and this wide-out is no exception at six feet one, 195 pounds, and posting 4.3 times at the 2011 NFL combine. Often criticized for his draft day...
Oakland Raiders running back Darren McFadden and wide receiver Jacoby Ford missed practice Monday, leaving both questionable for this weekend's game in Minnesota.
The Raiders have not been able to keep any depth at the middle linebacker this season. They lost Travis Goethel for the season in training camp. Then they signed former Raider Ricky Brown only to see him lost for the season with injury as well. Today they brought in former 49er inside linebacker Scott McKillop to fill the role. McKillop was drafted by the 49ers in the fifth round...
(source feed provided no summary content for this entry)
Oakland Raiders running back Darren McFadden and wide receiver Jacoby Ford missed practice Monday, leaving both questionable for this weekend's game in Minnesota.
It wasn't a bad four-day stretch for the Oakland Raiders. Thursday night's 24-17 win over the San Diego Chargers was followed by two welcome days off on the weekend and then Sunday's Broncos win over the Chiefs that now has the Raiders all alone in first place in the AFC West. At 5-4, Oakland, is now trailed by three teams tied at 4-5, the Chargers, Broncos and Chiefs. Oakland...
Until Denver and their spread option read came and put up nearly 300 rushing yards on them, including two 100-yard rushers, the Raiders allowed only Fred Jackson to post a 100-yard rushing game. Four days after the Denver game, the Raiders held an offense that averages over 100 rushing yards a game to 68. So [...]
Nov 20, 1:00 PM | Turf of The Metrodome Oakland Raiders vs Minnesota Vikings Odds 5-4TEAM RECORD2-7 Oakland comes off a terrific road win in San Diego while Minnesota comes off a brutal road loss at Green Bay as the Raiders and Vikings clash on the Week 11 NFL odds menu. The Raiders have dominated lately away from home, going 5-0 ATS in five recent road matches. The Vikes...
The Chiefs know all about beating a team without throwing the ball -- they did it themselves back in 1968. Wide receivers Otis Taylor and Gloster Richardson were injured, so coach Hank Stram had to come up with a plan that could beat the Oakland Raiders. Stram decided to grind it out, and the Chiefs ran the ball 60 times in a 24-10 win over the Raiders at Municipal Stadium. Mike...
Raiders News

Delivered to your inbox

You'll also receive Yardbarker's daily Top 10, featuring the best sports stories from around the web. Customize your newsletter to get articles on your favorite sports and teams. And the best part? It's free!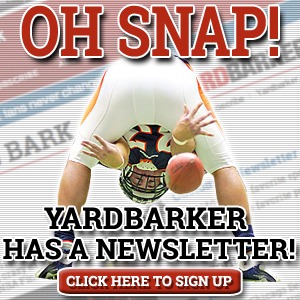 Latest Rumors
The Backyard

Today's Best Stuff

For Bloggers

Join the Yardbarker Network for more promotion, traffic, and money.

Company Info

Help

What is Yardbarker?

Yardbarker is the largest network of sports blogs and pro athlete blogs on the web. This site is the hub of the Yardbarker Network, where our editors and algorithms curate the best sports content from our network and beyond.