Found August 18, 2013 on Fox Sports Midwest:
ST. LOUIS, Mo. (AP) The St. Louis Rams' young offensive unit made some strides Saturday night in a 19-7 exhibition loss to the Green Bay Packers.The improvement just didn't translate into points."When you start looking at individual performances particularly as they relate to some younger guys improving from one week to the next, you become encouraged," coach Jeff Fisher said. "There were some good things in there."The Rams amassed 327 yards on 63 plays, an average of 5.2 yards per play. Yet they were unable to score until quarterback Austin Davis hit Nick Johnson on a 26-yard scoring toss with 58 seconds left.St. Louis moved the ball effectively at times but made too many mistakes late in drives. Quarterback Sam Bradford and the first team marched the ball into Green Bay territory on three of four possessions. The Rams were stopped on fourth down on one march. Bradford lost a fumble on fourth-and-goal at the 1 and Greg Zuerlein missed a 50-yard field-goal attempt.The Rams were 1 for 14 on third down and 0 for 3 on fourth down. They also committed three turnovers."We have to correct the mistakes and point out the good things that happened," Fisher said. We have to continue to keep the pressure on this football team, especially this week, from a preparation standpoint and an improvement standpoint."St. Louis put together several big plays on offense. Bradford connected with Chris Givens on a 57-yard pass on the first play of the second possession. Bradford also hit tight end Jared Cook for 37 yards."We were able to generate some explosive plays, which is always nice to see," Bradford said. "That's an area we've struggled with the past couple years."With Bradford at the helm, the offense managed 169 yards on four possessions. Bradford, who played until the final minute of the first half, finished 8 of 12 for 156 yards.First-round draft choice Tavon Austin, the eighth overall choice, caught four passes for 28 yards.The Rams made a concerted effort to get the ball to the speedy Austin, who did not make a catch and was targeted only once in an opening 27-19 loss at Cleveland on Aug. 8."It was nice to get him a few balls," Bradford said. "I thought he did a great job."The Rams did not stress the running game against Green Bay rushing 22 times for 52 yards and one first down."We really didn't commit to the run," Fisher said. "It was hard because of what (the Packers) were doing. They kind of forced us out of it from a line of scrimmage standpoint. We'll get back to it this week."Fisher indicated that backup quarterbacks Davis and Kellen Clemens remain close in the battle for the No. 2 spot. Clemens served as No. 2 on Saturday and hit on 2 of 11 passes for 27 yards. Davis, who came on in the fourth quarter, hit on seven of 15 passes for 114 yards and the lone score.Fisher says Davis will be listed as the No. 2 quarterback in Saturday's game at Denver, flipping the order from the Green Bay contest.The St. Louis defense held Green Bay to just four field goals over the first three quarters, but Fisher says the unit still made too many mistakes."We didn't tackle as well as we're capable of," he said. "We have to get better at it. And we will."Rams will host Baltimore on Aug. 29 before hosting Arizona in the season opener Sept. 8.
Original Story:
http://www.foxsportsmidwest.com/nfl/s...
THE BACKYARD
BEST OF MAXIM
RELATED ARTICLES
ST. LOUIS, Mo. -- Shuffling players up and down a depth chart is great when the movement is fueled by a backup who raises the bar. But this is far from that. So far the jostling between Kellen Clemens and Austin Davis for the chance to hold Sam Bradford's clipboard has seemed to be more about who underperforms less. "We'll go back to Austin this week as a two,"...
The St. Louis Rams put its new offense on display for the first time at the Edward Jones Dome since signing tight Jared Cook and left tackle Jake Long while drafting wide receiver Tavon Austin at No. 8 overall and things went alright. The offense certainly showed flashes of brilliance, particularly on a 59-yard by quarterback Sam Bradford to second-year wideout Chris Givens, the...
Jeff Fisher (@STLouisRams) I feel obligated to preface this article with the fact that I am seriously biased in favor of Jeff Fisher. As a Tennessee Titans fan, I grew up watching his mastery in the AFC South. His coaching battles against Dungy and the on-field General Manning were epic. Several years later, I was fortunate enough to "hang" with the Southern California native...
Rams head coach Jeff Fisher has officially named Daryl Richardson as their starting running for week one of the regular season. No surprise, but it's now official. Jeff Fisher names Daryl Richardson the opening day starter at running back for the Rams. — Jim Thomas (@jthom1) August 19, 2013 This isn't a surprise at all.  Richardson has been their best running back and Isaiah...
getty images The St. Louis Rams have named Daryl Richardson as the starting running back from Week 1 of the NFL season. Richardson, 23, beat out a slue of other running backs to be at the top of the depth chart. The Rams are running the spread offense this season which makes Richardson (5'10″ and 195 pounds) an option to easily surpass 200 carries and push for 50 receptions on...
ST. LOUIS, Mo. -- Perhaps one shouldn't complain about any defense that holds Aaron Rodgers to a pair of field goals. But I'm going to, anyway. The Rams' defense, after all, is not supposed to be just any defense. As defensive end Chris Long has said, "Our goal has gotta be a top-five defense. Top 10 is the minimum expectation."They won't sniff their goal...
Packers Vs. Rams - The highlight of the game for the Rams came when Sam Brandford connected with Chris Givens for another 50 + deep ball.  Chris Givens draft stock is rapidly rising as it appears he can become a premier receiver in his second year.  Isaiah Pead got the bulk of the carries only gaining 19 yards on 11 carries.  Jared Cook and Tavon Austin showed they will have a...
ST. LOUIS, Mo. (AP) Aaron Rodgers got the Green Bay Packers on the scoreboard for the first time in the preseason, but settled for six points after three productive drives in a 19-7 victory over the St. Louis Rams on Saturday night.Sam Bradford had only himself to blame for putting up nice numbers, going 8 for 12 for 156 yards, with nothing to show for four possessions. His highlight...
Recap The Green Bay Packers (0-1) shut out the St. Louis Rams in the first half and took a 6-0 lead into halftime. Starting quarterback Aaron Rodgers was his usual efficient self, completing 10 of 12 passing attempts for 134 yards on three drives. The first drive ended in a 34-yard field goal by kicker […]The post Green Bay Packers shut out St. Louis Rams in first half, 9-0 by...
When the Rams dropped their pre-season opener with a lackluster 27-19 effort at Cleveland last Thursday, Jeff Fisher did not seem too bothered. He chose to spin the sub-par effort as an opportunity. "As coaches, you'd rather have it that way than the other way where you play a perfect game and you just move on to the next one,"he said the day after. Well, the next one...
Rams News

Delivered to your inbox

You'll also receive Yardbarker's daily Top 10, featuring the best sports stories from around the web. Customize your newsletter to get articles on your favorite sports and teams. And the best part? It's free!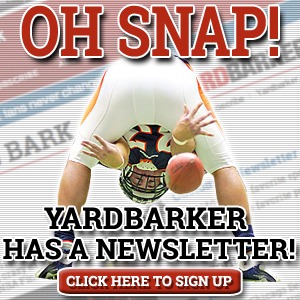 Latest Rumors
The Backyard

Today's Best Stuff

For Bloggers

Join the Yardbarker Network for more promotion, traffic, and money.

Company Info

Help

What is Yardbarker?

Yardbarker is the largest network of sports blogs and pro athlete blogs on the web. This site is the hub of the Yardbarker Network, where our editors and algorithms curate the best sports content from our network and beyond.