Found January 25, 2013 on Fox Sports Ohio:
PLAYERS:
Phil Dawson
,
Josh Cribbs
,
Sheldon Brown
,
Brian Dawkins
,
Troy Vincent
,
Dick Lebeau
,
Brett Keisel
,
James Harrison
,
Troy Polamalu
,
Jabaal Sheard
,
Ahtyba Rubin
,
Phil Taylor
,
John Hughes
,
Billy Winn
,
Joe Haden
TEAMS:
Cleveland Browns
,
Denver Broncos
,
Pittsburgh Steelers
Thoughts, observations and rambling incoherencies on some matters related to the Cleveland Browns: Item: Jimmy Haslam told reporters at the Cleveland Sports Awards Thursday night that a decision on re-signing placekicker Phil Dawson would be up to new GM Mike Lombardi and the coaching staff. Thought: Whats to decide? (The new coaches) are just now starting to look at our team, Haslam told the assembled throng. So those decisions will be made over the next few weeks. The obvious followup: When it comes to Dawson, whats to look at? He has been the pros pro in Cleveland since 1999, persevering through lousy team after lousy team. Hes not just an all-time great Brown, hes an all time great kicker -- hes made 84 percent of his kicks in some of the worst conditions in the league. And its not a question of age, either. As Dawson ages, he gets better. The past two seasons hes 14-of-15 form 50 yards plus, and 53-of-60 overall. He is on the verge of becoming the Browns all-time leading scorer, ahead of a guy named Groza. Its not a money issue either, not with the Browns a reported 48 million under the cap. If theyre going to spend the money on anyone, how could it not be Dawson? Seriously what in the world is there to think about with Dawson, for even one second? Item: Haslam also said of Dawson: That's the kind of people we want here in Cleveland, people who are great on and off the field, and Phil's that kind of guy. No doubt about it. Thought: OK, he has the chance to prove that statement. Item: Haslam said the same thing about Josh Cribbs, that the decision would be made in the next few weeks. Thought: This one is worth discussing. Cribbs has given superhuman effort to the Browns over the years, and hes been a dedicated and loyal player. But his forte -- returns -- could be affected by age, and the new rules that make the kickoff return a lost art. Even with that, Cribbs kickoff return average in 2012 was his best in four seasons, and his punt return average was the second best of his career. Cribbs is an incredibly valuable special teams cover guy, but the Browns have to decide if they want to put the money in a special teams guy who will be 30 when the season starts. Its a tough discussion given what Cribbs has meant, but its a legitimate discussion. Item: Joe Banners track record on re-signing veterans is Thought: worth asking Sheldon Brown, Brian Dawkins, Lito Shepherd and Troy Vincent in a moment when they are being truly honest. Enough on that one. Item: New defensive coordinator Ray Horton told a radio station in Phoenix that the Browns will be running a three-four. Thought: Didnt the Browns run a four-three last season? Teams can make the transition, but its not always smooth. And the Browns have built the past three drafts for the four-three. Item: Speaking on 910 AM in Arizona, Horton said of the defense: It won't be a hybrid, not unless you're playing golf.'' Thought: Wait, didnt the head coach say it would be a hybrid? Interesting. Item: Horton promised an attacking defense similar to what Dick LeBeau plays in Pittsburgh. Thought: Great, bring it on. Horton said the Browns and Steelers will be mirror teams defensively. Were going to look exactly the same, he said. He said the Browns will be a sick em defense. Go get em, Horton said on 910. Thats what we do. Sounds great, and the way Horton talks sounds great as well. He sounds like an up-front guy willing to be candid. Too, he understand that aggressiveness serves defensive players well. The Steelers consistently lead the league in defense with their clever variety of blitzes and coverages. They play things like a reverse cover two (safeties blitz, corners drop) and a zone scheme. Nothing disrupts an offense faster than a guy bearing down on the quarterback. That being said, the Steelers have been building for that scheme for years, and it doesnt appear the Browns have Brett Keisel, Lamar Woodley, James Harrison or Troy Polamalu on the roster. Arizona blitzed a lot last season and Hortons aggressiveness is welcome, but the Cardinals gave up 27 points per game the final nine games, including 58 to Seattle. Its great and welcome to play Pittsburghs scheme, but it takes time to get the players to make the results great. Item: It seems if the Browns switch full-time to the three-four, theyll need outside linebackers, three-four ends and another cover corner Thought: True. The Browns lack impact outside linebackers, which is what Pittsburgh has always had. They have some young guys who played well in spots last season, but they need impact guys. Jabaal Sheard might be able to stand up in rush situations, but given his size its tough to see him playing two gaps with his hand down. Ahtyba Rubin is an outstanding four-three tackle who might be able to move to a three-four end. Phil Taylor and John Hughes could play the nose (though he is, as we all know, a stack-and-shed guy), and Billy Winn might even be able to play end. They also need another cover corner to go with Joe Haden because the zone-blitz scheme often leaves corners on an island. Clearly the Browns major focus in free agency and the draft could be shoring up this side of the ball. Item: The Browns did not have coaches at the Senior Bowl. Thought: This is interesting. But its not the end of the world. The Browns had their staff of scouts present. Whats interesting is the scouts have been working for months preparing for a four-three team. Now they have to prepare for a three-four team. A hybrid team. As the Browns world turns
Original Story:
http://www.foxsportsohio.com/01/25/13...
THE BACKYARD
BEST OF MAXIM
RELATED ARTICLES
The 2012 season is over for the Cleveland Browns, and now we look onto the potential 2013 Cleveland Browns roster changes. There will be potentially 19 players hitting free agency in 2013, and that doesn't include the players new Head Coach Rob Chudzinski decides to let go as well. The first sign of good news for the Browns is the offensive line stays intact, but only if Chudzinski...
The good news for the Cleveland Browns, new defensive coordinator Ray Horton interviewed with eight NFL teams for a head coaching position. The bad news? Obviously no one signed him. Horton has a chip on his shoulder and the first change he will make for is to run a 3-4 defense instead of the 4-3. That could be a problem for defensive end Jabaal Sheard, tackle Ahtyba Rubin and linebacker...
Norv Turner knows quarterbacks having coached some of the all time greats. Troy Aikman raves about Turner and his play-calling, and won two Super Bowls with him as his offensive coordinator. Turner may not be that good at being a head coach, but he sure is respected as one of the best offensive coordinators in the business. Turner is in a perfect place, he's looking to groom...
The Cleveland Browns have hire former University of Colorado Jon Embree as their tight ends coach, according to Mary Kay Cabot of the Cleveland Plain-Dealer. Embree is a former St. Louis Rams TE 1987-88 and spent the last two seasons as head coach of the Buffaloes, going a dismal 4-21 in that span. He was fired by the school in November after going 1-11 in 2012. So it'...
BEREA--With the hiring of Rob Chudzinski, Browns fans should have a sense of optimism that they will finally be able to potentially see a high-flying, modern day NFL offense as soon as next season. Also, by adding Norv Turner as offensive coordinator, the Browns should be able to get the most out of the players they currently have, with the potential to add more via free agency....
Super Bowl XLVII is coming up on February 3rd when the San Francisco 49ers play the Baltimore Ravens is New Orleans. I was at a large grocery store in the Cleveland area and I saw that they had Super Bowl team decorations out for the game. They had paper cups, plates and napkins with the 49ers' logo on them.  But, they had zero Baltimore Ravens items. This made me think about...
In a world with more high-profile TV singing competitions than Cleveland Browns' coaching changes, one man has truly become a pioneer in revolutionizing music creativity. Nick Pitera, the man who mesmerized the YouTube viewers with a video of him singing A Whole New World from Disney's Aladdin, one that has reached nearly 31 million views.  Pitera miraculously belted out the...
New Browns offensive coordinator Norv Turner offered some of his thoughts on QB Brandon Weeden and his future with the team. "I saw a young guy that I think now and I thought then has a real positive upside and when I look at him on tape, I haven't spent any time with him, but when I look at the tape I see a guy who can be a really good player," said Turner, via Sports Radio...
You might not have been at the Renaissance Hotel located in downtown Cleveland last night, but five of us from Waiting For Next Year were there for you — Rick, Scott, TD, Jon Cole and I. Earlier this morning, I shared with you some of the highlights in narrative form. But now it's something a bit more. Thus, courtesy of Jon Cole's awesome photographic skills and our media...
NFL News

Delivered to your inbox

You'll also receive Yardbarker's daily Top 10, featuring the best sports stories from around the web. Customize your newsletter to get articles on your favorite sports and teams. And the best part? It's free!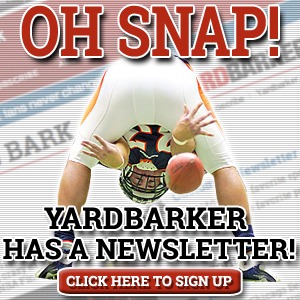 Latest Rumors
The Backyard

Today's Best Stuff

For Bloggers

Join the Yardbarker Network for more promotion, traffic, and money.

Company Info

Help

What is Yardbarker?

Yardbarker is the largest network of sports blogs and pro athlete blogs on the web. This site is the hub of the Yardbarker Network, where our editors and algorithms curate the best sports content from our network and beyond.