Found March 13, 2012 on The Sport Mentalist:
PLAYERS:
Randy Moss
,
Jim Harbaugh
,
Alex Smith
,
Michael Crabtree
,
Vernon Davis
,
Cris Carter
,
Bill Belichick
,
Marshawn Lynch
TEAMS:
Tennessee Titans
,
San Francisco 49ers
,
New England Patriots
,
Seattle Seahawks
,
New Orleans Saints
The San Francisco 49ers have agreed to a one-year deal withwide receiver Randy Moss after his impressive workout on Monday. Moss caughtballs from Coach Jim Harbaugh during his workout on Monday but maybe he shouldhave been catching passes from Alex Smith.
Why? Because Smith is the one who will be responsible forgetting Moss the ball in actual game situations and he better be able to getMoss the ball deep because Moss won't run many routes over the middle.
Smith's arm strength has come into question over the yearsso that could become an issue at some point. The 49ers are also more of arun-oriented team compared to the teams Moss has played on in his career. Mosswill essentially be a decoy which won't go over well with him.
Moss's attitude may also clash with some of the explosivepersonalities on the team. Michael Crabtree and Vernon Davis aren't divas byany account but they are guys who want the ball as much as Moss will and arenot afraid to speak their minds. The 49ers will have some locker-room issueswith all three of these guys together.
Harbaugh should understand how much of a malcontent and acancer Moss can be by the way he handled the criticism from his ex-teammateCris Carter just last month. Moss didn't cause much of an uproar most of histime in New England because he had a strong quarterback and head coach there thathe respected.
Harbaugh does have a reputation as both a players' coach anda disciplinarian but even Bill Belichick came to a point where he could nolonger stomach Moss and Moss actually wanted to play there.
What's worse is that Moss comes to the 49ers and is the mostaccomplished wide receiver there. Moss is a guy many in the locker room willlook at in terms of how to approach practice and other facets of the game whichis something the 49ers may not want.
But at this point it is kind of hard to second guess CoachHarbaugh. He took a quarterback who most had considered to be a bust and saidhe could win with him and guess what? They were only a few plays shy of theSuper Bowl last season.

Harbaugh took a team that analysts felt would be .500 orworse and led them to a three-way tie with the New Orleans Saints and NewEngland Patriots for the second best record in the league.

So it's hard to say that Harbaugh is making an errorbringing in Randy Moss to play on his team. I will say this: it's a good thingthey only signed Moss to a one-year contract. Let's see how much of it he willbe there to collect.

Do you think signing Moss was a good move by the 49ers? Give us your arguments as to why or why not this was a good move?

Roosevelt Hall is an

NFL

Blogger for The Sport Mentalist and is also an

NBA

Blogger for The Sport Mentalist 2. He can be contacted at RHall_TPFB@Yahoo.com. Follow him on Twitter @sportmentalist

<span style="font-family: "Calibri","sans-serif"; font-size: 11pt; line-height: 115%;">

and add him on Facebook Roosevelt Hall Thesportmentalist.

 

Also check out these stories:

 

Randy Moss hasn't learned from T.O.'s dilemma Will teams copy the Patriots' two tight end set next year? Seahawks must focus offense around Marshawn Lynch  

 

 
Original Story:
http://thesportmentalist.blogspot.com...
THE BACKYARD
BEST OF MAXIM
RELATED ARTICLES
A person with knowledge of the negotiations says Randy Moss is back in the NFL with the San Francisco 49ers. ESPN first reported the move by the 49ers, who also have been mentioned in the Peyton Manning sweepstakes. Moss agreed to a one-year deal Monday with the reigning NFC West champions, according to a person who spoke to The Associated Press on condition of anonymity because...
For Randy Moss, signing with the 49ers isn't just about showing people he can still play. He also wants to prove he has what it takes to be a supportive teammate. "I think when it comes to the world-wide sports media, I've gotten a bad rap … not being a team player and things like that," Moss said Monday after signing a one-year deal with the Niners. "I really don't...
After announcing on his Ustream channel that he wanted to return to the NFL, Randy Moss will indeed get his wish. According to ESPN's Adam Schefter, Moss will make his return with the 49ers.Moss reportedly agreed to a one year deal after working out for the 49ers today. And though signed quarterback couldn't throw to Moss, head coach Jim Harbaugh filled in and the 49ers obviously...
Randy Moss is back in the NFL, this time with the San Francisco 49ers. He said he is ready to accept the challenge, still has a passion for football and has gotten a bad rap from "the worldwide sports media."
The 49′ers and 35-year old Randy Moss came to terms on a year deal Monday. Moss did not play the entire 2011 season but after a brief retirement stint. But in 2010 he spent time with the Patriots, Vikings and Titans. You remember how well that worked out right? Aside from the obvious concern, does [...]
The Shiny Hood Ornament Man Laws tells us that teams should chase wide receivers only when all the other elements of success are in place. San Francisco is one of those teams.....
Hot News for WR Randy Moss
Randy Moss to the Niners…who blinks first? Him or Coach Harbaugh? NickEv Jim Harbaugh is not going to blink, ever. He is taking a shot at a stud wide receiver to do what he did a few years back. And that is be one of the top five receivers in the league. If Randy Moss doesn't produce or causes any kind of problems in the clubhouse, he will be gone. That's it. Jim Harbaugh...
Randy Moss returns to the NFL with the San Fran 49ers, his sixth team in 13 seasons. Bay area get ready. As PEYTON MANNING tries to decide which NFL team he intends to invade with his Hall of Fame presence, a lot of other wheeling and dealing has taken place elsewhere around the league as well. According to league sources, the Miami Dolphins have traded Pro Bowl wideout BRANDON...
Season 2, Episode 86 of The Terrible Podcast is up and with David Todd dive right into the free agency talk as the new league year begins at 4 p.m. eastern today. We talk about the signing of Randy Moss by the San Francisco 49ers on Monday and how this lessens the chance even more that Mike Wallace will receive an offer sheet from another team. We touch on Peyton Manning once again...
Many people had come to the conclusion that Randy Moss was done in the NFL. After all, his 2010 performance really wasn't anything to write home about. 28 receptions, 393 yards and five touchdowns in 16 games for three different teams. Despite the lack of production recently, it does seem that multiple teams are interested in the 35 year-old wide receiver. The New Orleans...
NFL News

Delivered to your inbox

You'll also receive Yardbarker's daily Top 10, featuring the best sports stories from around the web. Customize your newsletter to get articles on your favorite sports and teams. And the best part? It's free!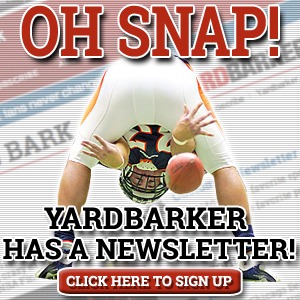 Latest Rumors
The Backyard

Today's Best Stuff

For Bloggers

Join the Yardbarker Network for more promotion, traffic, and money.

Company Info

Help

What is Yardbarker?

Yardbarker is the largest network of sports blogs and pro athlete blogs on the web. This site is the hub of the Yardbarker Network, where our editors and algorithms curate the best sports content from our network and beyond.