Truly hard to believe… but a recent announcement by the Ravens that QB Joe Flacco would not be hosting any private workouts with his receivers prior to mid-April OTA's drew a heap of fan criticism over the past weekend. Man, how quickly do people forget?— During the NFL Lockout, Joe was working out on his own time with Torrey Smith and LaQuan Williams. Wake up, Baltimore! There's no work stoppage in the NFL this year. April's OTA's are a mere 20 days away. Joe will be there and have all the time he needs to get to know his new receivers and work out with his fellow veteran receivers, too. If he can schedule anything extra before that, he will. Furthermore, tight end Dennis Pitta and wide receiver Jacoby Jones have both said Flacco talked with them about getting together, according to Garrett Downing of Ravens.com, and wide receiver Torrey Smith explained why the meetings have yet to take place: "You all [in the media] keep talking about this and [criticizing] Joe like he doesn't want to get together or something like that," Smith said Saturday. "We've been trying to figure it out, but people have to realize, [Kyle Juszczyk] is in school, Marlon [Brown] is in school. Steve [Smith] is still being a parent down there [Carolina]. [Dennis] Pitta is fine. Aaron [Mellette] isn't all the way back yet. If we really go out there and throw, it's going to be, Steve, Pitta and Jacoby. That's it." Finding a time for everyone to meet in the offseason prior to April 15th or so is a challenge because players use the time to visit family and take vacations, and they also live all over the country. If the group had met up earlier in the offseason, they would have done so before Offensive Coordinator Gary Kubiak had even finished the new playbook. Well, it was nice to find some fans in the City of Critics who actually stood up for Joe: Here's "Baller" from the team's fan comments section at their NFL.com website: "What is it with the sports media and their bone to pick with Flacco? Give the guy a break. Does anybody remember this guy singlehandedly saved our playoff run in Denver? Or that he's a major part of why we went to the playoffs his first 5 years in the league? How about the fact he has one of the strongest arms in the league and is considered one of the best at deep passing. So he hasn't worked out with his receivers yet, it's March for Chrissake! " "Alaska Alaska" chimed in: "I don't care what the media says about Joe; however, I get livid anytime I hear a fan spew the same madness. "Joe doesn't read the playbook on the sidelines" "Joe doesn't show passion during games" "Joe doesn't work out with his receivers"…Blah Blah Blah. What's the point in being a fan if said fan can't even show a hint of faith? " Here's "Ravens Lifer": "Every year it's something with this team – people just keep trying to find reasons why we should lose. And as far as the "some quarterbacks go", the only guys you ever hear about organizing things are Peyton Manning and Tom Brady – so does that mean all the other quarterbacks aren't doing anything? I can't ever remember hearing about Drew Brees organizing anything – doesn't mean he doesn't, just that it's low key, like most QB organized events. Every quarterback in the league organizes offseason workouts with their guys on their own time, every unit in the league practically does it, and it's never a big deal. You would think after winning a Super Bowl, if fans had gripes they'd at least respect what this team accomplished and tone it down a bit – and anyway, offseason workouts don't help you if you're not good. A lot of older quarterbacks do nothing in the offseason and come in fine. Contrast that with Mark Sanchez and his "Jets West" – never helped him. You're either good or your not, and a couple of informal padless throwing sessions won't change that the way actually training camp will." "Raven Wild Man" put the cherry on top: "OK…these workouts are coming……why all the stress? A one or two-day get together is nice, but hardly will be the big difference since we have a new playbook coming in April…..everyone chill….Joe's got it." Well what do you know? Dig deep enough and you can find some reasonable fans in Baltimore who appreciate the solid quarterback they've got.
Original Story:
http://ravensfootballmachine.com/2014...
MORE FROM YARDBARKER
NFL News

Delivered to your inbox

You'll also receive Yardbarker's daily Top 10, featuring the best sports stories from around the web. Customize your newsletter to get articles on your favorite sports and teams. And the best part? It's free!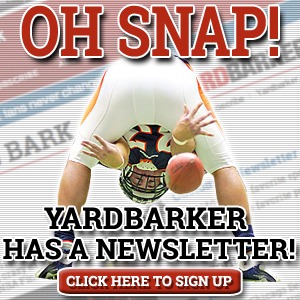 Latest Rumors
Best of Yardbarker

Today's Best Stuff

For Bloggers

Join the Yardbarker Network for more promotion, traffic, and money.

Company Info

Help

What is Yardbarker?

Yardbarker is the largest network of sports blogs and pro athlete blogs on the web. This site is the hub of the Yardbarker Network, where our editors and algorithms curate the best sports content from our network and beyond.