Found August 09, 2013 on Ravens Football Machine:
PLAYERS:
Tyrod Taylor
,
Joe Flacco
,
Jacoby Jones
,
Ray Rice
,
Bryant McKinnie
,
Chris Canty
,
Daryl Smith
,
Bernard Pierce
,
Deonte Thompson
,
John Harbaugh
,
LaQuan Williams
,
Tandon Doss
,
Courtney Upshaw
,
Elvis Dumervil
,
Aaron Mellette
,
Lardarius Webb
,
Ed Dickson
,
Jameel McClain
,
Chris Owusu
,
Chykie Brown
,
Justin Tucker
,
Anthony Allen
TEAMS:
Baltimore Ravens
,
North Carolina State Wolfpack
I liked the extended performance of backup QB Tyrod Taylor for the Ravens--- he has seemingly evolved into a thinking man's (or woman's) QB as a read-option change of pace compared to the gunslinger Joe Flacco... I also liked the special teams energy shown by Baltimore against Tampa Bay on Thursday night... But there were a lot of personnel questions still left unanswered after the Ravens beat the Bucs 44-16 in a slopfest down at Raymond James Stadium in Tampa... I know it's still way early to judge anything, but... Welp, here are ESPN beat-writer's Jamison Hensley's thoughts on the 2013 debut of the Ravens, which I tend to echo for the most part: "As far as the first-team offense goes, it was a forgettable performance. Joe Flacco went 7-of-9 for 57 yards in one quarter of work. His worst throw was getting the ball late to Jacoby Jones on the sideline, where it was intercepted by former Ravens cornerback Danny Gorrer. The offensive line didn't open many holes for Ray Rice (7 yards on three carries) and let an unblocked Lavonte David sack Flacco, while left tackle Bryant McKinnie was standing around and blocking no one."   Two veteran newcomers on defense, defensive lineman Chris Canty and inside linebacker Daryl Smith, made great first impressions. On the first three plays of the game, Canty pushed his blocker back (which led to a 1-yard loss on a run), hurried quarterback Josh Freeman into an incompletion and then sacked Freeman on third down. Smith was everywhere in that first quarter and displayed great awareness when he jumped on an inside screen pass.   There were two injuries of note, but it appears neither is serious. Backup running back Bernard Pierce limped off the field after scoring a 20-yard touchdown and didn't get another touch the rest of the game. Wide receiver Deonte Thompson, who is fighting for a starting job, appeared to hurt his ankle late in the second quarter. Because it occurred with less than two minutes remaining, Thompson made sure he got off the field so the Ravens wouldn't be charged with a timeout. Asked about the injuries after the game, coach John Harbaugh told reporters, "We're looking pretty good right now."   Wide receiver LaQuan Williams made a strong case to make the team. Williams knows he has to to have a presence on special teams and he came up big, recovering a fumble of a muffed punt return and recovering a blocked punt in the end zone for a touchdown. He also caught a 21-yard touchdown pass in the third quarter.   Nothing was cleared up in the Ravens' competition for the No. 2 receiver spot. Thompson had one catch for 5 yards, and Jacoby Jones and Tandon Doss both failed to make a reception. Jones couldn't hold onto a Flacco pass on third-and-2 in the first quarter.   Based on the limited action for the first-team defense, it looks like Courtney Upshaw will play outside linebacker on running downs and Elvis Dumervil will come on the field for passing situations. Dumervil, the team's biggest free-agent pickup, is regarded as one of the top pass-rushers in the league.   The Ravens obviously want to give a lot of work to backup quarterback Tyrod Taylor, who hasn't seen much playing time in the regular season in his two previous seasons. He completed 13 of 23 passes (56.5 percent) for 154 yards and two touchdowns. His last touchdown pass, a 21-yarder to Aaron Mellette, showed nice touch. Taylor also ran for 27 yards.   Starters who didn't play: CB Lardarius Webb (knee), TE Ed Dickson (hamstring), G Marshal Yanda (shoulder) and ILB Jameel McClain (back).   Give props to rookie QB Mike Glennon for Tampa Bay.  He made the Ravens' 2's and 3's look stupid on defense at times. In fact, I think he outplayed Tampa's QB#1 Josh Freeman.   On the first play of his first series under center in an NFL game, the third-round draft pick out of North Carolina State calmly stepped up in the pocket to escape the hands grasping for his ankles and unfurled a long, soft throw over the heads of the Baltimore Ravens defense and into the waiting arms of tight end Tom Crabtree, who turned the catch into a 61-yard reception and a Bucs scoring chance. For both Glennon and the Bucs, though, it was all pretty much downhill after that. But I liked the calm determination shown by Glennon. I think he has a chance to fare well in the future. On this rainy night he was somewhat abandoned by the game conditions and the fact he was stuck with the 2's and the 3's. On a night when cornerback Darrelle Revis was among six projected starters who didn't dress for game, the Bucs started strong but slowly fell victim to a morass of mistakes that allowed the Super Bowl champion Ravens to leave Raymond James Stadium with a 44-16 win in the first preseason game for both teams. With the exception of a 41-yard pass to Chris Owusu that closed out the first half, Glennon largely struggled after making that initial throw, completing 11 of 23 passes overall for 169 yards, no touchdowns and an interception. "I thought Mike Glennon handled himself with really good poise," Bucs coach Greg Schiano said. "The one interception, it was a good throw, it was the wrong route. You have to throw that route before it breaks, so it looked awful because it was awful, but that was not on him. "For his first time out, it didn't look too big for him." On this night, Glennon had plenty of company. A muffed punt return by Owusu and a blocked Chas Henry punt in the end zone led to a pair of first-half Ravens touchdowns. Baltimore also produced a fourth-quarter field goal and touchdown off turnovers committed by fourth-team quarterback Adam Weber, who had his first two throws of the game intercepted. Weber had just simply an awful outing. The Ravens had over 100 yards in penalties--- not a good thing if you're trying to repeat as NFL champion. But to be fair, most of those yards in penalties were called on Chykie Brown, the 3rd year cornerback who had a sudden complete lapse of technique in the first half.  Face-guarding, out of position, biting on double moves--- Brown needs a complete makeover in the classroom. Not that it was all bad for the Bucs. Rookie kicker Derek Dimke helped turn Glennon's 61-yard toss into points with a 35-yard field goal, one of three he kicked in the game. The Bucs defense got off to a good start, as well, generating a sack of quarterback Joe Flacco by linebacker Lavonte David and an interception of Flacco by cornerback Danny Gorrer during the Ravens' first offensive series. "That was a good way to start the game, by making a play and getting the defense off the field,'' Schiano said. "That was good.'' Those two plays helped the first-team offense get off to a good start, as well. Starting quarterback Josh Freeman drove the Bucs 56 yards for their first score, a 29-yard Dimke field goal. "The reason for the preseason is tuning up,'' said Freeman, who completed four of seven passes for 34 yards during two series. "We talked about coming out and playing physical and not turning the ball over as an offense. "That was one of our main goals. And then just the whole procedure, whether it's breaking the huddle, substituting — a lot of different things. I thought it was an effective day.'' It was for some. Backup running back candidate Brian Leonard ran six times for 23 yards and a touchdown, including 13 yards on a first-and-10 play that helped the Bucs take a 3-0 lead on their second series. Leonard also threw a key block during that series, picking up a blitzing Chykie Brown in the backfield and allowing Freeman to get off a 22-yard pass to Kevin Ogletree. Sparked by Glennon's 61-yard passing play to Crabtree, which started with Tampa Bay backed up at its 6-yard line, the Bucs improved their lead to 6-0 on their next series. That drive stalled when Glennon had a ball batted down behind the line and threw short for Owusu downfield. Dimke salvaged the effort with his 35-yard field goal. The Bucs lost that lead midway though the second quarter by giving the ball away on a fumbled punt return by Owusu at Tampa Bay's 20-yard line. Of course, to be fair, it should be mentioned that the fumble occurred during a driving rain. The Ravens needed one play to regain the edge as running back Bernard Pierce ran through the line and beat linebacker Jonathan Casillas to the end zone for a 20-yard touchdown. Pierce came up limping after that play, so we will keep an eye on that....   The Bucs came right back, and taking advantage of a pass interference penalty drawn by Owusu at the Ravens' 5-yard line, took a 13-7 lead on a 3-yard rumble into the end zone by Leonard with 5:25 left in the half. The Ravens cut their deficit to 13-10 when Justin Tucker hit a 43-yard field goal with 3:26 to play and took a 17-13 lead when Anthony Allen scored a 2-yard touchdown with 34 seconds left in the half. The Bucs chose to play for a score after getting the ball back with 29 seconds to play in the half, but two Glennon incompletions and a sack at Tampa Bay's 11-yard line set the stage for LaQuan Willimas' recovery in the end zone of Henry's blocked punt. "I've been in this league before," Schiano said. "Even after we won our first preseason game last year, I had no visions of grandeur, so neither am I going to go ballistic about tonight. There will be some good things on that tape." And no doubt John Harbaugh and his coaching staff will be doing the same---poring over tape in the next few days.  Some of the Ravens played their way into further consideration as 53-man roster guys--- and some played their way out down in Tampa.  
Original Story:
http://www.ravensfootballmachine.com/...
THE BACKYARD
BEST OF MAXIM
RELATED ARTICLES
The Baltimore Ravens had a lot of questions at wide receiver this season after they traded Anquan Boldin to the San Francisco 49ers, but the double whammy of losing Dennis Pitta for the season and Ed Dickson for a significant amount of time spells trouble. Reliable targets are what Joe Flacco needs, and there is nothing on the market that fills that need. However, the running back...
Baltimore Ravens rookie fullback Kyle Juszczyk got hisr ookie initiation at Chick-fil-A. It was there that the 22-year-old out of Harvard was left to purchase nearly $100 worth of chicken nuggets and waffle fries. #RookieObligations pic.twitter.com/rsjWn8VcAN — Kyle Juszczyk (@JuiceCheck44) August 7, 2013   The Ravens, like nearly every NFL team, have a way of making rookies feel...
All eyes have been on tight end Dennis Pitta to be one of Joe Flacco's go-to receivers this season. But after suffering from a dislocated hip during training camp, someone else on the Baltimore Ravens roster will have to step up to replace Pitta after the season-ending injury. That shouldn't be too hard with Ed Dickson in the lineup, right? Nothing comes that easy in football...
Fullback Kyle Juszczyk learned this week what it is like to be a rookie in the NFL. He wasn't forced to shave his head (at least not yet), and he didn't get taped to the goal posts, but he did get stuck paying a rather large bill. No, it wasn't an expensive restaurant or huge bar tab, but it was for a buncha tasty food at a local Chick-fil-A. I gotta say, if you have to get...
For the Ravens, it will be interesting to watch the wide receivers, especially young guys Tommy Streeter, Tandon Doss, LaQuan Williams and Deonte Thompson. With the trade of Anquan Boldin, there is an open race for playing time at the receiver position, and at least one of these young guys will have a chance to [...] [[ This is a content summary only. Visit my website for full links...
The 2013 AFC title game was one for the history books. This game between the Denver Broncos and Baltimore Ravens had every story line imaginable. Would Ray Lewis get to one more super bowl? After the injury, could Peyton Manning win his second ring? And then came the most important question, would Baltimore's offensive line hold up against what, according to the defensive hog...
LaQuan Williams scored a pair of touchdowns, one on offense and another on special teams, to help Baltimore to a 44-16 preseason rout of the Tampa Bay Buccaneers in the Ravens' first action since last February's win in Super Bowl XLVII.
The Baltimore Ravens will travel to Raymond James Stadium to play against the Tampa Bay Buccaneers in what will be both teams first preseason game of 2013. While the game will be watered down with backups, and players destined for the practice squad it will represent the first opportunity for fans of both teams to see some of their starters take the field for the first time. KICKOFF...
The defending Super Bowl champion Baltimore Ravens (0-0) travel to Raymond James Stadium to take on the Tampa Bay Buccaneers (0-0) in their preseason opener. Kickoff for the game, which has been blacked out locally due to poor ticket sales, is 7:30 p.m. ET. Battle of the backups After a disappointing 2012 campaign in which they […]The post Tampa Bay Buccaneers open preseason against...
The offseason loss of Anquan Boldin and recent injury to Dennis Pitta haven't got Baltimore Ravens quarterback Joe Flacco worried.   Pitta was an incredibly reliable target for Flacco in 2012. The tight end caught 61 passes for 669 yards. Pitta also tacked on seven touchdowns. Pitta was the third leading receiver in Baltimore last season. Boldin on the other hand was number...
Ravens News

Delivered to your inbox

You'll also receive Yardbarker's daily Top 10, featuring the best sports stories from around the web. Customize your newsletter to get articles on your favorite sports and teams. And the best part? It's free!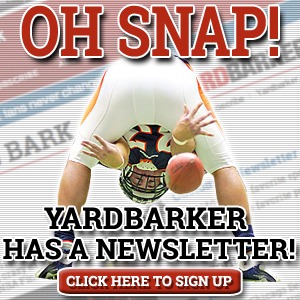 Latest Rumors
Best of Yardbarker

Today's Best Stuff

For Bloggers

Join the Yardbarker Network for more promotion, traffic, and money.

Company Info

Help

What is Yardbarker?

Yardbarker is the largest network of sports blogs and pro athlete blogs on the web. This site is the hub of the Yardbarker Network, where our editors and algorithms curate the best sports content from our network and beyond.