Found June 14, 2012 on Fox Sports:
PLAYERS:
Paul Kruger
,
Ray Lewis
,
Ed Reed
,
Torrey Smith
,
Terrell Suggs
,
Courtney Upshaw
,
Jarret Johnson
,
Albert McClellan
,
Chavis Williams
,
Sergio Kindle
,
Joe Flacco
,
Ray Rice
,
Lardarius Webb
,
Bryant McKinnie
TEAMS:
Baltimore Ravens
,
San Diego Chargers
Paul Kruger was in his home state of Utah, enjoying a rare day off from offseason training, when he logged into his email account and saw a string of emails awaiting him on May 3rd. "I knew something must have been up, because I had a bunch of texts and emails. More than usual. I went on the Internet, and there it was -- Terrell was injured," the fourth-year Ravens player said this week at Ravens minicamp. "I got on the phone, called some of the other guys, spoke with coaches, and it was confirmed. Major major, blow, for sure." Kruger, then, took a pause, and continued. "Next man up," he said with no explanation. I pressed. "Huh?" "That's our mantra," Kruger said. "Next man up. If that's me, then I'll do my best to step in. Sometimes you can't control the situation. Sometimes guys get hurt. No point lingering too much on it. Next man up. That's what we say, here." "Next Man Up" was the title of a John Feinstein book about the 2004 Baltimore Ravens. Though only a handful of the current members of the team were around for that season -- Ray Lewis, Ed Reed -- the book's title has maintained a permanent presence within the organization's walls. And when news leaked out of Arizona that the 2011 Defensive Player of the Year had torn his Achilles' tendon while training, there was no moment of silence or memorial service held. There were no big-time free agents brought in to serve as temporary Band-Aids, either. "Next man up," says Torrey Smith, the second-year receiver who had a breakout rookie season at wide receiver in 2011. "Terrell's here. He's in the building. He's coaching up the other linebackers. He'll be here all season. It's a tough loss for us, but it just makes everyone want to work harder. No one person can replace a guy like him. We'll all need to be a little better. We all recognize that." Kruger will be looked upon, at least initially, as one of the guys to fill Suggs' shoes. A four-year veteran, the former Utah star has been solid in spot duty on the defensive line during his first three years in Baltimore. But he isn't Terrell Suggs. He gets that. "Let's be clear," Kruger says, pointedly. "I'm not Terrell Suggs. We're different players. He was the best defensive player in the entire NFL last season. I'm going to be the best I can be and I'll be working as hard as I can to fill the position." Second-round pick Courtney Upshaw grew up idolizing Ray Lewis and watching Suggs. Now, he has to do more than just learn from them. He has to produce right away. "When I was little, playing Pop Warner or whatever, we all wanted to wear Ray's No. 52," Upshaw said after Wednesday's minicamp workout. "I never got it. Someone always beat me to it. I grew up wanting to play linebacker just like Ray. I'd watch his highlight tapes. I have some of his pregame speeches on my iPod. I'd listen to them before big games in high school and college." There's no time to be starstruck, though, and Upshaw knows it. "We're getting right down to business. I'm learning the defense, learning the terminology, and doing what I can. Everyone's focused on the goals ahead. I'm doing as much as I possibly can to absorb it all so I can contribute as quickly as possible." Though certainly not the household names Suggs and Lewis are, all eyes will be on Kruger and Upshaw during training camp. Adding to the blow of Suggs' injury is the fact that longtime Ravens strongside outside linebacker Jarret Johnson signed a lucrative free-agent deal with the San Diego Chargers in March. Upshaw's expected to take over Johnson's Sam role in the 4-3; Kruger's expected to take over Suggs' spot at the Will. "That's two starters on D," says Smith, a guy everyone's talking up this spring. "But this team is resilient. We've got guys -- young guys, veterans -- who are going to step up. Next man up, you know?" Kruger and Upshaw were working with the first team on Wednesday, but there's a host of hungry defensive ends and linebackers salivating at the opportunity to start for one of the NFL's top defenses. Albert McClellan, a second-year player out of Marshall, Michael McAddoo, another second-year guy from North Carolina and Chavis Williams will all get significant playing time in both training camp and the preseason. Sergio Kindle, a former second round pick, will be in camp, too. And though it's unlikely any of them will record 14 sacks, like "T-Sizzle" did a season ago, they're all very eager to make the most of their opportunities in the spotlight. "We have a lot of depth and several players who have the ability to play a role in this defense," Kruger said. "There are several good, sound, smart players in this locker room. Guys who can make plays. Personally? This opportunity is just huge for me. I've been busting my butt to get where I need to be, and working with everyone this offseason, I'm going to do what I can to be as great as I can possibly be." As for the critics writing the Ravens off in June? "Hey, we know a lot's going to be said about us this summer. There will be a lot of doubters," Kruger said. "We know that. But we're confident with the guys we have in this locker room. The motivation's there, without the doubters. Coming off of the way our season ended last year, we know what we have to do. We're off to a great start this week and we can't wait to get to training camp." After the 2011 AFC Championship Game, a devastated Ravens team sat at their lockers, crouched and defeated over the way their season ended. Ray Lewis gave a rousing speech, one never captured by the guys at NFL Films, which set the tone for the offseason. "He said we'd be back and better next season," Smith said. "He said we'll work harder this offseason, be better in training camp, and come ready to get to the next level." Whereas perennial AFC powers New England and Pittsburgh loaded up in free agency and in the NFL Draft, the Ravens were relatively quiet this spring. They lost Johnson to free agency, didn't re-sign guard Ben Grubbs and traded out of the first round of April's draft. They didn't give Joe Flacco or Ray Rice the mega long-term deals many expected they'd receive and they didn't acquire any big name defenders. The two biggest moves in Baltimore this offseason were making sure team executive Eric DeCosta and up-and-coming cornerback Lardarius Webb stayed in town. Kruger insists that it's just fine. "Hey, the talent's here. We're confident in the guys in this room," Kruger said. "We all have our own individual goals this season, but the team goal is pretty clear -- get to where we got last year, and then get to that next step. The Super Bowl." Both Flacco and Rice became fathers for the first time this offseason, with the former's wife giving birth to a baby boy on Wednesday. Though still viewed as kids by many around the league, they're both entering their fifth seasons in the NFL this year. Ray Lewis is set to begin his 17th season, while the two other Miami guys -- Ed Reed and Bryant McKinnie -- are looking at their 11th years in the league. This isn't a particularly young team. There's no guarantee that the Ravens will be able to sustain their tradition of continued success into the next decade. And with no Suggs or Johnson in the lineup, there's reason to believe the 2012 Ravens might not be as good as the 2011 outfit. "We're all excited for training camp. We're excited to pick up where we left off," says Kruger, assuredly, as we wrap up our conversation. And with that, the next man up was on his way.
Original Story:
http://msn.foxsports.com/nfl/story/Ba...
THE BACKYARD
BEST OF MAXIM
RELATED ARTICLES
Getty Images Baltimore Ravens quarterback Joe Flacco and his wife Dana gave birth to a healthy eight-pound baby boy named Stephen.  He is their first child and it'll certainly be interesting to see if he follows in his father's foot steps and becomes a legit quarterback one day. Congrats to both Joe and Dana and we wish them the best of luck as their family continues to grow.
The Ravens signed veteran Bobbie Williams earlier this week and a report from Ravens inside Aaron Wilson today explains why. Wilson says that the Ravens' Kelechi Osemele has yet to practice with a quadriceps injury, though he says he should be fine by Training Camp. Osemele was their 2nd round pick in the 2012 NFL Draft, but he's missing valuable practice time so the Ravens might...
Bryant McKinnie sat out the Ravens' minicamp this week to work on his conditioning, which has been a problem for him throughout his career, especially over the last year or so with Minnesota and now Baltimore. The Vikings cut him for his conditioning after the lockout last year and then he signed with Baltimore, where he played solid on the left side. The Ravens decided to keep...
Baltimore Ravens Terrell Suggs tore his Achilles tendon in April but the reigning NFL Defensive Player of the Year vowed he would return to the field in the 2012 season. Despite telling reporters he feels great, his return to the gridiron could take longer than first expected. Speaking to reporters yesterday at the close of Baltimore Ravens mini-camp, Suggs admitted that perhaps...
Poor conditioning eventually cost Bryant McKinnie his long-time job at left tackle for the Minnesota Vikings. Now it could be doing the same with the Baltimore Ravens. According to the Baltimore Sun, the Ravens opened mandatory minicamp on Tuesday without two former Vikings. Center Matt Birk had surgery to fix varicose veins in his legs. Meanwhile, McKinnie was reportedly missing...
The Ravens made a judgment call in March when they picked up a $500,000 roster bonus to retain starting left offensive tackle Bryant McKinnie. Months later, the Ravens made another decision involving McKinnie when they kept him off the practice field at a mandatory minicamp due to wanting him to focus on getting in better shape. "Bryant McKinnie is a guy that we held out...
As the Ravens continued their mandatory minicamp Wednesday, they were without quarterback Joe Flacco, who left practice — and the state of Maryland — albeit for a pretty good reason. According to reports, Flacco was his wife, Dana, to witness the birth of the couple's first child in their home state of New Jersey. Obviously, coach John Harbaugh was OK with excusing the veteran...
Terrell Suggs discarded his crutches Monday, but he was back on the comeback stump in a press conference at the Ravens' facility Thursday. "Like I said before when I first got injured: I will be in a Baltimore Ravens uniform in 2012," Suggs said. "The only question in when." Suggs said he injured his Achilles in May doing a fitness test, again denying...
About 10½ months ago, Bryant McKinnie was sidelined in Mankato for being out of shape. It's happening again in Baltimore even after a big roster bonus and a promise. Plus, the Bears cut a QB and the Rams signed a LB that visited the Vikings last month.
- SEATOT! Seattle fullback Michael Robinson brought his kid along to minicamp, where his son, Burton, got to try on dad's helmet. Tony Romo wonders why a father without an endorsement deal with Riddell would even bother. - Joe Flacco is missing part of the Ravens' mandatory minicamp because his wife just gave birth to the couple's first child. On behalf of the Flacco family...
NFL News

Delivered to your inbox

You'll also receive Yardbarker's daily Top 10, featuring the best sports stories from around the web. Customize your newsletter to get articles on your favorite sports and teams. And the best part? It's free!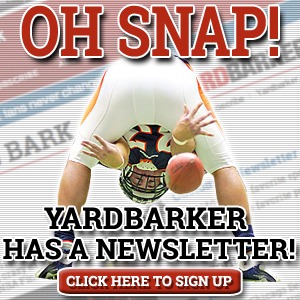 Latest Rumors
The Backyard

Today's Best Stuff

For Bloggers

Join the Yardbarker Network for more promotion, traffic, and money.

Company Info

Help

What is Yardbarker?

Yardbarker is the largest network of sports blogs and pro athlete blogs on the web. This site is the hub of the Yardbarker Network, where our editors and algorithms curate the best sports content from our network and beyond.