It's hard to really visualize Ray Rice holding out from his franchise tag status this summer...but I suppose it is technically possible.
So that leaves... Anthony Allen coming off IR and 3rd-team for most of last year, with 3 carries for all of 8 yards on the season, and... 
Oh yeah, almost forgot to register it--- Ricky Williams has retired.
Give me Anthony Allen over Brandon Jacobs... Allen is 23 years old, 6-0, 230, and was drafted in the 7th round last year out of Georgia Tech...he's fresh and should be ready to go in case Rice can't...I may be wrong, but Brandon Jacobs has lost more than a step the past two years...and would not be the answer the Ravens are seeking at RB.
There's a lot of talk around Baltimore about signing free agent Brandon Jacobs, the big back who was released by the Giants a couple of weeks ago.
Don't.
Jacobs is not the same guy he was three years ago. He still had something left in those knees and ankles then. Now, not so much...
Jacobs was due $4.9 million in 2012, including a $500,000 roster bonus on March 17. He was apparently willing to take half that much, one source said. But since he had already taken a $1.75 million pay cut last August to avoid getting released by the Giants, he wanted an extra year or two (and likely some guaranteed money) tacked onto the deal.
Giants said "see ya!"...
Despite sometimes creating headlines for the wrong reasons – like throwing his helmet into the stands in Indianapolis in 2010 or cursing out Rex Ryan after the Giants-Jets game last Christmas Eve – Jacobs had been mostly productive in his seven seasons with the Giants. The powerful, 6-4, 264-pounder finished with 4,849 yards and a franchise-record 56 touchdowns. He also topped 1,000 rushing yards in 2007 and 2008. 
"Brandon helped us win two world championships," Tom Coughlin said. "He always did what was in the best interest of team. No matter what you asked him to do, he performed and played in whatever role we asked him to perform. He really was a team player.
Jacobs, in a recent interview, said he hopes to play three more NFL seasons. He also expressed interest in playing for the Jets, despite his infamous fight with Ryan after the Giants' 29-14 victory on Christmas Eve in which Jacobs told the Jets coach, among other things, "It's time to shut up, fat boy." 
One NFL source said the market for Jacobs likely would be limited, given his age and past knee problems. His value to teams would likely be as a part-time or role player. That's mostly what he was in the last two seasons with the Giants. Now he'll have to play a role for somebody else.
The real problem is Jacobs, even at 260 pounds and when healthy, no longer dominates short-yard rushing situations or 3rd-down touches like he used to... It's not so much about losing speed as it is about losing acceleration. Jacobs' knees and ankles are worn down by too many years in the bruising NFC East.
He only averaged 2.4 yards per carry in situations where his team was inside the opponent's 40-yard line last season. That number is down from 4.5 ypc in the same situations during his heyday in 2007 and 2008.
When asked about the possible signing of Jacobs down at the Owners' Meeting this week, coach John Harbaugh had some thoughts about it:
"He's on the list," Harbaugh said with a grin. "Brandon Jacobs is definitely on the list." The Ravens have a list of every free-agent running back, so saying Jacobs is on it reveals little. The big bruiser (6-foot-4, 264 pounds) ran 152 times for 571 yards and seven touchdowns last year. There's always the possibility that Ricky Williams, who surprisingly retired in early February, could return. Williams himself didn't rule that out at the time. Harbaugh said he has not spoken with Williams since a couple days after he made the decision, then joked about his whereabouts. "Where is he? Is he in the United States?" Harbaugh joked before looking into a video camera. "Ricky, where are you? We're looking for you, Ricky Williams."
Original Story:
http://www.ravensfootballmachine.com/...
MORE FROM YARDBARKER
NFL News

Delivered to your inbox

You'll also receive Yardbarker's daily Top 10, featuring the best sports stories from around the web. Customize your newsletter to get articles on your favorite sports and teams. And the best part? It's free!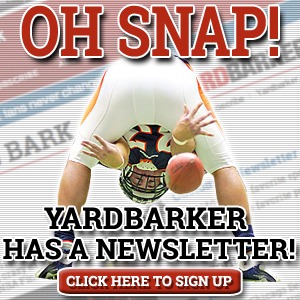 Latest Rumors
Best of Yardbarker

Today's Best Stuff

For Bloggers

Join the Yardbarker Network for more promotion, traffic, and money.

Company Info

Help

What is Yardbarker?

Yardbarker is the largest network of sports blogs and pro athlete blogs on the web. This site is the hub of the Yardbarker Network, where our editors and algorithms curate the best sports content from our network and beyond.