Found January 10, 2013 on Ravens Football Machine:
PLAYERS:
Jah Reid
,
Bryant McKinnie
,
Michael Oher
,
Matt Birk
,
Von Miller
,
Elvis Dumervil
,
Jim Caldwell
,
John Harbaugh
,
Ray Rice
,
Bernard Pierce
,
Bobbie Williams
,
Peyton Manning
,
Joe Flacco
,
Dennis Pitta
,
Chris Harris
TEAMS:
Baltimore Ravens
,
Denver Broncos
If the Ravens' new-look O-Line can't get a big push against the Brocos' front 7, especially in the running game, it could be a long cold day in Denver for Baltimore fans. It is that critical a factor for the Ravens. But the revamped O-Line played very well against Indy last week. Something clicked. With Jah Reid out due to turf toe, the Ravens moved Osemele over to LG and installed veteran Bryant McKinnie at left tackle. "Moby Grape" as I call him has been on the sidelines for most of the previous season---I'm still not sure why except for rumors of back problems lingering from the preseason. McKinnie did a fine job of pass protection against the Colts. He may not be very good in the downfield run blocking game, but he can still pass-protect. That means Michael Oher moved over to right tackle--which some consider his natural position. Marshal Yanda remained at RG. Matt Birk stayed at center. This is the Crunch Crew lineup that has evolved on the Ravens O-Line, and this unit must come up big on Saturday for any realistic chance of upsetting the Broncos.           The Broncos finished the regular season tied with St. Louis for the NFL lead in team sacks (52). Baltimore's ability to do a better job of slowing them down in the rematch will be pivotal in Saturday's game. "I just want to beat them up," McKinnie said. "Slow down that speed rush. That's what I would like to do." By "beating up" the Broncos, McKinnie means running the ball a lot so that he can be the aggressor in blocking rather than backpedaling. "It helps out a lot because it gives them less opportunity to rush," McKinnie said. "Then if you're able to keep colliding with them it slows them down as the game goes on." The Broncos' two sack artists are second-year first-round pick Von Miller (18.5 sacks) and veteran Elvis Dumervil (11 sacks). Dumervil notched one sack against the Ravens in the regular-season meeting and each had two quarterback hits. They're different types of rushers, McKinnie said. "Dumervil is a little older, so he wants to collide," he said. "He's going to give you a collision first and then make a move off that. Von is going to dip under your arms, make you miss and stuff like that." Miller is a Defensive Player of the Year candidate and more of a playmaker than Dumervil. He exploded onto the scene last year as a rookie and added to his game this season. "Speed, power, quickness, finesse – he's got it all," Offensive Coordinator Jim Caldwell said. "He can run past you up the field. He's got enough power to lean and bore and drive the protector back into the quarterback. He can make you miss inside and out. … He's tremendous." One way to neutralize Miller and Dumervil is to run at them. Head coach John Harbaugh said the Ravens tried to do that in their last meeting, but on 17 rushes between Ray Rice and Bernard Pierce, the Ravens averaged just 3.4 yards per carry. Rice had just 38 yards on 12 carries. That was behind the previous edition of the Ravens O-Line, however, which did not have McKinnie, had Michael Oher at left tackle instead of RT, had a banged-up Yanda and Bobbie WIlliams on the right side, and had Jah Reid struggling with his toe issues at LG. "We really wanted to run the ball on Denver, and they just did a great job – give them credit – they did a good job against us up front and we couldn't run the ball," Harbaugh said. "So, you want to be able to run the ball. They would say that, most every team in the league would say that, and for us that's going to be a big part of our formula." Peyton Manning and the Broncos have had two weeks to prepare for Baltimore (11-6)--- and their pass rush and run defense should be fresh, putting further pressure on the Ravens' O-Line. Joe Flacco was 20 of 40 for 254 yards with two TDs and one INT versus Denver last month. He was also under pressure a lot, getting knocked down three times and sacked once, and hurried on a whole bunch of other passing downs. Baltimore tight end Dennis Pitta caught both touchdowns and had a career-high 125 yards in that contest. Flacco went 2-of-6 when the Broncos sent five or more pass rushers in Week 15, including the game-changing pick-6 by Chris Harris at the end of the first half. The Broncos posted the best Total QBR when using five or more rushers this season (16.1), but were even better in the fourth quarter.  No quarterback had a higher dropback rate using play action than Joe Flacco from 2008 to 2010 (31 percent), but over the past two seasons Flacco has the 25th-highest rate (20 percent). During that time, a common theme in Ravens' losses has been an inability to get the play action game going. In Week 15 against the Broncos this season, Flacco was 3-of-5 for 1 yard on such plays. All of which goes back to the O-Line. It's got to come through against a very good Broncos front 7 to allow Flacco to stay close to his offensive potential. If the O-Line enables the chance for the Ravens to at least stay close to the Broncos' offensive point production (and keep Manning off the field), this game will be within reach for the Ravens. Realistically, you just hope to keep the game close near the end, and get a shot to steal a win. So I'll be watching the Ravens guards and tackles very closely on Saturday. How much success they have in their matchups may very well determine the ultimate outcome in Denver, all other factors being theoretically equal.  
Original Story:
http://www.ravensfootballmachine.com/...
THE BACKYARD
BEST OF MAXIM
RELATED ARTICLES
When it comes to Ray Lewis and the celebration/glorification of his illustrious, 17-season NFL career, the cliche "what's done is done" applies. As his career comes to a close, perhaps this weekend when the Ravens take on Peyton Manning and the Broncos, football fans should not be ashamed of loving Ray Lewis. He's earned our admiration and respect. That is not...
Baltimore Ravens linebacker Ray Lewis took exception to Indianapolis wide receiver Reggie Wayne calling his dance at the end of Sunday's AFC wild-card game disrespectful. Lewis, who announced last week that he's retiring from the NFL after 17 seasons when the Ravens are eliminated from the playoffs, said he wasn't taunting the Colts or rubbing it in. "It wasn...
Baltimore Ravens safety Bernard Pollard has been around the league long enough not to fool himself. He knows this weekend's match up with Peyton Manning and the Denver Broncos comes down to one thing. Pressure. Time is the enemy for the Ravens, the more time afforded to Manning, the bigger the problem will be. Keeping receivers Demaryius Thomas and Eric Decker in check will go...
Monte Sanders, a fitness expert and the CEO and owner of Sanders Optimum Fitness, is way more than just the celebrity trainer to Baltimore Ravens' stars Ray Lewis and Ed Reed. We go inside the brotherhood that began with training.
Like the Denver Broncos, the team they'll be facing off against in today's AFC Divisional round game, the Baltimore Ravens boast a healthy unit entering the second round of the playoffs. The Ravens only have one player, offensive lineman Jah Reid, that's listed as less than probable for today's contest. Reid will remain sidelined due to his toe injury. The offensive tackle...
(Photo: Jim McIsaac/Getty Images) One day before facing the Broncos in the divisional round of the playoffs, the Ravens placed starting offensive guard Jah Reid (toe) on injured reserve. Reid did not play in Baltimore's win over the Colts last week in the wild card round of the playoffs and will be replaced by Bobbie Williams on the Ravens' offensive line.  Williams started...
The Ravens are not the same defense they were a few years ago, the Broncos are going to roll. The Wildcard games disappointed for one reason, quarterback play.  That will not be a problem this weekend.  The marquee quarterbacks are off their bye weeks and are ready to lead their teams onto the field. Here is a look at the games and my selection of the winners. ...
The Denver Broncos will host the Baltimore Ravens this afternoon in what will be the coldest of any of the playoff games played this weekend. Temperatures could be in the single digits by the end of the game and there is a 30% chance of snow to be flying. This game marks Peyton Manning's return to the playoffs after sitting out the 2011 season while dealing with a neck injury....
Last week's wildcard weekend saw no underdogs winning in what ended up being four lopsided games. Solid victories came at home for Baltimore, Green Bay, and Houston (yes, I know they only won by six points but they dominated time of possession and never really looked threatened by Cincinnati). Seattle completed the superfecta for the favorites with a road win at Washington. All...
8 a.m. ET: Ray Lewis strutted his stuff all over the field for his last hoorah in Baltimore last weekend, but he won't receive the same warm reception up in Denver. The Ravens are coming off an easy 24-9 win over the Indianapolis Colts in wild card weekend, but they'll have a much tougher test with Peyton Manning and the No. 1 seed Broncos awaiting them this weekend. Manning...
The NFL Network is gearing up for its coverage of the NFL Divisional Playoffs this weekend. Here is its full schedule of programming through early next week: Wednesday, January 9 8:00 PM – America's Game: 2000 Baltimore Ravens 9:00 PM – NFL Replay: Indianapolis Colts vs. Baltimore Ravens – Wild Card Weekend – 2012 10:30
NFL News

Delivered to your inbox

You'll also receive Yardbarker's daily Top 10, featuring the best sports stories from around the web. Customize your newsletter to get articles on your favorite sports and teams. And the best part? It's free!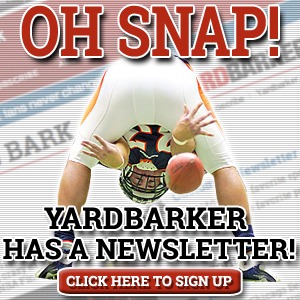 Latest Rumors
Best of Yardbarker

Today's Best Stuff

For Bloggers

Join the Yardbarker Network for more promotion, traffic, and money.

Company Info

Help

What is Yardbarker?

Yardbarker is the largest network of sports blogs and pro athlete blogs on the web. This site is the hub of the Yardbarker Network, where our editors and algorithms curate the best sports content from our network and beyond.