Found March 16, 2013 on Ravens Football Machine:
PLAYERS:
Marcus Spears
,
Ed Reed
,
Bernard Pollard
,
Anquan Boldin
,
Ray Lewis
,
John Harbaugh
,
Terrell Suggs
,
Haloti Ngata
,
Corey Graham
,
Courtney Upshaw
,
Jason La Canfora
TEAMS:
Baltimore Ravens
,
Dallas Cowboys
,
Houston Texans
,
San Francisco 49ers
Marcus Spears is a 31-year-old backup defensive lineman who no longer fit into the Dallas Cowboys' defensive system, which is changing to a 4-3. On  Saturday he passed his physical and signed a two-year deal with the Ravens worth about $3 million. Spears is an addition for depth and experience at DL...he can play end or the NT...but he will only rotate into run-stop situations. Expect him to play about 20 snaps per game tops.         Marcus Spears...6-4, 315...DT in his 8th year out of LSU. He was Cowboys' 1st round pick in 2005. Okay, not the exciting big-splash FA signing you were hoping for, right? Well, get used to that feeling. This Ravens organization is going for value and replaceable parts at the moment. Perhaps the most exciting FA development as I write this is the floating nature of Ed Reed's availability to the Ravens. Reed left Houston on Friday without a deal because he had a prior engagement, but has authorized his agent to continue talks with the Houston Texans, reports the NFL Network's Albert Breer. So discussions are ongoing. But then we learn the Ravens are scheduled to meet with Reed's agent this coming week. Ownership from the Ravens and Texans plan to meet with Ed Reed's agent at the league meetings in Phoenix , reports CBS Sports' Jason La Canfora. The Ravens will reportedly make their push for the safety. La Canfora says the bottom line is the Texans' offer wasn't substantial enough to preclude Reed from signing and the "door is still wide open for the Ravens." And the plot thickens.... Speaking of "plots", I think it's time to demystify the big question flying around the league---"Why was Bernard Pollard Cut by Ravens?" I am actually fatigued from answering that question so many times this week. Conspiracy theories abound, but the simple fact is---it was the result of a team-wide CAP ISSUE !! The Ravens painted themselves into a cap corner ON PURPOSE two years ago with the express goal of getting to a Super Bowl. Now the bill has come due. Even though Pollard's contract would only count $1 million against the cap this season, the Ravens simply cannot afford to pay Pollard the rest of what he would be owed on his extended contract. Same goes for Anquan Boldin, and just about anyone else on the roster making more than $3 million a year. But all I hear is Pollard was a "bad egg" in the clubhouse, there's a "clubhouse lawyer" reason he moves from team to team, etc. This is pure rubbish. In a fascinating report from the lovely Sarah Ellison of BaltimoreRavens.com, we get a very complete breakdown of how all the crazy talk about Pollard got started:   Sarah Ellison, author of "Late For Work" Ravens blog at www.BaltimoreRavens.com... Why Was Pollard Cut? Trends Developing … It was a "shocking" move, especially considering the Ravens will reportedly save only $1 million in cap space for a productive safety that is still young at 29 years old. Plus, he just signed a three-year extension 10 months ago. The Ravens no longer have to pay Pollard a $500,000 roster bonus due Saturday, but they'll carry $2.25 million in dead money from the move in 2013, according to the NFL Network's Albert Breer. Trend 1: Locker Room Less Outspoken ESPN's Jamison Hensley says the "curious trend" he sees is a less outspoken Ravens locker room. Baltimore has lost vocal leaders in Ray Lewis and Anquan Boldin. Ed Reed is testing the market (more on that below) and may not return. Pollard was certainly outspoken, frequently criticizing the league for its safety rules. "This is becoming more and more coach John Harbaugh's team," wrote Hensley. "Veteran players are more apt to challenge decisions, and younger ones are more willing to follow. … It was a few months ago when Pollard and Reed spoke out against Harbaugh's decision to practice in full pads. They eventually came to a resolution, and it became one of the turning points in the championship season. But with fewer veterans, this situation likely wouldn't occur. Trend 2: Ravens Starting Over On Defense Ray Lewis – gone. Dannell Ellerbe – gone. Paul Kruger – gone. Pollard – gone. Reed – doesn't look promising, but you never know. Currently only five Super Bowl starters on defense remain: Terrell Suggs, Haloti Ngata, Corey Graham, Art Jones and Courtney Upshaw. CBS Sports' Mike Freeman has asked around to find out what's going on. "When I asked several people around football what the Ravens were doing, the prevailing belief was that Baltimore was starting over on defense, and would use the draft to add receivers and defensive depth," Freeman wrote. "We'll see." If the Ravens are indeed starting over, they have the tools in their arsenal to pull it off.  Baltimore could have as many as 12 draft picks next month, based on the number of compensatory picks they receive.  
Original Story:
http://www.ravensfootballmachine.com/...
THE BACKYARD
BEST OF MAXIM
RELATED ARTICLES
Free agent defensive end Marcus Spears has signed with Baltimore to help the reigning Super Bowl champions' run defense. The former Dallas Cowboys' first-round pick also believes playing in Baltimore will provide him the chance to get a championship ring of his own. Released by the Cowboys last week after an eight-year run in Dallas, Spears signed a two-year contract with...
The Ravens have signed another defensive end. This time it's Marcus Spears, a former Cowboy first-round pick. According to reports, Spears and the Ravens agreed to terms on a two-year contract. Spears was released by the Cowboys this offseason after starting six games last season. Baltimore is focusing on strengthening their defensive front in free agency apparently.
After an offseason of losing players from their Super Bowl roster, the Baltimore Ravens have made a free-agent acquisition that bolsters their defensive line. A source told FOXSports.com that former Dallas Cowboys defensive end Marcus Spears is signing a two-year contract with Baltimore. The news was first reported by FOXSports.com. Spears, 30, played all eight of his NFL seasons...
Baltimore Ravens free agent safety Ed Reed visited with the Houston Texans yesterday. Reed thoroughly enjoyed his stay with the Texans, and told reporters, including John McClain of The Houston Chronicle, that interest between he and Houston is mutual. "It's mutual," Reed said about his interest in the Texans. "Both of us are contenders and want to get a championship,...
The Baltimore Ravens are seemingly hemorrhaging star players at the moment. The free agency purge does not have general manager Ozzie Newsome pushing the panic button. Please click here to read this story. The post Baltimore Ravens GM Ozzie Newsome remains calm as Ed Reed picks a side appeared first on Players View.
For the past two days, it appeared that long time Ravens icon and future hall of famer Ed Reed was ready to join the mass exodus of free agents to leave Baltimore. But after receiving a contract offer from the Houston Texans after a lengthy visit, rumor has it that he is returning to Ozzie Newsome to see if his only employer at this level in his career will help him to retire as...
After much anticipation and talk of free agent safety Ed Reed signing with the Houston Texans on Friday, it was all quickly shot down when Reed left home for Atlanta with no deal. Day 4 Notes - The Texans signed their only restricted free agent in Andrew Gardner who was an offensive tackle on the roster last season. Alan Ball - Free agent running back Justin Forsett  has signed...
Free agency is underway. Teams are posturing and positioning and snapping up talent to improve their on-field product. Everyone, that is, except your Dallas Cowboys. The Cowboys, due to Jerry Jones's shrewd moves in the past—Yes, that is my tongue in my cheek—have been obliged to move heaven and earth and release players like Gerald Sensabaugh and former first-rounder Marcus...
Despite rumors that the New England Patriots might be interested in free agent S Ed Reed, nothing has materialized on that front. On Friday the Patriots moved to secure another veteran at the safety position, inking 33-year old Adrian Wilson to a deal. Wilson, a 12-year veteran and four-time All-Pro, was released by the Arizona Cardinals in a cost cutting move. Wilson is a large...
NFL News

Delivered to your inbox

You'll also receive Yardbarker's daily Top 10, featuring the best sports stories from around the web. Customize your newsletter to get articles on your favorite sports and teams. And the best part? It's free!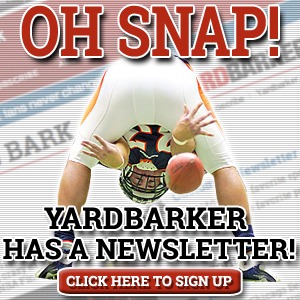 Latest Rumors
The Backyard

Today's Best Stuff

For Bloggers

Join the Yardbarker Network for more promotion, traffic, and money.

Company Info

Help

What is Yardbarker?

Yardbarker is the largest network of sports blogs and pro athlete blogs on the web. This site is the hub of the Yardbarker Network, where our editors and algorithms curate the best sports content from our network and beyond.