Found July 03, 2012 on Packer Update:
Aaron Rodgers has completed 66.2% of his throws since 2009. That number becomes even more impressive when you consider how many passes his receivers have dropped. James Jones and Donald Driver rank in the bottom seven of the 61 wide receivers who had at least 125 catchable balls thrown their way over the past three years. According to Pro Football Focus, Jones has dropped 20 of 139 (14.39%) catchable balls and Driver 22 of 179 (12.29%). If you add in all the passes Jermichael Finley let slip through his fingers in 2011, I'm not sure which is more impressive – Rodgers' still gaudy completion percentage or the self-control he showed by never criticizing his receivers.
Nobody should be surprised that Jones is on this dubious list. Despite being blessed with extremely soft hands, he's been dropping passes since the day he arrived in Green Bay. But he's also made a ton of big plays in the past three seasons. The former San Jose State star gained 14.6 yards every time he caught the ball and scored 17 TDs on only 120 receptions. His TD/catch ratio of 14.22% is better than those of Houston's Andre Johnson (8.61%), Atlanta's Roddy White (9.73%) and Arizona's Larry Fitzgerald (10.12%). That doesn't mean Jones is in their class as a receiver, but it does show how valuable he is to the offense and why his occasional bout with the dropsies can be overlooked.
It's hard to put as positive a spin on Driver's 22 drops – five of which came in limited snaps last season. That's because, unlike Jones, he's made very few big plays during that time. Driver has averaged only 13.1 yards on his 158 catches. That makes the 37-year-old purely a possession receiver at this point in his career, and possession receivers simply can't drop the ball 12.29% of the time. So why did general manager Ted Thompson decide to bring him back? Besides being a terrific leader, Driver still has a nose for the end zone. His TD/catch ratio since  2009 is 10.13% – which places him well behind Jones but above the league average for receivers with at least 120 receptions.
Original Story:
http://packerupdate.net/?p=19264
THE BACKYARD
BEST OF MAXIM
RELATED ARTICLES
What could anyone possible have to worry about? Green Bay is fielding roughly the same team it did last year when they went 15-1. They still have arguably the best quarterback in the league. And most of the nation has already penciled them in for the top of the NFCN again. Now it only remains to see what they have to do to make a run at another Super Bowl... Right? While the Packers...
In between injuries, Frank Zombo has played some pretty good football for the Green Bay Packers. The problem is how little time there's been between injuries. The third-year outside linebacker missed six games in 2010 with a sprained ankle and 11 games last season with a broken shoulder blade and a strained hamstring. And because the hammy is still not 100 percent, Zombo was forced...
Over the weekend, one of them innernet wags tweeted this picture of a kid with a lush, blond flowing mullet to Clay Matthews, who retweeted it with a vague jokey comment, leading some to believe that the image is actually of a young Claymaker. The mistake is understandable, as it's fun to believe people exhibited their most recognizable physical traits as early as childhood. As...
The NFL and Commissioner Roger Goodell has rejected the appeals of the four players he suspended for their involvement in the New Orleans Saints bounty scandal, as reported by ESPN. Goodell told Jonathan Vilma, Anthony Hargrove, Will Smith and Scott Fujita that he retains "the inherent authority to reduce a suspension should facts be brought to my attention warranting...
AJ Hawk is apparently ready for the NFL season to begin. This video comes via Off The Bench and shows AJ playing touch football at a charity golf outing in Warren, Ohio. No big deal… Except as you'll see, AJ shoves the recipient of a Troy Smith (Former Heisman Trophy winning QB) pass into a [...]
There are plenty of little-known rookies on the Packers' current roster, but diehard fans know plenty about all the returning veterans. Well, almost all the returning veterans. Herb Taylor was signed last December, and even though he was part of the team for the final three games of the season, he's the forgotten man when it comes to projecting which offensive linemen will be...
The Packers have a potential void at safety that Charles Woodson surely could fill. However, any talk of moving Woodson to safety permanently is just plain stupid. He's going to the Hall of Fame because he's the best nickel cornerback in the league by a mile.
A.J. Hawk, you need to wrap up when you tackle. In this piece, Kyle Rodriguez of Colts Authority looks at some of the similarities between the Colts' fan base and other teams' fanbases. The perception, as pointed out by Rodriguez, is that Colts fans are fair weather fans. Being a Hoosier myself, I can tell you that there's no comparison between Colts or Patriots fans...
Debate and speculation for a forthcoming NFL season are always fun, and consider this a handy primer on certain off-season moves that you may have missed. As always, this is one man's opinion, and one man's opinion alone. Related posts: NFL 2011 Pre-Season Power Rankings The Shark's NFL Power Rankings For Week 3 From 32 to 1: Ranking The NFL Teams – Training Camp Edition
Calvin Johnson's got the kind-of-cool nickname — assuming you think being named for a cartoon character is cool — but did he have a better season than Jordy Nelson? Not so fast on answering that as we provide our thought-provoking Packers nugget of the day.
Football Nation presents the fourth episode of "Monday Morning Huddle". In this July episode, host, Dave Holcomb talks about all the problems with moving an American football team to London, whether or not Quarterback Cam Newton is overrated, and where the BCS playoffs could be heading to in a few years. This show also features Quarterback Aaron Rodgers in the 'Player in Focus'...
Morning Mail Sack If you had the first pick in your fantasy football league draft, who would you take? At this point, if I was picking No.1 overall, unless the league was huge like 15 teams, or an oddball league that required 2 starting quarterbacks, I'd go with Houston Texans RB Arian Foster. I don't think the difference between he and some other elite backs is huge, but...
NFL News

Delivered to your inbox

You'll also receive Yardbarker's daily Top 10, featuring the best sports stories from around the web. Customize your newsletter to get articles on your favorite sports and teams. And the best part? It's free!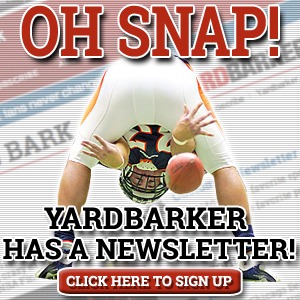 Latest Rumors
The Backyard

Today's Best Stuff

For Bloggers

Join the Yardbarker Network for more promotion, traffic, and money.

Company Info

Help

What is Yardbarker?

Yardbarker is the largest network of sports blogs and pro athlete blogs on the web. This site is the hub of the Yardbarker Network, where our editors and algorithms curate the best sports content from our network and beyond.