Found May 10, 2012 on Down and Distance:
PLAYERS:
Reggie Bush
,
Plaxico Burress
,
Cam Newton
,
Steve Smith
,
Pat Shurmur
,
Carson Palmer
,
Darrius Heyward-Bey
,
Louis Murphy
,
Jeff Ireland
TEAMS:
Miami Dolphins
,
Cleveland Browns
,
Oakland Raiders
,
Carolina Panthers
,
Michigan State Spartans
Earlier this afternoon in an interview with Rich Gannon and Adam Schein on SiriusXM NFL Radio, Plaxico Burress was asked about four teams that he thought he could fill a void in. The Cleveland Browns, Oakland Raiders, Carolina Panthers and Miami Dolphins.
He said all four teams mentioned were good teams, and commented on Cam Newton's work ethic saying it was great and he was a very hard worker, and that he views Steve Smith as one of the top-five receivers in the game. He said he didn't know too much about the Browns, but made the connection to Browns HC Pat Shurmur who was a Tight Ends coach during his time at Michigan State. He talked a bit about the Raiders and said that he believes Carson Palmer has always had one of the best deep balls in all of football since he can remember, and thought that Darrius Heyward-Bey and Louis Murphy would only get better with Carson tossing them the rock. 
He then talked about the Dolphins and mentioned that Reggie Bush did a little bit of unofficial recruiting for the team telling Burress that he needed to come down and play for the Fins.
"I ran into Reggie Bush a few weeks ago at the Heat and Celtics game, and he was just like 'Man, please just come down here and make some plays, you know, we don't have the receivers to go up and get the ball in the Red Zone and things like that' and I told him 'hey man, if my phone rings, you never know'
Gannon jumped in Jokingly and said "you need to stop running into Reggie Bush and start running into Jeff Ireland (Dolphins GM) and Joe Philbin (Dolphins HC)!"
There are two things here: A) Reggie Bush doesn't think the talent level is there with the Dolphins as far as receiver goes (at least he didn't say they stink) and B)He's trying to reel in some talent at receiver because Fins GM Jeff Ireland clearly hasn't made an effort to bring in receiver help since trading Brandon Marshall.
It'll be interesting to see where Plaxico ends up, during the interview he talked about how last year was really a re-learning year for him because of his two-year absence from the NFL, and that he didn't really get to get into full on readiness due to his ankle injury that kept him sidelined throughout training camp and the preseason. He talked about his legs not being at 100 % and how it would affect him more times than others throughout the year, but he said he is ready this season and just looking for the right fit.
Follow us on Twitter! @DownandDistance
Sports-Kings Senior NFL Columnist – Justin Arbogast
Original Story:
http://sports-kings.com/downanddistan...
THE BACKYARD
BEST OF MAXIM
RELATED ARTICLES
Miami Dolphins general manager Jeff Ireland made an appearance on SiriusXM NFL Radio (via The Miami Herald) and said that he believes rookie quarterback Ryan Tannehill will be ready to play "pretty quickly." Part of Ireland's belief is due to the fact that  "he (Tannehill)  has knowledge of the offense. There are two other experienced players (Matt Moore, David Garrard...
Whether their ownership group likes it or not, the Dolphins currently have a nasty stigma attached to their organization. At the moment, it feels like nobody wants to play there. Miami was considered a front-runner to land Peyton Manning when he hit the market, and we saw how quickly that fell apart. Then it appeared they would sign Matt Flynn, but but Flynn ultimately chose Seattle...
Alrighty, lets change the tone around here for a moment : ) !! O'Kay, so we've recently gone over who we like and dislike .. Who do you lust over ?? I personally can't wait until Tannehill takes... Come here for the best Miami Dolphins blog on the web. We have all of the most up to date new and opinions on the Dolphins organization for its fans.
According to John Telich of FOX 8 in Cleveland, free agent wide receiver Plaxico Burress has said that the Cleveland Browns are one of the teams he's interested in playing for in 2012. Do to the fact that it looks like Burress hasn't been getting a lot of attention on the free agent market, I'm sure he'd sign with any team willing to pay him right now. Burress would be a...
To say it is slow in Dolphin land would be putting it mildly, there simply is little to talk about.  I guess that is a good thing. I always felt it is better for a team to have a quiet off... Come here for the best Miami Dolphins blog on the web. We have all of the most up to date new and opinions on the Dolphins organization for its fans.
YE SHALL NOT RECEIVE
New Chicago Bear Brandon Marshall says even the greatest wide receiver of all-time would not have been effective in the Dolphins offense last season.
On Friday, Cleveland Browns head coach pat Shurmur stated that they're currently not interested in signing free agent wide receiver Plaxico Burress.  At least not yet. "We haven't talked about Plax right now," said Shurmur. Of course at any moment the Browns could start to pursue Burress, but right now we're just speculating.  They clearly need a number one receiver and...
According to a report from Sirius XM NFL radio host Adam Schein, Plaxico Burress would be interested in playing for the Browns this season- "Plax is very interested in playing for the Panthers. Also Cle, Oak, and Miami." So there you go. Does this mean the Browns are interested in Plaxico? Of course not. Would you be interested in bringing Burress in? [Related: Browns backing...
(AP Photo/Julio Cortez) Anyone close to you will tell you that the Miami Dolphins are possibly a quarterback away from contending in the playoffs. Now that he's gone, Brandon Marshall figured that he would iterate that theory. "If you don't have a quarterback, it doesn't matter who you have out there. You can bring Jerry Rice back in his prime and he's not going to be effective...
The younger brother of NFL players Vernon and Vontae Davis has been charged with murder in the death of a man visiting the nation's capital from Colorado. D.C. police say 19-year-old Michael Davis was charged Wednesday with first-degree murder while armed in the death of 66-year-old Gary Dederichs of Denver. Davis was previously arrested in connection with two assault cases...
Plaxico Burress is a tough receiver to defend. He's a big guy with that can play the ball well in the air, and he has solid hands, yet he still hasn't been signed. That won't stop him from trying to get the attention of teams around the league. His latest effort came in the form of paying Oakland Raiders quarterback Carson Palmer a major compliment, telling SiriusXM NFL...
NFL News

Delivered to your inbox

You'll also receive Yardbarker's daily Top 10, featuring the best sports stories from around the web. Customize your newsletter to get articles on your favorite sports and teams. And the best part? It's free!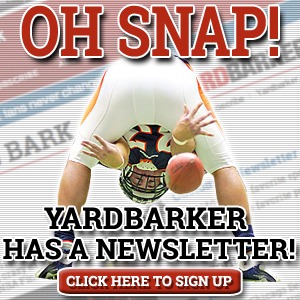 Latest Rumors
Best of Yardbarker

Today's Best Stuff

For Bloggers

Join the Yardbarker Network for more promotion, traffic, and money.

Company Info

Help

What is Yardbarker?

Yardbarker is the largest network of sports blogs and pro athlete blogs on the web. This site is the hub of the Yardbarker Network, where our editors and algorithms curate the best sports content from our network and beyond.