Found April 12, 2013 on Phin Nation:
Yesterday, Jeff Ireland spoke about the Dolphins offensive line and said that Nate Garner was one of their 'core guys'.  The Dolphins aren't admitting that they have a glaring need at offensive tackle…..but everyone knows it.  The Dolphins will address either the left tackle or the right tackle position, early in the draft…they have to.  That is, of course, unless they manage to pry Brandon Albert away from the Chiefs for a pick that's lower than the 2nd rounder they're said to be asking for him.  But most likely, the Dolphins will need to find a starting tackle in the draft. Photo Courtesy of Dolphins.com Earlier this week, the word on the street (and according to the Palm Beach Post) was that the Dolphins were 'high' on Lane Johnson.  Johnson is one of the top 3 let tackle prospects in this draft.  It was believed that to get Johnson, the Dolphins would need to trade up, since he is expected to go within the top 10 picks (and the Dolphins currently sit at #12). Well, in the NFL offseason filled with rumors and smokescreens, things change pretty quickly.  In Armando Salguero's blog for the Miami Herald, he essentially disputes the Palm Beach Post's claim that the Dolphins are very high on Johnson.  Here is the quote from his post, which can be found here: "But the Fins like Joekel and Fisher much, much, much more than Johnson and have some concerns about Johnson as a left tackle." Of course the Miami Dolphins beat reporters are getting different stories.  What better way for the Dolphins master plan to unfold than by telling beat reporters different things!  What an evil genius!!!  Seriously though, based on the track record for 'sources' this offseason, I might have to give the benefit of the doubt to good old Mando.  Mando has been scooping the others this offseason, with Ben Volin of the Post coming in second.  Mando seems to have well placed sources, so if I had to bet, I'd guess that he might have the insight on this one….but who knows at this time of year. I'm not a huge fan of the Dolphins trading up in the draft for a left tackle.  However, if they do not trust Jonathan Martin (I don't think they do), then they must acquire a starting left tackle before the 2013 season starts.  The options at this moment are: signing free agent Bryant McKinnie, a trade for Brandon Albert, or drafting a left tackle.   According to the latest buzz, if they do decide to trade up and draft a tackle, it will likely be for Luke Joekel or Eric Fisher, not Lane Johnson, as most of us suspected. DRAFT CONTEST:  There are now less than 2 weeks until the NFL draft.  Be sure to submit your entry form for the PhinNation Draft Contest before April 25th for your chance to win one of our 5 prizes! For the latest Dolphins news from PhinNation, be sure to bookmark our site in your browser!
Original Story:
http://www.phinnation.com/report-dolp...
THE BACKYARD
BEST OF MAXIM
RELATED ARTICLES
According to the Miami Herald, the Dolphins haven't ruled out signing free agent defensive end John Abraham, who's interested in playing in Miami next season. Abraham would be a nice addition alongside Cameron Wake, but it will be interesting to see how much money he's looking for. It's been obvious this offseason that the Dolphins aren't afraid to spend money now.   Need...
Earlier today, Miami Dolphins GM, Jeff Ireland held his final pre-draft press conference.  As you would expect, Ireland did not come out and tell the world exactly who he's interested in the upcoming draft.  He did divulge that he may move up in the draft…. or could move down…or could stay right where he is and use all 11 picks.  He also said that he hasn't completely...
With the 2013 NFL Draft less than two weeks ago, the Dolphins are pretty stacked and in good position, currently holding onto 11 picks and the no. 12 spot in the first round. They could however, look to trade up into the top 3 if the opportunity presents itself. "I've got enough ammunition to get to the first pick if I wanted to, but I don't see myself doing that, personally...
Earlier today, the Miami Dolphins released further details about their Draft Day party (4/25) and Fin Fest 2013 (4/27).  We wanted to share the details with you because this is shaping up to be a pretty awesome event.  Having attended in previous years, fans are up close and personal with current and former Dolphins.  It truly makes the draft day experience so much cooler when...
The Miami Dolphins have had a successful offseason. The additions of Mike Wallace, Dannell Ellerbe, and Brent Grimes just to name a few, have changed the entire dynamics of the team. While all of the additions were a positive, the major negative was losing Jake Long. What used to be the most important position in the NFL has now become one of the most overpaid positions. The...
1. Cornerback: Miami really only has two pressing needs coming into the draft, and the top one is at cornerback. Grimes will be a good signing if he can be healthy, but you just never know after having major surgery. They also need to find an upgrade across from him for when he is healthy. There is a good chance they address this situation in the first round. If not, they also...
DAVIE, Fla. Jeff Ireland agrees with fans and media types who insist this years draft is an important one for the Miami Dolphins. While most of the outside forces point to this being a make-or-break sixth draft under Ireland, the Dolphins general manager cites another reason for the drafts significance. We have 11 picks, thats why its important, Ireland said Thursday. To have the...
The Big Board This is the time of year for narrowing down your board.  Every team has a board and every one is different.  The biggest beef with most so-called draft experts is they do... Come here for the best Miami Dolphins blog on the web. We have all of the most up to date new and opinions on the Dolphins organization for its fans.
Historically, the NFL Draft has been cringe-inducing for Dolphins fans. Remember when Miami hyped first-round selections Yatil Green, John Avery and Billy Milner? Overlooked future stars Reggie Wayne, Drew Brees and Aaron Rogers? Or didn't even care about hanging on to first and second-round picks? Being one of the NFL's more successful teams during a 25-year stretch in the...
BY NICK ST. DENISThe more signings the Miami Dolphins make in free agency, the more directions they can go in the draft. And there are plenty of directions.Armando Salguero of the Miami Herald used a morning blog post to address and assess a handful of rumors regarding the Dolphins' draft intentions, all of which you've heard.The general takeaway is that we really don'...
Brian Hartline, WR, Miami Dolphins Player Profile Height/Weight: 6-2/199 Birthdate: 11/22/1986 School: Ohio State FANTASY FOOTBALL ANALYSIS Brian Hartline had a breakout performance in the fourth week of the season, totaling 253 yards on 12 catches and a touchdown, sparking nearly every league in the fantasy world to pick him up. In ppr leagues, he was fairly useful, but if in...
Dolphins News

Delivered to your inbox

You'll also receive Yardbarker's daily Top 10, featuring the best sports stories from around the web. Customize your newsletter to get articles on your favorite sports and teams. And the best part? It's free!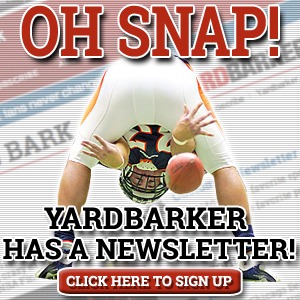 Latest Rumors
Best of Yardbarker

Today's Best Stuff

For Bloggers

Join the Yardbarker Network for more promotion, traffic, and money.

Company Info

Help

What is Yardbarker?

Yardbarker is the largest network of sports blogs and pro athlete blogs on the web. This site is the hub of the Yardbarker Network, where our editors and algorithms curate the best sports content from our network and beyond.