Found March 23, 2012 on Pro Football Zone:
According to David Elfin of 106.7 the Fan in D.C., former Washington Redskins defensive coordinator Gregg Williams put out a $15,000 bounty on former Vikings quarterback Brad Johnson. "Gregg came in and dropped $15,000 on the (table) and said, 'Brad Johnson doesn't finish this game. This is Wednesday and the money will go up later in the week. It could double or triple by the end of the week,' "one of the players recalled. "A couple of guys kinda got excited. (Defensive line coach) Greg Blache said per Elfin, 'If you get fined, it will be taken care of.' The player also said that the player didn't take Williams that seriously. "We just wanted to go out and play hard," he said. "We weren't looking to injure a guy.  But Gregg's one of the best defensive coaches in football and a great motivator. Players are very loyal to him. He probably had an effect on the young guys like (late safety) Sean Taylor, who he had drafted so high and who he really believed in." "I can't say for sure it was $15,000, but I definitely remember that happening before that Minnesota game," said a second anonymous player.. "And I can't say for sure that those were G-Dub's exact words about Brad Johnson, but that was certainly the message.  I had never heard anything like that before from a coach, but I wasn't shocked because that was G-Dub's character, so in your face. His language was always X-rated and our meetings were usually pretty nuts." The anonymous player also said that the same thing happened for a playoff game the year before. "The same thing happened before our playoff game the year before against Seattle," the player said. "Gregg wanted us to get (Seahawks MVP running back) Shaun Alexander. Now it happened that (linebacker LaVar Arrington) knocked Shaun out of the game, but he was just playing hard. Unless it's a free shot at the quarterback, you have a really hard time trying to hurt a guy when you're making a play on the ball." The scary thing is that as time goes on more and more stories will come out.  In the end it could put an end to Williams' NFL career as a coach.
Original Story:
http://profootballzone.com/nfl/report...
THE BACKYARD
BEST OF MAXIM
RELATED ARTICLES
Even more shocking news is coming out involving former Saints' Defensive Coordinator Gregg Williams.  Williams was recently suspended indefinitely by the NFL for his part in the sad story that is the New Orleans Saints' bounty program. According to an anonymous player, before a 2006 Monday Night Football game, Williams placed a $15,000 bounty on Minnesota Vikings quarterback...
In the wake of the indefinite suspension of defensive coordinator Gregg Williams, Rams coach Jeff Fisher said he wasn't aware of the NFL investigation involving Williams and wouldn't have hired him if he had known. Williams was suspended indefinitely by the NFL effective immediately for his role in the bounty program with the New Orleans Saints from 2009-2011. Williams...
Some further details about Gregg Williams bounty program are starting to come. This time, CBS DC has some details from Gregg Williams days in Washington. Here's the best chunk from the article: Gregg came in and dropped $15,000 on the table and said, 'Brad Johnson doesn't finish this game. This is Wednesday and the money will go up later in the week. It could double or triple...
According to Bart Hubbuch of the New York Post, St. Louis Rams head coach Jeff Fisher said that if they had known about bounty-gate before they hired defensive coordinator Gregg Williams, they wouldn't have brought him in. Fisher also indicated that he's not ready to name a defensive coordinator yet, since Williams has been suspended indefinitely.
ST. LOUIS The St. Louis Rams' offseason momentum came to an abrupt halt Wednesday. A reconstruction that began in January, with the firings of Steve Spagnuolo and Billy Devaney, met its first crisis with Gregg Williams' unchecked ego to blame. The Rams are collateral damage in the worst scandal to rock the NFL in recent memory. Yes, commissioner Roger Goodell's ruling...
Minnesota Vikings punter Chris Kluwe seems irate over the New Orleans Saints bounty scandal.  He told "Judd & Phunn" on 1500 ESPN that he would like to see Saints linebacker Jonathan Vilma and former Saints defensive coordinator Gregg Williams banned from the NFL. "I was pleased," Kluwe said when asked about Goodell's actions per ESPN1500. "My position has always...
PRICKLY PUNTER
Opinionated Vikings punter Chris Kluwe believes that Saints linebacker Jonathan Vilma "should be banned for life" by the NFL for his alleged integral role in the team's bounty program.
The first game of Brad Johnson's return to the Vikings was also a "bounty" game, according to what an anonymous Redskins player told CBS DC. Johnson was targeted to be taken out of the game by former Redskins defensive coordinator Gregg Williams, according to the source.
The NFL came down extremely hard on the Saints for their bounty system, and with the harsher sanctions than expected, the league sent a message that such actions won't be tolerated in the least way. Saints head coach Sean Payton got suspended for a year, and former New Orleans defensive coordinator Gregg Williams, who recently took the same job with the Rams, received an indefinite...
The NFL league office handed down their punishment on the Gregg Williams "Bounty Gate" scandal and New Orleans Saints head coach Sean Payton received a one-year suspension. This isn't the first time the NFL league office has come sniffing around the New Orleans Saints while under the direction of head coach Sean Payton. Saints owner Tom Benson had a tenuous relationship...
Redskins News

Delivered to your inbox

You'll also receive Yardbarker's daily Top 10, featuring the best sports stories from around the web. Customize your newsletter to get articles on your favorite sports and teams. And the best part? It's free!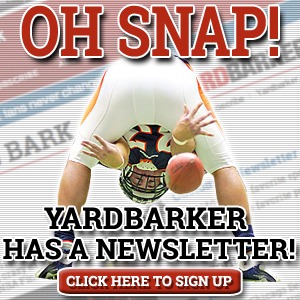 Latest Rumors
Best of Yardbarker

Today's Best Stuff

For Bloggers

Join the Yardbarker Network for more promotion, traffic, and money.

Company Info

Help

What is Yardbarker?

Yardbarker is the largest network of sports blogs and pro athlete blogs on the web. This site is the hub of the Yardbarker Network, where our editors and algorithms curate the best sports content from our network and beyond.