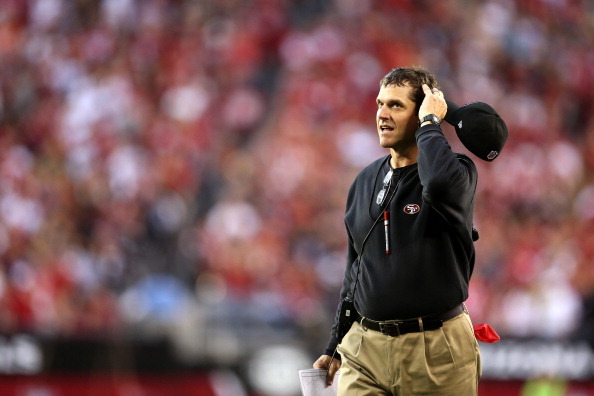 It's been a tumultuous offseason for the San Francisco 49ers and head coach Jim Harbaugh, and things just got a whole lot more interesting. After reports have gone public that Harbaugh was almost traded to the Cleveland Browns and that he and 49ers general manager Trent Baalke are barely speaking, now we have word that the Miami Dolphins will almost certainly go after him next offseason. Jason Cole has reported on Twitter that "barring a Super Bowl win by the 49ers," the Dolphins will pursue Harbaugh next offseason. That should make current head coach Joe Philbin incredibly uneasy, since no one around the league would take him over Harbaugh right now. CSN Bay Area's Matt Maiocco has reported that the current feeling in San Francisco's organization is that Harbaugh "is not going to be a 10-year coach with the 49ers." While the team has been great since Harbaugh arrived, there are clearly some seriously dysfunctional things going on in the team's front office and the 50-year-old head coach has never been the type of guy to play the role of diplomat. Just last week Tim Kawakami claimed Harbaugh is seen as having a "combustible" personalty at team headquarters and that's the main reason trade talks the Browns happened. Harbaugh is still angry that the 49ers didn't extend his contract before the 2013 season and clearly has a chip on his shoulder. Harbaugh's personality can grate on people and he's not the easiest guy to work with, clearly Baalke is feeling the brunt of that. They are apparently clashing so badly that it's making everyone else uncomfortable. Something in San Francisco has to change, this situation is untenable. If it doesn't get fixed, you can expect the Dolphins (and possibly other teams) to come calling after the 2014 season.
MORE FROM YARDBARKER
NFL News

Delivered to your inbox

You'll also receive Yardbarker's daily Top 10, featuring the best sports stories from around the web. Customize your newsletter to get articles on your favorite sports and teams. And the best part? It's free!