Found February 10, 2013 on BlackSportsOnline:
Harvin is extremely talented, but is also a malcontent. The Vikings are apparently ready to move on. Harvin has had issues with former coach Brad Childress and current coach Leslie Frazier. Here is the report from NFL.com. Sources tell Mike Max of WCCO in Minneapolis that Spielman will indeed actively pursue a Harvin trade on the heels of a November meltdown directed at head coach Leslie Frazier. The incident happened in front of teammates, who didn't take well to Harvin's tirade just a couple of years after a similar blowup directed at former coach Brad Childress. It was also believed to be the real reasonthat Harvin was unexpectedly placed on injured reserve with an ankle ailment that didn't require surgery.
Original Story:
http://blacksportsonline.com/home/201...
THE BACKYARD
BEST OF MAXIM
RELATED ARTICLES
GRATUITOUS GRATUITY
Brett Favre is a helluva tipper – on Deanna's credit card. As you can see, the Gunslinger and his wife last week racked up a nice bill and then made the math easy on that $60.22 bill. For those of you who aren't quick with a calculator, that's a 66% tip. The guy made about $100 million during his NFL career. According to @coreyrharrison: Served Brett Favre tonight. He was...
Percy Harvin may be on his way out of Minnesota. The Vikings will try to trade their star receiver this offseason, according to CBS Minnesota. Harvin was placed on injured reserve prior to Week 13, but that may have had to do with his attitude more than a sprained ankle he suffered in Week 9. According to the report, Harvin "had an embarrassing tirade directed toward [Vikings head...
The Minnesota Vikings will attempt to trade wide receiver Percy Harvin this offseason following an "embarrassing tirade" directed at head coach Leslie Frazier, according to Mike Max of CBS Minnesota. Harvin left the Vikings last season, and many believed this was mainly due to the wide receiver's injury. However, Harvin's exit had more to do with his blowup with Frazier...
General manager Rick Spielman and the key members of the Minnesota Vikings will head to the annual scouting combine in Indianapolis later this month after weeks of evaluating the current roster. Judging the annual crop of college players auditioning for the draft will be just a part of the agenda for Minnesota. Spielman will be making the rounds as he usually does, meeting with agents...
Minnesota Vikings center John Sullivan had microfracture surgery on his left knee last week and he should be fully recovered and back by training camp, according to a team source via Mark Craig of the Star Tribune. Sullivan played every offensive snap in 2012 but battled knee pain throughout. The surgery was performed Dr. James Andrews, who also fixed up Adrian Peterson'...
It was reported yesterday that the Minnesota Vikings will try to trade Wide receiver Percy Harvin. According to Mike Florio of ProFootballTalk.com, Harvin will likely hold out until he gets a new contract, since his current deal runs out after the 2013 season.  Per a league source, Harvin currently is expected to stay away from offseason workouts and training camp absent a new deal...
You'll have to excuse the sub-par level of reporting that this site is usually known for when dealing with this story. Admittedly, I've brushed off following this "Vikings trading Percy Harvin" news bit for so long because I thought it was just some big joke that people were discussing online the past couple days. Ha ha, funny one guys! Yeah, Percy should be traded...
Percy Harvin has been the subject of a lot of talk around the Minnesota Vikings lately. His future with the team is questionable, and now it looks as though the team will actively seek to trade him.  Sources tell WCCO's Mike Max that the main reason that Harvin left the team this season was not his injury, but instead it a blowup he had with Vikings head coach Leslie Frazier...
The Minnesota Vikings are rumored to be exploring trades for Percy Harvin. That of course means fans from every team have now decided that they should make a trade for him. Sorry to burst your bubble Steelers fans, but it's not happening. Now I can see the thought process here. The Steelers are losing a fast play-maker receiver in Mike Wallace so why not replace him with another...
Maybe not Juan… After an apparent blow up with Leslie Frazier this season, the Vikings are reportedly ready to part ways with the extremely talented-oft injured WR.  The guy is one of the most talented offensive players in the league, so this must run deep in the locker room if the Vikings are willing to part with a position where they are weakest. GM Chris Spielman: "I'm...
I have conducted thousands of interviews in my career. I have hosted so many talk shows, I can't even count. Tonight's show is without a doubt my favorite show and certainly the most important of my career. Equality to me is one of the most important issues facing this country today. In my opinion, everything will improve including the economy once marriage equality and gay rights...
Vikings News

Delivered to your inbox

You'll also receive Yardbarker's daily Top 10, featuring the best sports stories from around the web. Customize your newsletter to get articles on your favorite sports and teams. And the best part? It's free!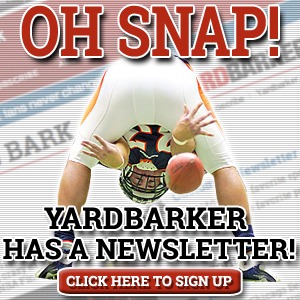 Latest Rumors
The Backyard

Today's Best Stuff

For Bloggers

Join the Yardbarker Network for more promotion, traffic, and money.

Company Info

Help

What is Yardbarker?

Yardbarker is the largest network of sports blogs and pro athlete blogs on the web. This site is the hub of the Yardbarker Network, where our editors and algorithms curate the best sports content from our network and beyond.