Found December 19, 2012 on Midwest Sports Fans:
Just three months ago I was at Camp Randall Stadium when the Wisconsin Badgers narrowly avoided what would had been a major upset when Utah State's late 37-yard field goal attempt sailed wide right. Sitting behind the visiting team tunnel that night, I could not help but notice the appreciative ovation the losing Aggies received from the UW faithful as they trudged off.  Conference rivals such as Michigan State or Ohio State no doubt get much ruder sendoffs win-or-lose in Madison, and it was a moment that reminded me of much of the good in college athletics. I had no clue that I would be writing 90-some days later about the visiting coach from that night becoming the next head man at the University of Wisconsin. Image credit: Tom Smart, Deseret News Then again I didn't foresee Bret Bielema joining the very conference that he was bashing the past off-season. Nothing will be official on Gary Andersen's imminent hiring until Thursday (UW head football coach is a state position, so hires cannot be announced until two weeks after posting), but according to several media sources and Utah State student-athletes on social media Tuesday night, it is a done deal. Although Coach Andersen might want to hang out back in the Wasatch area for a couple more days, something about a nasty blizzard hitting Madison. Don't worry though coach. Contrary to popular belief, Wisconsin weather isn't always that brutal. The hire would be a mild surprise in that it appears Barry Alvarez has indeed decided on a man without any previous ties to the UW program besides his team nearly beating them in September. In fact, Gary Andersen (not to be confused with Gary Anderson or Morten Andersen of place-kicking fame) has spent most of his life in the Mormon Corridor. He was born/raised in Salt Lake, then attended/played for Ricks Junior College (now a four-year school that goes under the handle BYU-Idaho) before transferring to the University of Utah. Andersen's early coaching stops included Southeastern Louisiana (1988), Ricks College (1989-92), Idaho State (1992-94), Northern Arizona (1995-96), and the University of Utah (1997-2002) He became a head coach for the first time at Southern Utah University in 2003, then returned for a second tour of duty at Utah the following year, a tenure that culminated as defensive coordinator in 2008 when the Utes went 13-0 and defeated the mighty University of Alabama in the Sugar Bowl, setting the stage for the HC hire at USU. The 48-year old Andersen has a tight end currently on the USU squad, and also twin sons verbally committed to the Utah State program. The Aggies are coming off possibly their best season in school history, finishing 11-2 after routing the University of Toledo 41-15 in the Famous Idaho Potato Bowl and will likely place in the top 25 in the final polls. Sensing their coach as a potential hot candidate, Andersen was inked to a contract extension earlier in the season, which would reportedly have paid him up to $765,000 per through 2018. Andersen is 27-24 in his four years at Utah St. Still, that didn't stop Andersen from being linked to several openings in the college coaching carousel, including California, Colorado, and Kentucky. As recently as November 30, Andersen made a statement that was supposed to reaffirm his commitment to staying long-term with the USU program. But also note the 11/30 press release was three days before the Wisconsin job suddenly became open. (Aside – don't bet against Penn State's Bill O'Brien looking at an NFL opening, you think he WON'T be interested in the Philadelphia Eagles?) Andersen obviously found an opportunity too good to pass up. He interviewed in Madison on Monday and reportedly was offered the job shortly thereafter. Utah State will be hard pressed to ever surpass the accomplishments achieved in 2012, so in that respect Andersen jumping to a program to his liking makes sense with his resume at its peak. The new coach's philosophies should be a good fit in Madison, as the Aggies will finish 2012 ranked amongst the top-15 defenses in FBS. Utah St. became known as a spread offense under Andersen. We'll see what part of that scheme, if any, get implemented at Wisconsin considering Barry Alvarez is traditionally not a fan of the spread. Offensive line also become a team strength at USU, very similar to what Wisconsin has traditionally been and what likely won his new bosses over in the interview process. Andersen will also be able to hire basically his entire staff. Offensive coordinator Matt Canada became the latest member of the Bielema regime to jump ship over the weekend; Canada will be re-united with Dave Doreen at North Carolina State. Personally, I did not figure on Andersen being a lead candidate since I was taking him on his word regarding remaining in Logan. And if you are a Utah State fan, you no doubt may have some hard feelings regarding loyalty and your coach doing a similar about-face that Bret Bielema did here two weeks ago. That said, I still like the hire from a UW standpoint – and am not bothered by going with a candidate with no previous Wisconsin ties, which I would not consider a mandatory prerequisite. Furthermore, Andersen will not have the Barry Alvarez shadow lurking as much as Bielema being hired early in his coaching career. And as weird as it may be to say after three consecutive conference championships,  I believe Bucky will long-term end up upgrading in the coaching department. As it is with virtually all HC hires, time will tell how this works out, but without the benefit of hindsight yet, I like the decision. The post Reports: Wisconsin to Hire Gary Andersen as Head Football Coach (And It's a Good Move For Badgers) appeared first on Midwest Sports Fans.
Original Story:
http://feedproxy.google.com/~r/Midwes...
THE BACKYARD
BEST OF MAXIM
RELATED ARTICLES
By the numbers the Wisconsin Badgers have come a long, LONG way since the early 1990's and that's highlighted by the fact that they were named to the Forbes College Football's Most Valuable Teams list. Where did the Badgers rank? A not too shabby 14th to be exact. Forbes estimates that the University of Wisconsin football team is worth $76 million this year, a change...
Wisconsin Coach: Bo Ryan (11 season at Wisconsin 268-101), Overall 651-204, 28 years 2011-12: Record 26-10 overall, 12-6 in Big Ten (4th) Starters Returning (3) Ryan Evans, Josh Gasser, Mike Bruesewitz, Jarred Berggren Preseason Tournament: Las Vegas Invitational Top Non-Conference Games: at Marquette, vs. Virginia, vs. California, at Florida Transfer Out: Jared Uthoff (Iowa) Sat...
Wisconsin has found their new head coach, the defensive-minded Gary Andersen. The now former Utah State head coach is coming off the most successful season in school history, with 11 wins and a blowout bowl victory against Toledo in the Famous Idaho Potato Bowl. As ironic as it may be, a loss at Wisconsin may have kept the Aggies from making a push to play the role of BCS Buster...
A whirlwind of rumors and speculation have hit Madison since former Wisconsin Badgers head coach Bret Bielema left for the Arkansas job. With all the uncertainty behind Barry Alvarez's search for the next coach, almost all of the assistants have decided to leave the program. Here's a recap of what has went down so far: The latest assistant coach to leave the Badgers program was...
Two of the three men accused of assaulting Wisconsin running back Montee Ball this summer pleaded guilty to battery charges Wednesday, but both were given a chance to avoid prison. Wendell J. Venerable, 21, and Robert A. Wilks, 22, pleaded guilty to substantial battery, a felony that carries a maximum penalty of 18 months in prison. But instead of imposing a prison sentence, Dane...
As senior running back Montee Ball and his Wisconsin teammates gear-up for the Rose Bowl, his alleged attackers are prepping for Wisconsin's First Offender Program to avoid criminal conviction.  On Wednesday, Wendell Venerable, 21, and Robert Wilks, 22, pleaded guilty to substantial battery for attacking running back Montee Ball this past summer.  The charge is a felony that...
MADISON, Wis. (AP) -- Two of the three men accused of assaulting Wisconsin running back Montee Ball this summer pleaded guilty to battery charges Wednesday, but both were given a chance to avoid prison. Wendell J. Venerable, 21, and Robert A. Wilks, 22, pleaded guilty to substantial battery, a felony that carries a maximum penalty of 18 months in prison. But instead of imposing...
It's hard to believe but we are nearing the end of 2012, but it's indeed coming to a close. It's also safe to say it has been a hell of a year in Badger country, huh? With that in mind it's time for us to recap the year that was in Badger sports. We've combed through the best stories of the year, the biggest headlines, the untold stories, and so much more to give...
Eagles News

Delivered to your inbox

You'll also receive Yardbarker's daily Top 10, featuring the best sports stories from around the web. Customize your newsletter to get articles on your favorite sports and teams. And the best part? It's free!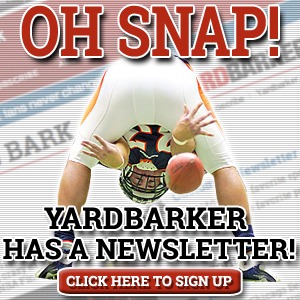 Latest Rumors
Best of Yardbarker

Today's Best Stuff

For Bloggers

Join the Yardbarker Network for more promotion, traffic, and money.

Company Info

Help

What is Yardbarker?

Yardbarker is the largest network of sports blogs and pro athlete blogs on the web. This site is the hub of the Yardbarker Network, where our editors and algorithms curate the best sports content from our network and beyond.