Found June 01, 2012 on The Other Paper:
New York Jets quarterback Mark Sanchez picked up a key ally yesterday after the team's best player, Darrelle Revis, threw his weight behind the beleaguered incumbent who is vying with the popular Tim Tebow for the starting job.
"I feel very comfortable and confident with Mark," Revis told the New York Daily News. "This is his fourth year. I've been with him since he was a rookie. The guy took us to two AFC Championship Games."
Revis acknowledged the potential of for a split locker room if Sanchez does not play well, according to Gary Myers of the Daily News.
The All-Pro cornerback is widely considered on of the team leaders and recently sung the praises of Tebow's leadership skills without saying anything bad about his quarterbacking skills. Still, Revis sounded like he thinks Sanchez is the guy to lead the Jets.
"That's what we know as a team," he said. "Mark is the leader of the offense and the starting quarterback."
Revis may have been down with Sanchez but it could be a moot point if he doesn't show up in training camp when it begins July 26. He is still seeking a resolution to his ongoing contract talks and offered a vague answer when asked he will be in camp.
"I don't know. That's all I'm telling you," said Revis. "I don't know. I don't know if I am or if I'm not. I told you that a while back. So I'm getting ready for this season."
In 2010, Revis held out for 35 days and missed all of training camp before signing a deal a week before the season opener. So anything is possible.
Does the surly cornerback see a quarterback controversy brewing?
"It's already started," he said. "This is something we're going to have to deal with for a couple of years. We'll see how it pans out."
Asked by Myers if this controversy could spread to the already dysfunctional locker room, Revis said:
"This is what I'm going to tell you: It could cause a problem. We're not going to sit here and say it can't. I think our focus is just being positive about the situation and making sure these guys actually get along, which they do, and work together. That's the only thing you can do. We win games, everybody is getting a pat on the back. We lose games , that's where it might cause controversy. All in all, we're just excited for this year and hopefully those guys will win us a bunch of games."
When asked who the Jets best quarterback is, Revis, in his own un-diplomatic way said, "Me."
"I've been talking to [Tony] Sparano and he's talking about giving me a couple of plays. He's going to let me throw a couple of balls. I'm the best quarterback on this team."
If both Sanchez and Tebow falter in the regular season, you just might see #24 taking the snaps.
Original Story:
http://ihatelupica.blogspot.com/2012/...
THE BACKYARD
BEST OF MAXIM
RELATED ARTICLES
When the New York Jets brought in Tim Tebow this offseason the speculation began to swirl as to who would be the starter for Gang Green come September. In a competition that rivals any political race, incumbent Mark Sanchez has taken the Jets to the brink of two Super Bowl berths with back-to-back AFC Championship
In 2010, Darrelle Revis held out well into Training Camp and the Preseason in search of a new contract. He got one, a 4 year deal, but 2 years later, he appears to be unsatisfied with deal once again. That's not in doubt, but what is in doubt is whether or not he'll attend Training Camp. Revis was noncommittal when asked about the issue in an interview with the New York Daily...
At what point does talent supersede attitude problems? That's the question some in the Jets front office might be asking themselves this morning after reports began to leak out that star cornerback Darrelle Revis, who has done this all before. If this seems awfully familiar, that's because Revis held out of camp just two seasons ago in dispute of wanting a better contract...
I ADMIRE YOUR STRENGTH
Mark Sanchez says that Tim Tebow is a great guy to be around and that he is a "monster" in the weight room.
Elite Jets cornerback Darrelle Revis said Thursday he may stage yet another holdout if New York doesn't offer him a long-term extension. "I can't [guarantee] reporting on time," said Revis, 26, who will be fined $30,000 per day if he … Continue reading →
In what has become a familiar storyline for the All-Pro cornerback, Darrelle Revis remains undecided whether or not he'll show up for training camp. Following the conclusion of Jets OTAs Thursday, Revis was asked if he will definitely be there for Day 1 of camp. His answer? "I don't know." Last month, Revis hinted that he's unhappy with his contract (again), telling reporters...
In the third episode of "Football Nation Today," Alex discusses the news from last week's NFL OTA camps, the NFLPA's collusion case against the NFL, and the decision to make knee-pads and thigh-pads mandatory. 1st Down: Stories from NFL OTA camps, including the seemingly indefinite quarterback controversy with the Jets between Mark Sanchez and Tim Tebow, the effect...
Welcome to the first ever New York Jets Life Podcast! Hey Jets Fans, big news today! We just finished recording our first ever New York Jets Life Podcast today. After investing some money in a nice Blue Yeti microphone and pop screen, we decided to take the plunge into the podcast world. I've been looking forward to this for quite a while and I'm happy to say the first episode...
Every year there are some marquee players in the NFL who for some reason have sub-par seasons. Whether it be due to injury, coaching change, or just age, this seems to happen all the time. Ahead are the five quarterbacks who need to step it up in 2012 for their teams to have success. Mark Sanchez-New York Jets Marc Serota/Getty Images North America Mark Sanchez is always criticized...
Jets News

Delivered to your inbox

You'll also receive Yardbarker's daily Top 10, featuring the best sports stories from around the web. Customize your newsletter to get articles on your favorite sports and teams. And the best part? It's free!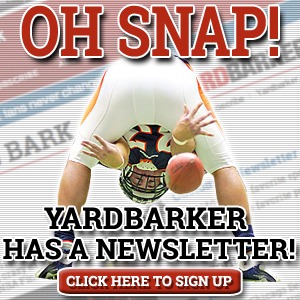 Latest Rumors
Best of Yardbarker

Today's Best Stuff

For Bloggers

Join the Yardbarker Network for more promotion, traffic, and money.

Company Info

Help

What is Yardbarker?

Yardbarker is the largest network of sports blogs and pro athlete blogs on the web. This site is the hub of the Yardbarker Network, where our editors and algorithms curate the best sports content from our network and beyond.