Posted August 30, 2012 on AP on Fox
PLAYERS:
Deion Sanders
,
Marty Schottenheimer
,
Albert Haynesworth
,
Donovan McNabb
,
Rex Grossman
,
John Beck
,
Dan Snyder
,
DeAngelo Hall
,
Santana Moss
,
Brian Orakpo
,
Robert Griffin III
TEAMS:
Washington Redskins
,
Minnesota Vikings
,
Denver Broncos
,
Houston Texans
The huge burgundy flag with the word ''REDSKINS'' in gold letters towers over the front of the team's facility, dwarfing in both size and height the four U.S. flags that help frame the parking lot. The arrangement makes quite an impression, especially when viewed from the practice fields, and serves to help symbolize something that's been true for a long time. Those Washington Redskins sure think a lot of themselves. ''When you set a standard of Super Bowl trophies,'' coach Mike Shanahan said. ''Anything less than that is unacceptable.'' The coach made that statement after the end of training camp while paying tribute to the team's alumni at the annual Welcome Home Luncheon. Never mind that the last of those three Super Bowl trophies was won more than two decades ago, and most of those former players, as well as the fans at the banquet, have since watched in frustration as the franchise descended into mediocrity and worse, let down time and again by the latest new hope who was supposed to help redeliver the glory days. Heath Shuler. Michael Westbrook. Deion Sanders. Bruce Smith. Marty Schottenheimer. Steve Spurrier. Joe Gibbs, part two. Albert Haynesworth. Mike Shanahan. Donovan McNabb. The parade of names has combined to produce just three playoff berths in the last 19 seasons, and the current run of four consecutive last-place finishes in the NFC East is unprecedented in team history. Enter the next could-be icon, one who fits the role perfectly, right down to the superhero figurines in his locker and the random references to having powers like Captain Planet: Robert Griffin III. Heisman Trophy winner. Worth a package of premium draft picks. He can throw. He can run. He's marketable. He's a player, according to Shanahan, who ''can do some things that people haven't done.'' The No. 2 overall draft pick from Baylor also represents Shanahan's last stand. The coach who won a pair of Super Bowls with the Denver Broncos in the 1990s now has a run of five straight seasons without a playoff appearance, three in Denver and two in Washington sandwiched around a year off to recharge the batteries. The coach has put his faith in McNabb (2010) and the combo of Rex Grossman and John Beck (2011) at quarterback with the Redskins and failed each time. The upside is that Shanahan also spent that time building the rest of the roster to his liking, creating a consistent culture that's had been lacking under the frequent coaching changes made by owner Dan Snyder. The Redskins have managed to stick to the same philosophy with the same head coach, offensive coordinator and defensive coordinator for the third year in a row, making Griffin feel like one of the final pieces of the puzzle, not one of the first. ''He's still a young kid. He still has a lot to learn,'' cornerback DeAngelo Hall said. ''We still have a lot of weapons we need to put around him, too, but we feel like we have adequate guys around him, a lot of playmakers to where we can definitely make that transition a little bit easier for him.'' Still, this is a team that went 5-11 last year. While the defensive front seven looks solid, there was no significant upgrade to an offensive line that allowed 41 sacks in 2011. Shanahan says this squad has more depth, but that could also mean he has lots of Grade B players and not enough Grade As. There's not a running back on the roster who has rushed for 1,000 yards in a season, and 33-year-old Santana Moss is the only wideout who's had 1,000 yards receiving. Maybe that's why the bravado is toned down a bit. ''I'm not going to make any predictions or anything,'' linebacker Brian Orakpo said. ''We're just going to keep quiet and create some havoc.'' At least, unlike in previous years when the losing made the seasons seem endless, the Redskins should be a thrill to watch as Griffin develops week by week. He does indeed have the talent and poise to be the player who, finally, makes the Redskins once again as proud of their present as they are of their past. It just probably won't happen this year. ''Last time I checked, they still have us fourth in the NFC East,'' Griffin said. ''And not that we care, but we're going to go out and try to make sure that we're not.'' --- Follow Joseph White on Twitter: http://twitter.com/JGWhiteAP --- Online: http://bigstory.ap.org/NFL-Pro32 and http://twitter.com/AP-NFL
Original Story:
http://msn.foxsports.com/nfl/story/RG...
THE BACKYARD
BEST OF MAXIM
RELATED ARTICLES
Washington Redskins running back Tim Hightower could not out-run his knee problems. He wull be released from the team today, according to reports on the Twitterverse. Various reports say the Redskins will release RB Tim Hightower. knee didn't respond. not eligible for new IR rule. Have to be w/team on 9/4 — Redskins RReports (@CBSSportsNFLWAS) August 31, 2012 The Redskins...
Getty According to Mike Jones of the Washington Post, the Redskins and Dolphins are working on a trade that will send wide receiver Anthony Armstrong to Miami and running back Steve Slaton to Washington D.C. I'm told #Redskins working on trade sending Armstrong to Miami for RB Steve Slaton — Mike Jones (@MikeJonesWaPo) August 31, 2012 Armstrong is a good receiver that will give...
Washington Redskins safety Tanard Jackson has been suspended indefinitely without pay by the NFL for violating the league's substances abuse policy. The league said Friday that Jackson's suspension begins immediately. He will be eligible for reinstatement in exactly one year - beginning Aug. 31, 2013. This is Jackson's third drug-related suspension, the previous two...
Every football fan knows how seemingly unimportant game 4 of the preseason is to the rest of the season. However, if you're a player whose position on the roster is questionable, this game is crucial. And now, with a guy like Cooley getting cut, I'd image the anxiety is especially high. If they can cut someone as important to the organization as he has been, no ones job is particularly...
A team led by Rex Grossman and John Beck hardly warrants excitement. It doesn't matter how good your defence is, your running game is, or any facet of your team is, if the guy that leads your team doesn't inspire confidence, a team and its fanbase will decline. Fortunately for Redskins' fans, excitement is just what the Redskins had in mind for 2012. Enter RG3. The second...
Trade Update: The Washington Redskins trade wide receiver Anthony Armstrong to the Miami Dolphins in exchange for running back Steve Slaton. The Redskins also release running back Tim Hightower today, which might have something to do with them brining in Slaton. Read More...
On his first full day on the job as the kicker for the Washington Redskins, Billy Cundiff made three of four field goal attempts - and was booed for the one he missed - making him the only first-stringer to do something noteworthy in Wednesday night's 30-3 win over the Tampa Bay Buccaneers. Cundiff, signed Tuesday after the Redskins cut Graham Gano, converted from 39, 27 and...
If you were watching the Washington Redskins game tonight you would have seen NASCAR driver Dale Earnhardt Jr in the TV booth with Joe Theismann and Kenny Albert. If you listed to the game on the Redskins Radio Network you would have heard him on your radio dial. This surprises me none as I thought it was promotional appearance as NASCAR will be visiting the Virginia area in...
Getty According to Jay Glazer of FOX Sports, Washington Redskins safety Tanard Jackson has been suspended indefinitely for violating the NFL's substance abuse policy. "Tough loss for the Redskins, safety Tanard Jackson has been informed he's been suspended indefinitely with a review in a year for violation of NFL Drug Policy. He's still trying to appeal," Glazer reported...
NFL News

Delivered to your inbox

You'll also receive Yardbarker's daily Top 10, featuring the best sports stories from around the web. Customize your newsletter to get articles on your favorite sports and teams. And the best part? It's free!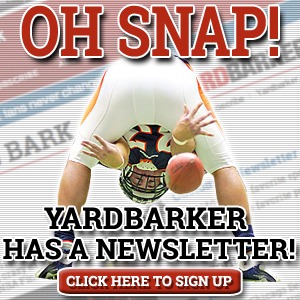 Latest Rumors
The Backyard

Today's Best Stuff

For Bloggers

Join the Yardbarker Network for more promotion, traffic, and money.

Company Info

Help

What is Yardbarker?

Yardbarker is the largest network of sports blogs and pro athlete blogs on the web. This site is the hub of the Yardbarker Network, where our editors and algorithms curate the best sports content from our network and beyond.