Found October 25, 2011 on StraitPinkie.com:
PLAYERS:
Dan Orlovsky
,
Peyton Manning
,
Tim Tebow
,
Chad Henne
TEAMS:
Detroit Lions
,
Minnesota Vikings
,
St. Louis Rams
,
Arizona Cardinals
,
Seattle Seahawks
,
Indianapolis Colts
,
Miami Dolphins
,
Denver Broncos
,
Washington Redskins
,
Oakland Raiders
,
Tampa Bay Buccaneers
,
Indiana Hoosiers
We are nearing the halfway point of the NFL season and three teams are still en route for ultimate awfulness. Only two teams in NFL history have managed this feat and only one officially in the current NFL regular season format. The ultimate season of futility. The elusive defeated season.
The first such season was in 1976 when the Tampa Bay Buccaneers went 0-14. It's really difficult to figure out which side of the ball the Bucs were worse on. The offense managed a pitiful 125 points and were shut out five times. The defense, on the other hand, managed to give up 410 points. That is futility at it's finest. Being outscored over 3-to-1.
But, then the 2008 Detroit Lions entered the mix and became the first team in NFL history to lose 16 games in a single season. The funny thing about the 2008 Detroit Lions is the season started with some relative high hopes. They were coming off a 7-9 season and had been quietly impressive in preseason going 4-0. Sadly that 4-0 preseason was not a precursor for a successful season.
The Lions defense in 2008 was absolutely hideous. On the season, they managed to give up over 517 points, which equates to about 32 points a game. What's truly astounding is the Lions' two closest losses came against the eventual NFC North champions, the Minnesota Vikings. In the first loss, one play in particular seemed to define the entire Lions' season. As seen below, Dan Orlovsky runs out the back of the end zone for a safety, which eventually turned out to be the difference in the game.
http://www.youtube.com/watch?v=vGs1VuT6FEw
As of right now three currents teams are still defeated and have a shot of losing every game. Strait Pinkie will break down their odds of joining this elusive group of terrible teams.
First up is the 2010 NFC West Division winner, the St.Louis Rams. Going into the season the Rams were actually picked as a sleeper team that could do some damage and make that next step. Unfortunately, untimely injuries have gotten in the way of that. And this Rams squad isn't losing close games. Just one of their losses have been by single digit points. Still there is hope. The Rams still have two games against the 1-5 Arizona Cardinals and 2-4 Seattle Seahawks. I find it very hard to believe that they won't manage at least one win against those pitiful teams. Of all the teams on this list, this looks to be least likely.
Odds of Rams going defeated – 20-to-1
Second up is another 2010 division winner, the Indianapolis Colts. With Peyton Manning, they are a Super Bowl contender. Without him, they couldn't beat the Indiana Hoosiers football team. Prior to Sunday night's 62-7 embarrassment to the Saints, most of their losses were close. But, their defense is consistently getting worse and they need them to step it up if they are going to get a win.
They still face Jacksonville twice and could possibly get one of those games. They also still have a 2-5 Carolina team and a Titans team heading in the wrong direction. Finally, and most importantly, there is still a outside chance Peyton Manning could come back this season (not happening). The mere chance of Manning returning knocks a couple percentage points off of their defeated run. But, they are still sporting the league's worse defense, so it could happen.
Odds of Colts going defeated – 10-to-1
In essence there is really only one team on this list that looks to have a realistic shot of joining the 2008 Lions and 1976 Bucs and that is the Miami Dolphins. This Dolphins team has the perfect makeup to go defeated. Their mere collapse against Tim Tebow and the Broncos shows you that this team has the losing mentality and the ability to go winless. Their first string quarterback, Chad Henne, is out for the season and their offensive production has departed with him. The defense has been decent, twice holding teams under 20 points and only giving up 30 plus points to New England.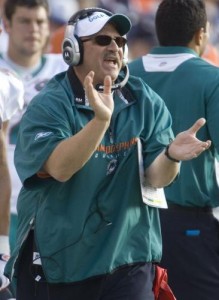 The real reason this looks to be the team to go defeated is their remaining slate of games. They will not be favorties once the rest of the way. The two semi-winnable games they have left are the Washington Redskins and Oakland Raiders, both at home. In both cases, those are tough teams that should give the Dolphins a heck lot of trouble. In any case, if the Dolphins can manage to get to week 15 without a win, you can almost guarantee it will happen. They close with snowy weather at Buffalo, a road game in Foxboro, and then end it with a home tilt against the Jets.
In 2011, the Dolphins could become the first NFL franchise to go both undefeated and defeated. Good luck, Tony Sparano.
Odds of Dolphins going defeated – 3-to-1
Original Story:
http://www.straitpinkie.com/sports/ro...
THE BACKYARD
BEST OF MAXIM
RELATED ARTICLES
With each passing defeat, the Colts move closer to one of the most fascinating storylines in NFL offseason history. They're a joke without quarterback Peyton Manning -- who has become the first subject of a half-serious MVP campaign due to his spot on the bench -- and that point was driven home by Sunday's 62-7 loss to the Saints. There was no question that they had given...
With the serious injury concerns surrounding Peyton Manning, would the Indianapolis Colts be wise to take advantage of their terrible 2011 season and draft Andrew Luck?
The Indianapolis Colts reportedly would strongly consider drafting Andrew Luck if they have the opportunity. Shocker, I know, I'm also surprised to hear that they like talented players. Next thing you know we'll be told they like winning, too. Anyway, that puts the Colts in an interesting position because if they drafted Luck, they would [...]
The Tennessee Titans are 3-3 this season, and they are think in the race for the AFC South. It is more of a divisional race by default, as the Indianapolis Colts decided to forfeit the 2011 NFL season without Peyton Manning. Well, not officially forfeit, but if you watched them on Sunday night, it is clear that they have thrown in the white towel. Mainly because of that...
There was an interesting piece that came out today on espn.com on Peyton Manning.  An article was written on why Manning should receive the NFL's Most Valuable Player award this season, even though he has yet to play a down. Let us break this down for just one second.  Everybody knows that Peyton has won the award three times in his career already.  We all know what...
Eli Manning isn't sure if Peyton Manning will return this season but he believes his big brother will resume his future Hall of Fame career.
The New Orleans Saints christened the newly named, and now beautifully lighted on the outside, Mercedes-Benz Superdome in proper fashion by executing a near flawless game plan against their rivals from Super Bowl XLIV, the Indianapolis Colts, last night. I fully expected a double digit victory for the Saints, but I did not quite envision a college-like final score stomping of 62...
As quarterback Peyton Manning was struggling to recover from neck surgery performed in May, the team lured Kerry Collins out of retirement. And now Collins is likely heading back into retirement. The team announced today that Collins has been placed on injured reserve.  He suffered a concussion in Week Three against the Steelers.  Prior to…
NFL News

Delivered to your inbox

You'll also receive Yardbarker's daily Top 10, featuring the best sports stories from around the web. Customize your newsletter to get articles on your favorite sports and teams. And the best part? It's free!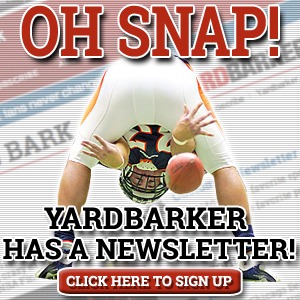 Latest Rumors
The Backyard

Today's Best Stuff

For Bloggers

Join the Yardbarker Network for more promotion, traffic, and money.

Company Info

Help

What is Yardbarker?

Yardbarker is the largest network of sports blogs and pro athlete blogs on the web. This site is the hub of the Yardbarker Network, where our editors and algorithms curate the best sports content from our network and beyond.