Found July 11, 2013 on NESN.com:
Rob Gronkowski spoke to a few media members at a local bookstore Thursday, but he made sure the conversation steered clear of the heavy stuff. Gronkowski, who was in town promoting his family's new book Growing Up Gronk, fielded questions about his back surgery and the recent arrests of teammates Aaron Hernandez and Alfonzo Dennard, but he answered each the same way. "I have no reaction about that," the tight end repeated. Gronk did perk up a bit when asked whether the NFL has a problem with off-field player conduct, though, saying that question should be directed toward the commissioner. "Ask Roger Goodell," he said. "You gotta ask Roger. He's been in the business for a while now, so he'll know. From when he started to where he is now … Roger that." Yep, that's Gronk. See more from the interview in the video below.
Original Story:
http://nesn.com/2013/07/rob-gronkowsk...
THE BACKYARD
BEST OF MAXIM
RELATED ARTICLES
As you heard, the New England Patriots took a $275,000 financial loss from Patriots fans turning in their Aaron Hernandez jerseys and t-shirts. However, there a lot more to the Patriots culture of Thug Life than Aaron Hernandez. Here are eight  Patriots players who've been arrested since 2010! Aaron Hernandez is the most extreme case, but there's been plenty of crime, and very...
A lot of evidence had been revealed to the press late yesterday and gives some troubling insights into the case against Aaron Hernandez. It appears that the former Patriots tight end was indeed the man who pulled the trigger, killing his "friend" Odin Lloyd. The murder was apparently because Lloyd had been associating with some of Hernandez's enemies. Some of the evidence...
Photo courtesy of NESN.com According to a report from ESPN.com, one of the accomplices in the case against former New England Patriots tight end Aaron Hernandez said that he was told that Hernandez killed Odin LIoyd. Carlos Ortiz told police that Ernest Wallace, a second alleged accomplice told him on the day after the fatal shooting that Hernandez admitted to killing LIoyd. This...
Cleveland Browns running back Dion Lewis learned on Wednesday that it is probably best to simply ignore the Aaron Hernandez murder investigation on public forums like Twitter. The subject is a sensitive one, so comments like this are not bright: Lewis quickly realized he had made a mistake and deleted the tweet, but not before [...]
Andre and Zac get you ready for football. They break down the 2013 AFC North team's schedule and look at Vegas' NFL wins predictions. Plus they touch on how Aaron Hernandez situation effects this season. Zac Jackson also sets the record straight on some of the Urban Myer, Aaron Hernandez comments that have been made. To listen to the podcast:Click here
The Aaron Hernandez case shows that holding athletes up as role models can backfire in a big way when things go wrong.
Aaron Hernandez and his attorneys have a lot of work to do if they plan to somehow attempt to prove he is innocent. The evidence piling up against Hernandez looks quite incriminating, with much of it stemming from information his friend Carlos Ortiz gave to authorities. However, defense attorneys will surely look to prove that [...]
The next name becoming household in the Aaron Hernandez saga is Carlos Ortiz. He seems to be the second most "person of interest" in this case right after Aaron Hernandez. Oh, he has quite the narcotics record too. According to court documents released Tuesday, Carlos Ortiz told police that Ernest Wallace, a second alleged accomplice, Ortiz is the first, told him the day after...
The New York Jets have been the biggest beneficiary of the whole New England Patriots/Aaron Hernandez fiasco. Were it not for the blog-o-sphere would have found even more to make fun of about the Jets than it has in the last month. But with the Hernandez story not having something breaking every five minuted anymore we can return to our normal Jets-bashing routine. Why? Because...
     Things that happened this week which a Jersey Guy noted: New England Patriot owner Robert Kraft said he felt he was "duped" by former Patriot tight end Aaron Hernandez who is currently facing first degree murder charges. On Thursday,…Read more →
And I'm using "picks" loosely, because by all accounts there was no one else bidding. The ******* crazy center signed a two year deal with Cleveland for only $6 million guaranteed (though it could be worth up to $24 million). If they can reel in his Bynum-ness, it's a great move by the Cavs. But that's a big if. He's got a little too much Aaron Hernandez in him for my...
Sports is filled with air-kissed platitudes that mimic one another "The Butler Way," "The Oriole Way," "The Patriots Way."  So much for "The Patriot Way." a better theme/mantra for the New England Patriots would be "ain't nuthin but a gangsta party" or "Thug Life." Granted, they're still not as bad as current Ohio State Buckeyes Coach UrbanMeyer during...
Patriots News

Delivered to your inbox

You'll also receive Yardbarker's daily Top 10, featuring the best sports stories from around the web. Customize your newsletter to get articles on your favorite sports and teams. And the best part? It's free!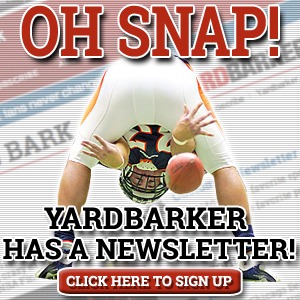 Latest Rumors
Best of Yardbarker

Today's Best Stuff

For Bloggers

Join the Yardbarker Network for more promotion, traffic, and money.

Company Info

Help

What is Yardbarker?

Yardbarker is the largest network of sports blogs and pro athlete blogs on the web. This site is the hub of the Yardbarker Network, where our editors and algorithms curate the best sports content from our network and beyond.