Found September 03, 2013 on NESN.com:
Things didn't work out for Tim Tebow and the Patriots, even though team owner Robert Kraft wishes they had. "I love Tim Tebow and I very much wanted him on the team," Kraft said during an interview with CBS This Morning on Tuesday. Kraft, sporting a bright blue blazer, pink tie and patented white cuffs, was very candid during a seven-minute interview on the show Tuesday morning, discussing a myriad of topics ranging from the NFL's concussion settlement to Aaron Hernandez and, of course, the release of Tebow. When the topic of Tebow was raised, Kraft spoke glowingly about the now free-agent quarterback but noted that there just wasn't room for him on the Patriots' roster. "If you look at four of the last five years, we've only carried two quarterbacks," Kraft said. "And when a cut-down time comes, you need those last three or four positions for depth, and we happen to have, I think, the finest quarterback in the history of the game, and he's not going off the field except by injury. We
Original Story:
http://nesn.com/2013/09/robert-kraft-...
THE BACKYARD
BEST OF MAXIM
RELATED ARTICLES
Over the weekend, the New England Patriots ended the Tim Tebow era when they cut the four year veteran out of Florida, deciding to keep only two quarterbacks on their roster.  Upon his release, Tebow said that he would continue to pursue his dream of being an NFL quarterback.  With that said, here are five teams that could potentially use his services:Buffalo BillsIn their third...
TAKE OFF, EH
Quarterback guru Steve Clarkson, who tutored Tim Tebow during this past offseason, believes the quarterback's best hope for a pro career may be in the CFL.
With Tim Tebow out of the National Football League again, the chatter will resume for him to give it a go in the Canadian Football League. Tebow cleared waivers over the weekend after being cut by the New England Patriots, meaning no NFL team was interested in bringing him in for the season. But that doesn't mean his football career is over — there's a game up in Canada that...
And so it ends. Tim Tebow, simultaneously one of the most popular and reviled figures in all of professional football, was cut from the New England Patriots on Saturday. Since coming to the league in 2010 (it honestly feels like Tebow's been around forever), Tebow's gone from highly desired prospect, to playoff hero, to castoff, to New York Jet (the lowest of the low), and finally...
Tim Tebow cleared waivers yesterday, officially becoming a free agent, according to Ian Rapoport of NFL.com. Tebow was released by the New England Patriots over the weekend, prompting questions whether or not his NFL career was over. It's official: Tim Tebow is a free agent. Unclaimed on waivers. — Ian Rapoport (@RapSheet) September 1, 2013 Following his release, Tebow...
It's not getting any easier for Tim Tebow. After being cut by the Patriots on Saturday and clearing waivers, Tebow got some advice from his former quarterback coach - but it probably isn't what Tebow wants to hear. "It's time now to maybe just reconsider a different path to his ultimate dream. Tim might want to look to the CFL because he may have run out of options...
Bill Belichick's diabolical plan is still coming together, and it involves bringing back Heisman Trophy-winning and playoff-winning QB Tim Tebow. At least, that is what the media wants you to believe. The Drudge Report is probably the greatest link dump in the entire internet, and sometimes has sports-related links thrown in with all the political and Floriduh links as well. Though...
A.B. With a delegation of Russian lawmakers headed to Congress to talk about the deteriorating situation in Syria, (R) Senator, John McCain, took a shot at Russian President, Vladimir Putin, saying he should return New England Patriots Owner, Robert Kraft's, Super Bowl ring. McCain joked around on CNN's "New day" morning show saying: "I was thinking this morning the worst...
Could the door be open for quarterback Tim Tebow to return to the New England Patriots? Patriots coach Bill Belichick on Monday declined to rule out bringing back the popular but underperforming quarterback some time this season. ''I don't know what's going to happen here in the year, but certainly we've had a lot of players who've left here and come back...
Though it may not have been the most surprising, the most talked about cut by the Patriots heading into Week 1 was QB Tim Tebow. After lackluster performances in games and practice, Tebow actually raised some eyebrows with a good game in the final preseason showing. However this wasn't enough, and #5 was a roster cut casualty. It should be noted though, that the Patriots...
Dearest Russia, We weren't going to say anything, because it just seemed so silly to bring it all up again. It's just that, Russia, we believe you have one of our most precious football-related pieces of jewelry , and we would like to have it back. To underscore how serious we are in this request, we turn to one of our finest men, Senator John McCain: Look, we're not...
In case you're thinking that the NFL settlement with the players for $765 million in the concussion lawsuit is a lot of money, the NFL gets more than that each year in TV rights. Per vendor. In other words, you now know where your subscription fee to NFL Red Zone goes. ESPN already signed off on the settlement deal by backing out oof the documentary production about concussions...
NFL News

Delivered to your inbox

You'll also receive Yardbarker's daily Top 10, featuring the best sports stories from around the web. Customize your newsletter to get articles on your favorite sports and teams. And the best part? It's free!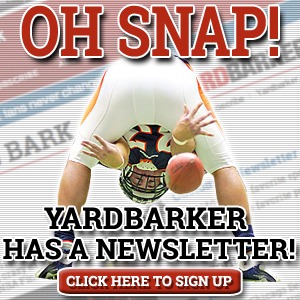 Latest Rumors
Best of Yardbarker

Today's Best Stuff

For Bloggers

Join the Yardbarker Network for more promotion, traffic, and money.

Company Info

Help

What is Yardbarker?

Yardbarker is the largest network of sports blogs and pro athlete blogs on the web. This site is the hub of the Yardbarker Network, where our editors and algorithms curate the best sports content from our network and beyond.