Found February 13, 2012 on Player Perspective:
Details about Roger Goodell's new contract that makes him NFL commissioner through March of 2019 continue to emerge. Today media outlets like Pro Football Talk reporters that Goodell would be making around 20 million dollars by the end of the decade. In Atlanta Falcons' WR Roddy White's mind that is way too much. When he saw the salary report he tweeted:
"How in the hell can u pay a man this much money that cant run tackle or catch"
This is funny to me because it's so rare for ANYONE, especially an athlete, to question how much executives make or to frame the conversation such that the players are more important than the executives. It almost never happens. I don't think White is even aware of the fact that he said something extraordinary. I think White is more irreverent than he is smart. Were he not, he would have phrased his opinion differently. That doesn't make his core point 'wrong' just unsupported.
Personally, I think we should question executive pay a lot more often. The entire lockout was a result of people who had a lot of money wanting even more. How much is too much was never fully discussed on the side of executives but talked about ad nauseam as it pertains to players. Executives always get the benefit of the doubt when it comes to their salaries. There's a presumption of genius there that is disturbing.
To speak to  Goodell, I do think his salary is a nod to how much he will have to contend with going forward as well as how much the league has grown under his tenure. Whether we like it or not, Goodell is going to maintain oversight of major changes to the game we all know and love. The dozens of lawsuits that have been filed thus far demand that he does. He is going to have a lot of work on his hands and his influence over the next phrase of the game will be much bigger than any players'.
Notice I decided not to make any jokees about White's inability to run or catch during the Falcons' wildcard game. My restraint is high today for some odd reason.
Original Story:
http://feedproxy.google.com/~r/Player...
THE BACKYARD
BEST OF MAXIM
RELATED ARTICLES
The NFL is America's most popular and most-watched sports league, with nine of the top 10 single-telecast TV programs in 2011 related to the NFL in some way. (The pesky Academy Awards broke into the list at No. 9.) It's therefore not surprising commissioner Roger Goodell received a contract extension through 2018. But there is still room for the NFL to grow. To start, Goodell...
Atlanta Falcons wide receiver Roddy White isn't happy about NFL Commissioner Roger Goodell's expected salary in years to come.After reading a link on ProFootballTalk.com that referenced the financial terms of Goodell's new contract extension, White sounded off on his Twitter account Monday:"How in the hell can you pay a man this much money that can't run tackle...
With the news that commissioner Roger Goodell will be making nearly $20 million per year by the end of the decade — thanks to his newly-signed contract extension — the Falcons' Roddy White decided to weigh in on the matter. Suffice it to say, White does not approve. The Pro Bowl receiver is offended by the amount of money the commish is pulling in, taking to his Twitter account...
NFL Commissioner Roger Goodell currently makes roughly $10 million per year.  Daniel Kaplan of SportsBusiness Journal reports that, by the end of Goodell's new deal, he'll make roughly two times that amount. And if you think that $20 million per year will be a lot by 2019, keep in mind that baseball's commissioner, Bud Selif,…
The Atlanta WR made the thoroughly reasonable point that the NFL's commissioner, Roger Goodell, might not be worth $20 million a year by the end of his contract.Now, the fun part of this is how many people are going to bend over backwards and say that nope, no sir, no how, there's no way that you can find anyone else on the planet that could run the NFL for less and do it...
Atlanta Falcons wide receiver Roddy White isn't happy about the amount of money NFL commissioner Roger Goodell will be making towards the 2019-2020 NFL season.It's being reported by Pro Football Talk that Goodell will be making around $20 million a year by 2019, something that isn't pleasing White.In tweets, White expressed his anger over the report about Goodell HUGE...
Now that the labor strife in the NFL is way back in 2011 players no longer have reason to complain about money. HA! Atlanta Falcons wide receiver, Roddy White, is not a fan of the paycheck that the NFL commish is receiving. Roger Goodell is currently being paid $10 million-a-year to run the biggest, most successful sports league in the world. By the time his new deal ends in 2019...
Just one day before his New England Patriots hosted the Baltimore Ravens in the AFC Championship, Robert Kraft attended a Boston Bruins game at the TD Garden and took a whole lot away from his experience. Kraft enjoyed the Bruins overtime thriller against the New York Rangers on Jan. 21 and was so impressed by the entire in-game experience, that he decided to tell NFL commissioner...
GREEN BAY, Wis. -- Packers team president and CEO Mark Murphy was named to the NFL competition committee on Tuesday by commissioner Roger Goodell. The nine-person committee also added new St. Louis Rams coach Jeff Fisher and Arizona Cardinals coach Ken Whisenhunt. Murphy is the first member of the Packers to be on the committee since former coach Mike Holmgren served from 1995...
Falcons News

Delivered to your inbox

You'll also receive Yardbarker's daily Top 10, featuring the best sports stories from around the web. Customize your newsletter to get articles on your favorite sports and teams. And the best part? It's free!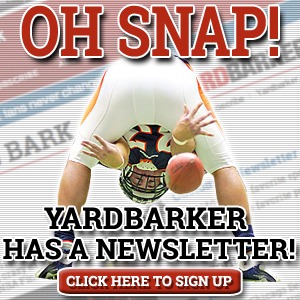 Latest Rumors
The Backyard

Today's Best Stuff

For Bloggers

Join the Yardbarker Network for more promotion, traffic, and money.

Company Info

Help

What is Yardbarker?

Yardbarker is the largest network of sports blogs and pro athlete blogs on the web. This site is the hub of the Yardbarker Network, where our editors and algorithms curate the best sports content from our network and beyond.