Found February 05, 2013 on Fox Sports Wisconsin:
GREEN BAY, Wis. -- Aaron Rodgers had a very good reason for presenting an award with Brett Favre at Saturday night's NFL Honors event: The Packers quarterback wanted to bury the hatchet with the now-retired three-time NFL MVP who topped him on Green Bay's depth chart for three seasons. For the past five years since becoming the Packers' starting quarterback, Rodgers has barely mentioned Favre's name. It was a topic as contentious as the relationship between the two had become late in their time together while sharing the same uniform. But all of that is over now. "As the face of the franchise, a role I take very seriously, I think it's important to realize that it's time to probably move forward," Rodgers said Tuesday on his ESPN Wisconsin radio show. "It was good to talk to Brett on the phone and then spend some time with him. It was fun to present with Brett. "I thought it was good timing to just let the fans know, let Brett know, let's move forward. Let's heal things up and move forward." Rodgers and Favre presented the NFL's Comeback Player of the Year award on Saturday night to Denver Broncos quarterback Peyton Manning, but not before a comedic partly scripted, partly ad-libbed exchange on stage. Favre: "You know, Aaron, everyone loves it when a great player makes a comeback." Rodgers: "Yeah, but not always. Some people wish great players would just retire and stay retired." Favre: "Good to see you, too, Aaron." The two shook hands and almost hugged twice before Rodgers said, "That was awkward." But, according to Rodgers three days later, it really wasn't awkward at all. "We had talked about the lines a number of times, how we wanted to do it," Rodgers said on his radio show. "We thought about a hug, maybe saying, It's too soon.' I thought it's what we were going to do and then Brett didn't come in for the hug. "The irony of me saying That was awkward,' is some people watching might think that, but I really had a good time seeing him and catching up with him and there was nothing awkward about that moment for the two of us. "That moment, I had a lot of people writing, It was an awkward moment,' but that's kind of the joke in that statement is that there wasn't a lot of awkwardness at all for Brett and me." Rodgers, who said he is a friend of the producers of the awards show, was asked a week prior to the event if he'd be willing to present on stage with Favre. And, after some contemplation, it didn't take much for him to agree. "I thought about it for a little bit but felt strongly that it'd be a good thing for both of us and for Packers nation," Rodgers said on his radio show. "It didn't take a lot of coaxing for me to do it. I didn't want to sit and think about it and make sure it was the right thing to do. I feel very secure in my position with the team and what we've accomplished in my five years as a starter. "Brett is two years removed from the game, and he's going to be in the Packer Hall of Fame and the Pro Football Hall of Fame. It's important that he's recognized for all the accomplishments he's achieved. He's very dear to many of our fans still. As the face of the franchise, I felt that it was important to take a leadership role in that." Favre said during his appearance on the NFL Network leading up to the Super Bowl that he had "no ill feelings" toward Rodgers. "I'm not going to get a whole lot into that," Rodgers said on ESPN Wisconsin when asked about those comments. "I'm not here to talk about the past. I feel like it's important to move forward. I feel great about where I'm at in my career and the things we've accomplished as a team, and personally. When you get older in this league, and now Donald (Driver) is retiring tomorrow, I'm going to be the longest tenured Packer, which is crazy to think about. "I was just drafted by the Packers eight years ago and now I've seen a lot of guys come and go. It makes you think about your legacy. Hopefully we can lock something up in the next couple years and keep me in Green Bay for my career. So, I think about how I want to be remembered." As the relationship between Rodgers and Favre is discussed in the future, Saturday night's public reconciliation will be the moment the two officially put a rocky past behind them. Follow Paul Imig on Twitter.
Original Story:
http://www.foxsportswisconsin.com/02/...
THE BACKYARD
BEST OF MAXIM
RELATED ARTICLES
Green Bay Packers quarterback Aaron Rodgers admitted that he's interested in seeing what the Ravens end up paying quarterback Joe Flacco. "I think everybody is going to see what Joe (Flacco) ends up signing for," Rodgers said on his weekly radio show on 540 ESPN on Tuesday, per ESPNWisconsin.com. "I'm sure they want to lock him up. He's a great player – had an incredible...
Aaron Rodgers and Brett Favre presented an award together at the "NFL Honors" show Super Bowl weekend, and the current Packers quarterback says the event was a big step in the healing process between Favre and Green Bay. During his radio show on Tuesday, Rodgers said he hopes Packers fans and the organization are ready to reconcile with their former quarterback. "As the face...
YouTube.com You may remember that Brett Favre and the Green Bay Packers didn't end well. There was that whole Aaron Rodgers is the guy-taking-your-job / don't-let-the-door-hit-you-in-the-ass-on the-way-out / what-do-you-mean-you-aren't-retiring thing. Saturday, the two former teammates were on stage to present the NFL Comeback Player of the Year Award. They had banter before...
Mr. Brett Favre and Aaron Rodgers made a surprise make-up handshake at the NFL honor awards.  Well done NFL!  That was genius and must watch TV! Click here to view the embedded video. Obviously it was 99.9% scripted.  But of course the actual words don't tell the story it's the body language and everything else that creates the story. Let's get to it. The first :12 seconds...
Brett Favre and Aaron Rodgers have what some consider a contentious relationship.  It's based more off circumstance than anything that happened between the two men. The Packers pushed Brett Favre out and Rodgers was the man to take his place.  The two recently shared the same stage as presenters at The NFL Honors ceremony, and even though it was awkward, it was a start. Rodgers...
After a sour relationship developed between Brett Favre and the Green Bay Packers, Aaron Rodgers said today it is time for the two to rebuild their relationship (Credit: AP Photo) During Saturday night's NFL honor awards current Green Bay Packers quarterback Aaron Rodgers and former Packers great Brett Favre appeared together on stage. After being traded to the New York Jets and...
  Green bay quarterback and MVP Aaron Rodgers is entering the final two years of his current contract. A contract set to expire after the 2014 NFL season concludes. Widely recognized as one of the best quarterbacks playing, Rodgers will be looking to cash in on his MVP and Super Bowl championship soon. With Baltimore [...]
Aaron Rodgers, John Elway, Troy Aikman, Dan Fouts, Warren Moon, Drew Bledsoe, Andrew Luck, Carson Palmer, Norm Van Brocklin, Jim Plunkett. Those names all mean nothing to one Micah Thomas. Thomas is a dual-threat quarterback from North Shore (Tex.) Senior High School. He was one of three quarterbacks to sign a national letter of intent with Utah on Wednesday, but he doesn't think...
With the conclusion of Super Bowl XLVII, it's time to preview the 2013 NFL fantasy football quarterback landscape. 1. Aaron Rodgers (Green Bay Packers): In his fifth season as the starter, the former first-round pick (24th overall in 2005) continued to pile up the numbers, throwing for 4,295 yards and 39 touchdowns to just eight interceptions with a career-high 371 completions...
NFL News

Delivered to your inbox

You'll also receive Yardbarker's daily Top 10, featuring the best sports stories from around the web. Customize your newsletter to get articles on your favorite sports and teams. And the best part? It's free!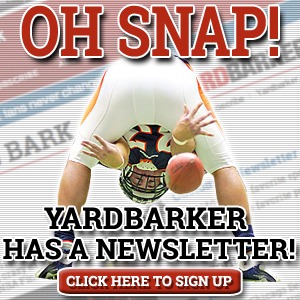 Latest Rumors
The Backyard

Today's Best Stuff

For Bloggers

Join the Yardbarker Network for more promotion, traffic, and money.

Company Info

Help

What is Yardbarker?

Yardbarker is the largest network of sports blogs and pro athlete blogs on the web. This site is the hub of the Yardbarker Network, where our editors and algorithms curate the best sports content from our network and beyond.