Found August 20, 2012 on Fox Sports Wisconsin:
GREEN BAY, Wis. -- Aaron Rodgers had his weekly gathering with the local media on Monday afternoon and discussed a rough preseason so far for the Packers, playing more no-huddle offense and preparing for this week's upcoming game in Cincinnati against the Bengals.Five question-and-answer highlights:1. At 0-2 right now, is it a big deal at all for you to win a preseason game?RODGERS: I think it's a different mindset now that I've transitioned from backup in the preseason to a starter. I've been the starter for four years now. The preseason used to be my one opportunity to show what I could do, knowing I probably wasn't going to get a chance in a game. That still should be the mentality for the younger guys. But for the older guys, you're more trying to hit targets, hit some new plays, new thoughts you want to get in, hit some situational stuff you might not work on in practice, some backed-up situations, some crowd noise when you play on the road. Now, if you're playing well, you probably are going to win some preseason games. If you're scoring on offense, your first-team offense is scoring especially in this game (Thursday in Cincinnati), this is the game where the first team offense is going to play a half. But I think our fans shouldn't be too worried about the win-loss record in the preseason. 2. What are your thoughts on playing more no-huddle offense so far this preseason?RODGERS: It's a tempo thing for us. We want to raise the tempo up a little bit on offense, get some more plays in. (Coach) Mike (McCarthy) is always preaching being a 70-plus play team on offense, and to do that, you probably need to run some up-tempo stuff. We've used that as a change-up at times in the past, and depending on how we start, that may or may not be a bigger part of our offense. We're still trying to work the kinks out. 3. How much do you like the control of being able to call the plays in the no-huddle offense?RODGERS: I like the opportunity to have some input in plays, but when you play in this offense long enough and with the same coaching staff, it's the natural progression to have a bigger role in the offense obviously in the meetings and the game-planning and the ideas and then being able to have a direct impact at times in those no-huddle (situations). It's just kind of a seamless transition for us. 4. Which young wide receivers have really stood out to you so far in training camp?RODGERS: Well, I think there's a number of guys over there who have been making some good strides over the last couple of weeks. Obviously, (Diondre) Borel and Tori (Gurley) have been around longer than the other guys and had some success for us. I think (Jarrett) Boykin had a good week last week, made the most of his opportunities. He's shown some nice things with his route running. I don't know how to pronounce his first name but C' (Curenski Gilleylen), we call him, has done some good things for us. We've been working with him a little bit at running back actually because of our shortage of running backs. Just the way he sees the game is very impressive. So he's made some strides for us. And then we've had some other guys who have not had as many opportunities, but I think in the third and fourth game will have an opportunity to show the potential they have and realizing that it's not just our guys watching film, there's other teams watching, there's practice squad availabilities. As I would tell these young guys, I used to tell my guys when I was running the scout team, it's an opportunity. To continue to create opportunities in this league is how you stick around, whether it's the scout team or the active roster, the more opportunities you can create the longer you'll stick around. 5. What are some of the things you want to accomplish in Thursday's preseason game in Cincinnati?RODGERS: Well, we really haven't had a really good red-zone set. We got the turnover and scored outside the red zone last week, so to get in the red zone, maybe a goal-to-go opportunity, to be able to punch that in is going to be important for us. No third-and-short for us last week, to get a third and short and convert is going to be important for us. Last year, we were below the league average, I believe, in third-down conversions and third-and-one, so to convert a couple of those would be nice, keep drives going. Haven't had a 10-plus play drive yet. That's something that would be good for our guys. I don't know if Sitty (Josh Sitton) and (Jeff) Saturday and those guys want one, but it would be good to kind of get some reps where we're real tired and they're real tired, so a 10-plus play drive wouldn't be bad.Follow Paul Imig on Twitter
Original Story:
http://www.foxsportswisconsin.com/08/...
THE BACKYARD
BEST OF MAXIM
RELATED ARTICLES
GREEN BAY, Wis. -- If Aaron Rodgers is forced to miss any games this season due to injury, clearly the Green Bay Packers would not be the same team no matter who the backup quarterback is. After all, Rodgers is the NFL's Most Valuable Player and is the biggest reason why the Packers led the league in scoring last season. But in recent years, Green Bay was in reliable hands in...
According to the Milwaukee Journal-Sentinel, Cedric Benson is expected to be the Packers' Week 1 starter at running back.Fantasy Spin:Benson is the healthiest halfback Green Bay has right now so it's not surprising that he has the inside track on the starting job at this point. Benson has quietly racked up three consecutive 1,000 yard seasons. He's unlikely to reach that...
GREEN BAY, Wis. It had been 16 days since Packers Pro Bowl wide receiver Greg Jennings had been able to practice due to a concussion. But on Sunday morning, after battling for more than two weeks with headaches and general pressure throughout his entire head, Jennings was back. But for Jennings, who described this concussion as "the most difficult one to get over" of...
There have been some happenings in Packers camp the past couple of days so I saw it as a chance to write up a summary of what is going on so people are aware. It seems the injury Desmond Bishop suffered during the Packers pre-season game against the Chargers was a bad one.  Bishop will be out for the season.  This is a big hit to the Packers defense that was already struggling...
GREEN BAY, Wis. -- Now that Packers cornerback Jarrett Bush is back to getting the majority of his snaps with Green Bay's first-team defense in practice this week, the seventh-year veteran doesn't see any reason why he shouldn't stay in that spot throughout the entire upcoming regular season."It's my time, I feel like, to take on that starting role," Bush...
Green Bay receiver Greg Jennings (concussion) has been cleared to return to the Packers, according to Tyler Dunne of the Milwaukee Journal Sentinel.Fantasy Spin:Jennings suffered the concussion earlier this month and hasn't played since. Now that Jennings is back, draft him as you normally would.
Veteran running back Cedric Benson rushed for 1,067 yards last season Cedric Benson signed a one-year contract worth the veteran's minimum ($825,000) earlier in the week. That's not surprising. A 29-year-old running back with baggage isn't going to command much coin in today's NFL. The surprise is that the deal includes no incentives. But after listening to what the former...
GREEN BAY, Wis. -- Aaron Rodgers has not forgotten what it was like sitting in the green room during the 2005 NFL draft, waiting around as 23 other players were picked before the Green Bay Packers finally called his name. Cedric Benson, recently signed by the Packers, was one of the players Rodgers had to watch take the stage, shake the commissioner's hand and put on the hat...
Packers News

Delivered to your inbox

You'll also receive Yardbarker's daily Top 10, featuring the best sports stories from around the web. Customize your newsletter to get articles on your favorite sports and teams. And the best part? It's free!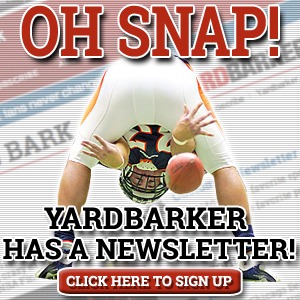 Latest Rumors
The Backyard

Today's Best Stuff

For Bloggers

Join the Yardbarker Network for more promotion, traffic, and money.

Company Info

Help

What is Yardbarker?

Yardbarker is the largest network of sports blogs and pro athlete blogs on the web. This site is the hub of the Yardbarker Network, where our editors and algorithms curate the best sports content from our network and beyond.