Found September 08, 2012 on CJ Sports NFL Talk:
Roger Goodell On Cutting Preseason In Half -
While speaking at the Bloomberg Sports Business Summit on Thuresday, NFL Commissioner Roger Goodell said the preseason could be cut in half to just two games for each team. "The four preseason games are an issue for us," Goodell said, "One, you have a question whether we really need it to put on the best quality product. Two, you have an issue of how our fans are reacting to it, and they're not reacting positively. It's not the kind of standard that the NFL is used to producing." So will the league go to a 18-game schedule? Goodell said the NFL had the right to change the schedule "unilaterally" under the terms of the previous collective bargaining agreement, but decided to make it a collaborative decision. You won't find many fans who enjoy the preseason from an entertainment standpoint, but it's hard to imagine that the NFL Players' Association would support a move that will provide fringe players less opportunity to prove themselves. And about that 18-game regular season? Don't hold your breath.
Original Story:
http://nflnewsandtalk.tumblr.com/post...
THE BACKYARD
BEST OF MAXIM
RELATED ARTICLES
NFL commissioner Roger Goodell acknowledged that four preseason games aren't needed and he admits it's a problem they need to fix. "The four preseason games are an issue for us," Goodell said, via the San Francisco Chronicle. "One, you have a question whether we really need it to put on the best quality product. Two, you have an issue of how our fans are reacting to it...
NFL commissioner Roger Goodell really believes the replacement officials that handled Wednesday night's game between the Giants and Cowboys did a good job.  I tend to disagree. "Our officials did a more than adequate job last night," Goodell said, per SFGate.com. "I think we've proven we can train officials, get them up to NFL standards, and we've done that in a three...
The old news is that a three member arbitrator panel overturned the discipline of NFL Commissioner Roger Goodell of four players allegedly involved in a bounty scandal while affiliated with the New Orleans Saints in 2009.  Jonathan Vilma was seen on Twitter doing his best Stewart Gilligan Griffin impression after the arbitrator panel issued its decision.  This story still has legs...
Free Sean Payton. Or at least be real about why he's really being punished. The New Orleans Saints coach was suspended for all of this season because, we were told, he failed to stop a "bounty program," a program that allegedly paid players for injuring opponents, a program that tore at the basic contract of the game. All of this had been swallowed as gospel until...
A collective bargaining agreement appeals panel overturned the NFL's suspensions of four players involved in the New Orleans Saints "bounty" program. NFL Commissioner Roger Goodell can still suspend the players if he proves there was intent to injure.  The four players are eligible to play this Sunday. "Consistent with the panel's decision, Commissioner...
A three-man arbitration panel called for the lifting of suspensions for the four former and current New Orleans Saints' players accused in the alleged bounty scandal Friday afternoon. The league reinstated those players soon thereafter.As a result, all four players are eligible to play this weekend, and thus have not missed any regular season games.The players affected are Saints...
The suspensions of Jonathan Vilma and three other players in the NFL's bounty investigation were lifted Friday by a three-member appeals panel and the league reinstated those players a few minutes later. The panel said Commissioner Roger Goodell did not have jurisdiction to hear the players' appeals of their punishment for their roles in the New Orleans Saints bounty program...
The 2012 National Football League season has officially started, and yet there are still officials running down the sidelines without a clue as to what's happening. Sunday -- when 26 franchises will take the gridiron for the first time this season -- will be a true test for the replacement referees as the NFL and NFL Referees Association are still without a new deal. Don'...
(Eds: With AP Photos.) By TIM DAHLBERG AP Sports Columnist Jonathan Vilma probably declared victory a bit too quickly, though you have to like how he went about it. Quoting a character out of the cartoon ''Family Guy'' seemed appropriate, if only because there is something a bit cartoonish about the whole NFL bounty scandal. Roger Goodell was supposed to be the superhero...
All four players associated with the New Orleans Saints bounty scandal had their suspensions unanimously overturned Friday by a three-man arbitration panel, and are eligible to play this weekend, NFL spokesman Greg Aiello said. While Jonathan Vilma, Will Smith, Scott Fujita and Anthony Hargrove can now suit up with their respective NFL teams, they may still subjected to suspensions...
The four NFL players who were suspended for their involvement in the New Orleans Saints Bountygate incident have had their appeals granted and are now free to play. A three-person arbitration panel overturned their suspensions on Sept. 7 and they can rejoin their teams immediately. The players are Will Smith, Jonathan Vilma, Anthony Hargrove, and Scott Fujita. However, NFL.com...
NFL News

Delivered to your inbox

You'll also receive Yardbarker's daily Top 10, featuring the best sports stories from around the web. Customize your newsletter to get articles on your favorite sports and teams. And the best part? It's free!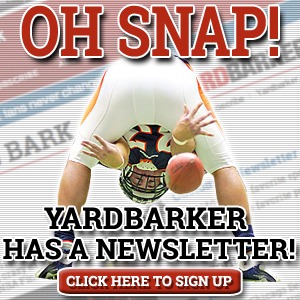 Latest Rumors
The Backyard

Today's Best Stuff

For Bloggers

Join the Yardbarker Network for more promotion, traffic, and money.

Company Info

Help

What is Yardbarker?

Yardbarker is the largest network of sports blogs and pro athlete blogs on the web. This site is the hub of the Yardbarker Network, where our editors and algorithms curate the best sports content from our network and beyond.