Posted May 12, 2013 on AP on Fox
NFL rookies are ditching their textbooks for playbooks and getting their first taste of what it'll be like playing for paychecks instead of school pride. Twenty-three teams wrapped up their three-day rookie camps Sunday. The others held theirs last week. Until now, football was their pastime; now it's their profession. NFL teams give their draft picks and college free agents a head start before veterans return Monday for the start of ''Phase 3'' offseason workouts that feature OTAs, or ''Organized Team Activities.'' For players, it's their first chance to see what the pros are all about. Coaches get their first look at the new crop of college players their personnel departments have studied for months. As Denver defensive coordinator Jack Del Rio said, ''It's like opening a present at Christmas time.'' With draft parties already a hazy memory, rookies arrived at their new jobs for physicals and fittings. They picked their jersey numbers and lockers before gathering for introductions and admonitions about such things as the pitfalls of social media and hangers-on dragging them down. They toured team headquarters, checked out weight rooms and some even signed their first contracts. ''I was like a little kid. As soon as I put the jersey on, the shorts, the cleats, I wanted to take all types of pictures and send them to my friends,'' said Broncos running back Montee Ball, who starred at Wisconsin. ''But it's all about business.'' The actual practices and position drills were what the weekend was mostly about. ''You can't really get ahead of yourself or let the expectations get to you or the pressure get to you,'' said Kansas City Chiefs tackle Eric Fisher. ''It's good being here finally.'' For some, such as Manti Te'o, this weekend was all about a fresh start. ''I'm here to play football,'' Te'o said after practicing for the first time with the San Diego Chargers, determined to push his infamous girlfriend hoax and his lackluster national championship play into the rearview mirror. ''I'm not focusing on what is going on on the outside. I'm worried about what we're doing here in San Diego and I'm looking forward to when the veterans come in on Monday.'' Whether they were the league's No. 1 overall pick like Fisher or a long shot like Chiefs tight end Demetrius Harris, a basketball star at Wisconsin-Milwaukee, which doesn't even field a football team, they're all in the same boat: NFL novices hoping to prove or disprove personnel people's notions about them. ''I've had to relearn everything,'' said Harris. ''In high school we had basic stuff. This is all new.'' To some degree, it's unfamiliar to everyone, even to those who played at big-time college football programs. ''It's been a mental beat down,'' said Denver Broncos tackle Vinston Painter, a sixth-round draft pick out of Virginia Tech. ''But at the same time we just have to stay composed and listen to what Coach is saying and learn from your mistakes every day. There's always something that can be fixed. It's a nice-sized learning curve, but I feel like I'm handling it pretty well.'' Going from college to the NFL is akin to jumping from high school to college, only ''it's more intensified,'' said Broncos wide receiver Tavarres King, a fifth-round pick from Georgia. ''It's kind of like you have to be perfect out there.'' Their every move is monitored in one way or another. ''They're probably a little more under the microscope than maybe they were in their colleges,'' Broncos coach John Fox said. ''You just try to educate them and bring them up to speed as fast as possible. You're going to have some mishaps, you're going to have some bumps. ''The disadvantage they have is that they might be competing against guys that have been doing this for four or five years. So, it's hard to play fast when you're thinking and you don't know what you're doing,'' Fox said. ''So this is a great opportunity, even though it's a short opportunity. We bombard them pretty hard in each meeting.'' The weekend was beneficial even to a guy like Lerenetee McCray, a linebacker from Florida who went undrafted after tearing his left rotator cuff last fall and who won't be able to participate in team drills until next month. ''It definitely taught me some of their system, how the coaches operate, how they're going to coach me in some of the stuff that we're going to do once camp comes,'' McCray said Sunday. ''I'm behind the guys who have been practicing and the veterans, but I'm definitely ahead of where I was four days ago.'' Coaches appreciate the rookie weekend, too. It's their first chance to see how well their offseason wish lists were fulfilled. Sometimes, they have to, as Fox says, use the reins instead of the spurs to slow down the greenhorns. ''Yeah, a little bit. But it's kind of neat. That's the fun part. They're excited,'' Fox said. ''You know, they've waited their whole lives for this. So, it's a great privilege and really a great accomplishment to have a seat in one of those rooms.'' It's also the first chance for coaches to get back outside and do what they do best. ''I think any coach worth their weight likes to be on the grass, and on the field coaching,'' Fox said. ''It's the fun part of coaching. That's really why most of us do it. There's no doubt it's an excitement level, even though it's just the rookies, at this point. To be on the field with them is great.'' --- AP Sports Writers Dave Skretta in Kansas City, Mo., and Bernie Wilson in San Diego contributed to this report. --- Follow AP Pro Football Writer Arnie Melendrez Stapleton on Twitter: http://twitter.com/arniestapleton
Original Story:
http://msn.foxsports.com/nfl/story/Ro...
THE BACKYARD
BEST OF MAXIM
RELATED ARTICLES
Denver Broncos defensive coordinator Jack Del Rio is moving on from their divisional playoff loss to eventual champion the Baltimore Ravens. The Bronco defense was one of the strengths in 2012 for the team, but one blown coverage sent them packing for the season. Rahim Moore was late rotating over to cover a wide open Jacoby Jones who caught the deep pass for a 70 yard game...
The Denver Broncos have hired Alex Gibbs as an offensive line consultant. Gibbs previously worked for the Broncos from 1995-2003 as assistant head coach and offensive line coach under Mike Shanahan. "He'll be a good resource," said Broncos head coach John Fox, per the Denver Post. "I know from competing against (Gibbs) over the years that he can help us out."   Need NFL Tickets?
While I don't normally post about coaching hires, this one caught my eye. The Denver Broncos have hired Alex Gibbs as an offensive consultant. You may, but probably won't, remember Alex Gibbs was the Godfather of the zone-blocking scheme. His plays were instrumental during the two Super Bowl runs for the Broncos when they had Terrell Davis. And his schemes are still being utilized...
Whenever cornerback Kayvon Webster arrived at practice at South Florida, he'd proclaim, ''Champ Bailey's here.'' Now, the third-round draft pick has a locker across from the Denver Broncos perennial Pro Bowler and one day might succeed his idol. The Broncos added Webster and free agent Dominique Rodgers-Cromartie this offseason to a stellar group of cornerbacks...
According to NFL.com, Greg Cosell of NFL Films believes rookie running back Montee Ball is a great fit for the Denver Broncos offense. Cosell believes second-round pick Montell Ball is an "ideal fit" for the Denver Broncos' offense, citing his burst, fluidity and ability to get skinny at point of attack. Although Cosell's one question was if Ball could be a true foundation...
My take from the off season moves this year is that teams want to continue to force opposing defenses to constantly be on their heals. The Bills, Eagles, Browns and Broncos all want to speed things up and run more offensive plays than the competition and of course the Patriots are already on the cutting edge of hording offensive plays. Of course the question is, will these teams...
NFL News

Delivered to your inbox

You'll also receive Yardbarker's daily Top 10, featuring the best sports stories from around the web. Customize your newsletter to get articles on your favorite sports and teams. And the best part? It's free!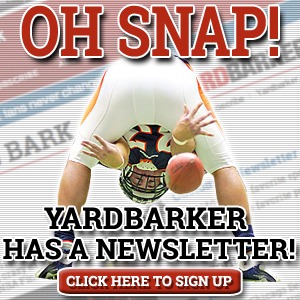 Latest Rumors
The Backyard

Today's Best Stuff

For Bloggers

Join the Yardbarker Network for more promotion, traffic, and money.

Company Info

Help

What is Yardbarker?

Yardbarker is the largest network of sports blogs and pro athlete blogs on the web. This site is the hub of the Yardbarker Network, where our editors and algorithms curate the best sports content from our network and beyond.